Ride With Style On The Jupiter Atlas PRO Electric Bike
Introducing the new Jupiter Atlas PRO EBike. The Atlas PRO is the perfect solution for those who want to explore the great outdoors conveniently while having fun. This powerful electric bike is available for sale exclusively at Hartville Golf Carts. It features a 750-watt motor and 48V battery that can easily take on any terrain. The Atlas PRO EBike offers riders up to 40 miles of pedal-assisted travel on a single charge, allowing you to enjoy long rides without experiencing any fatigue. The bike also has hydraulic brakes, a premium suspension system, and a durable frame built to withstand any challenge. The Atlas PRO has a sleek design and cutting-edge technology. The Jupiter Atlas PRO EBike is dependable and stylish for outdoor enthusiasts. Contact Hartville Golf Carts today to learn more about this fantastic electric bike.
Efficient Motor and Long Lasting Battery
The Jupiter Atlas PRO Electric Bike features an efficient motor and long-lasting battery, making it an excellent choice for commuters and urban riders. This bike has a powerful 750-watt engine that provides reliable assistance and can reach a top speed of 28 miles per hour. The 48V/14Ah Lithium-Ion battery offers an impressive range of up to 60 miles on a single charge, making it the perfect EBike for longer commutes or weekend rides. The battery charges quickly, taking just 4-6 hours to reach a full battery charge. The motor and battery work seamlessly together, delivering a smooth and responsive riding experience. Overall, the Jupiter Atlas PRO is a reliable and practical electric bike with many features to make your daily commute or leisurely ride more enjoyable.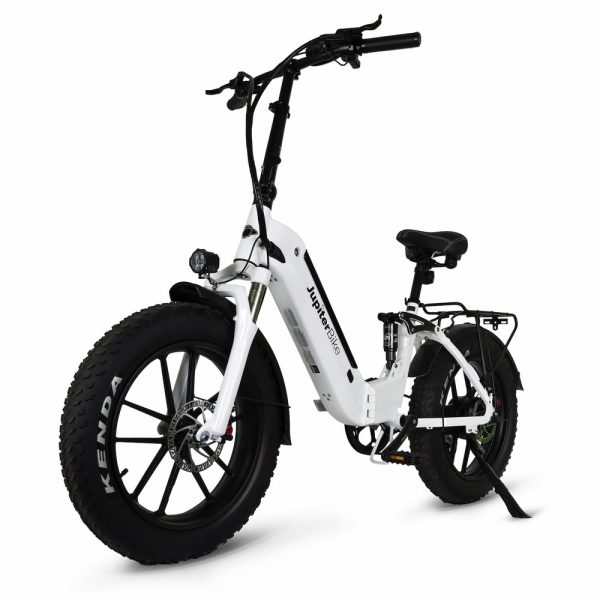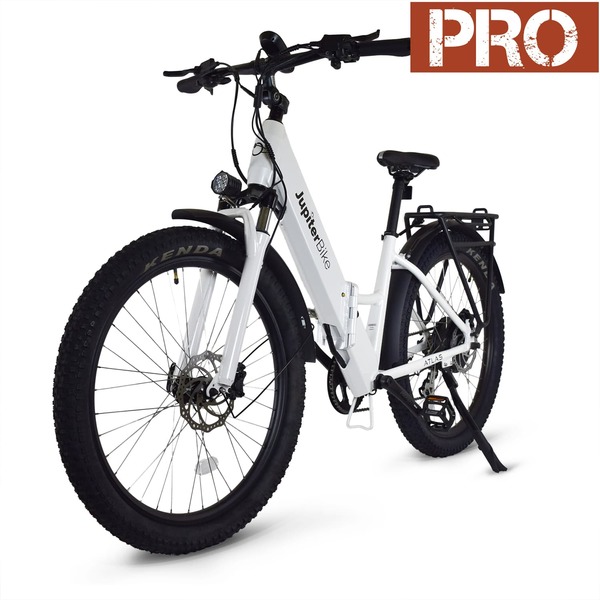 Great Performance, Built With Safety
The Jupiter Atlas PRO EBike is an outstanding electric bike with impressive performance and safety features. The bike is powered by a powerful 750W motor that can reach speeds up to 28mph, making it perfect for commuting, off-road, and mountain riding. Additionally, it is equipped with a 48V 14Ah battery that can cover up to 60 miles on a single charge.
Safety was also a primary consideration for the Jupiter Atlas PRO EBike, which boasts high-quality features such as hydraulic disc brakes that provide swift and smooth stopping power, ensuring maximum control and safety. Furthermore, thanks to its well-crafted frame and high-quality suspension, the bike offers superior stability and security over rough terrain.
The Jupiter Atlas PRO electric bike is a well-rounded solution for anyone who wants exceptional performance and safety features in their daily transportation, off-road, or mountain biking experience.
Modern Approach, Fully Foldable
The Jupiter Atlas Pro EBike is a modern electric bicycle that has gained popularity for its foldable feature. The foldable feature allows users to quickly and conveniently store their EBike in small spaces such as apartments, offices, or public transportation without taking up much space. The bike also has a lightweight aluminum alloy frame and adjustable seat height to accommodate different user preferences.
The electric motor of the bike provides:
Up to 550 watts of power.
Thus enabling users to conquer hills easily.
Trails.
Rough terrain.
Additionally, the bike has a lithium-ion battery that charges in just 4-6 hours, allowing users to enjoy a long, stress-free ride. The bike's LCD Display shows various data, including battery life, speed, and distance.
The Jupiter Atlas Pro EBike is practical and environmentally friendly. The Atlas Pro makes it an excellent investment for those prioritizing sustainability and ease of use. Its portable and durable features suit travelers, commuters, and outdoor enthusiasts. The Jupiter Atlas Pro EBike shows how modern technology can enhance our lives and provide practical solutions to everyday problems.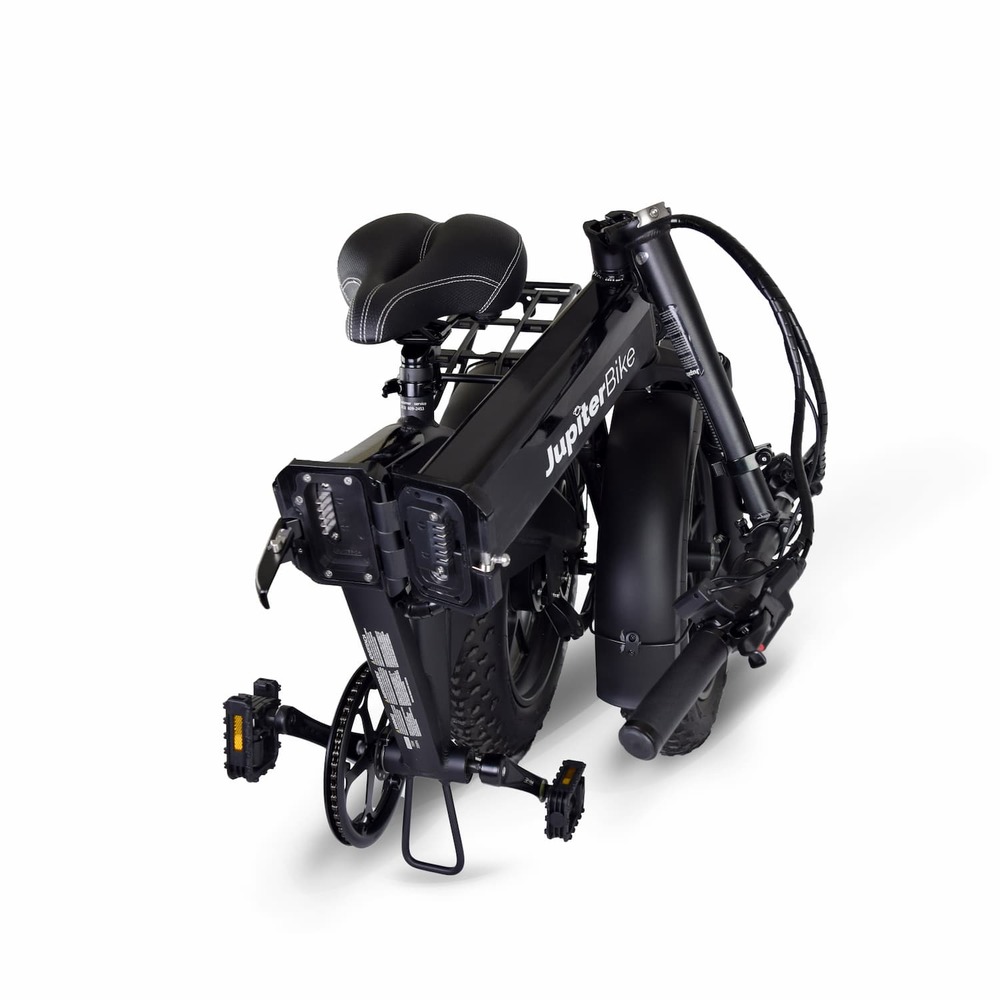 Jupiter Atlas PRO Specifications
Overall Folded Dimensions
Overall Unfolded Dimensions
20 mph / adjustable to 25mph
Shimano Atlas w/ Paddle Shifter
Aluminum w/ Pannier Holders
750 Watt (1130 watt peak) 
Jupiter Atlas PRO EBikes Are On The Way
The Jupiter Atlas PRO Fat Tire Folding Electric Bike
The Jupiter Atlas PRO EBike is the ultimate electric bike for those who want the convenience of a bike combined with the power of a motor. With a range of up to 40 miles per charge, this bike is perfect for long rides and commutes, and its high-quality components ensure a comfortable and safe ride. The powerful 750W motor can reach speeds up to 28mph, and the EBike's suspension system and hydraulic disc brakes make for a smooth and controlled ride. The Atlas PRO is also designed with versatility, featuring a removable battery pack and adjustable seat and handlebars. With the EBike's sleek design and advanced features, the Jupiter Atlas PRO EBike is perfect for anyone looking to have a better daily commute or enjoy a more leisurely ride.
Interested In Our Selection?