When it comes to finding the perfect golf cart for sale Ohio has to offer, you'll want to explore a range of options to ensure you get the best fit for your needs. Golf carts for sale Ohio is in a great position today. It has never been a much better time to be a golf cart owner in the State of Ohio with the new laws passe in 2017. You can now even use your golf cart as a street legal vehicle if you meet particular conditions.
Hartville Golf Carts carries a wide variety in Golf Carts for sale Ohio has to offer. We have a diverse select of inventory on the way, and many in stock ready for buying. But that is not the point of this article, we want to share more about the Golf Carts we have seen successful for us. Everything is also not in particular order because opinions vary per provider of golf carts. With that being said, we are going to list out in an order of golf carts we have sold from start to today, and in the future.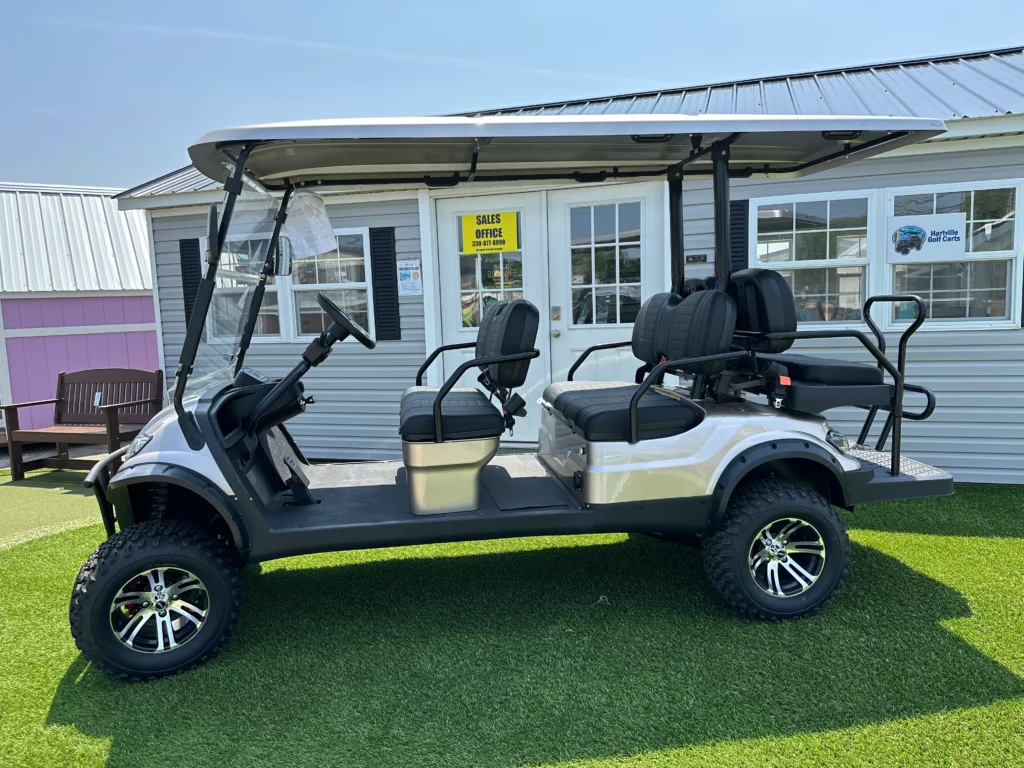 Icon Electric Vehicles: Elevating Electric Golf Carts
When it comes to electric golf carts, Icon Electric Vehicles Golf Carts stands out as a brand committed to elevating your golfing experience. Icon's electric golf carts are a testament to innovation and sustainability. These carts are designed with a focus on eco-friendliness, offering a quiet and emission-free ride that doesn't compromise on performance. Icon's attention to detail extends to their stylish designs, ensuring that you not only enjoy a smooth and reliable ride but also do so in style.
Whether you're navigating the greens or simply cruising your neighborhood, Icon Golf Carts' electric models are a top choice among Ohio golfers looking for an eco-conscious and high-performance ride.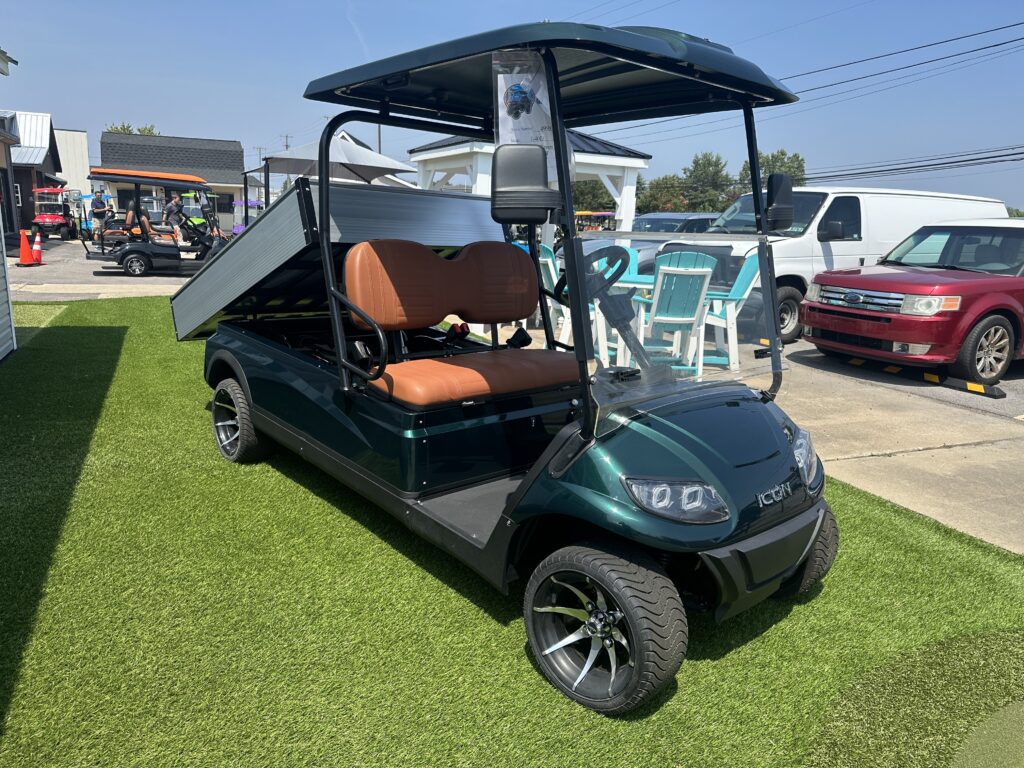 Iconic Electric Vehicles
These electric marvels from Icon aren't just about reducing your carbon footprint; they're also engineered for peak performance. Glide across the fairways with ease, as Icon's electric carts effortlessly combine power and precision, ensuring that your golfing experience is nothing short of exceptional.
Whether you're navigating the greens, cruising your neighborhood, or exploring Ohio's scenic landscapes, Icon Golf Carts' electric models offer a harmonious blend of performance, sustainability, and unmistakable style. Icon is undoubtedly a top choice for Ohio golfers seeking an elevated golfing experience powered by cutting-edge electric innovation.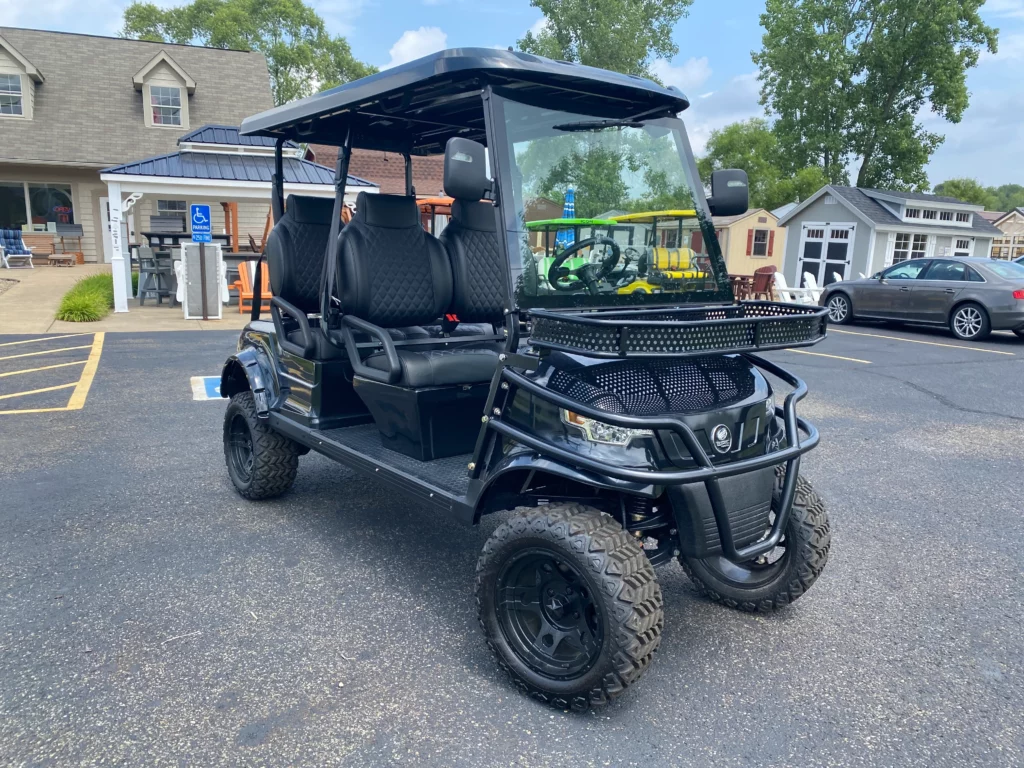 Epic Carts: Elevating Golf with Electric Excellence
When it comes to electric golf carts that prioritize personalization and cutting-edge technology, Epic Carts is a name that shines brightly. Epic Carts has garnered a reputation for offering golfers a unique and tailor-made experience. What sets Epic Carts apart is their dedication to customization, allowing golfers to create a cart that's a true reflection of their personality and preferences.
Epic Carts' electric golf carts are blank canvases awaiting your creative touch. From an array of vibrant color choices to innovative accessories, the possibilities for personalization are endless. Whether you envision a golf cart that exudes understated elegance or one that makes a bold statement, Epic Carts has the tools and options to bring your vision to life.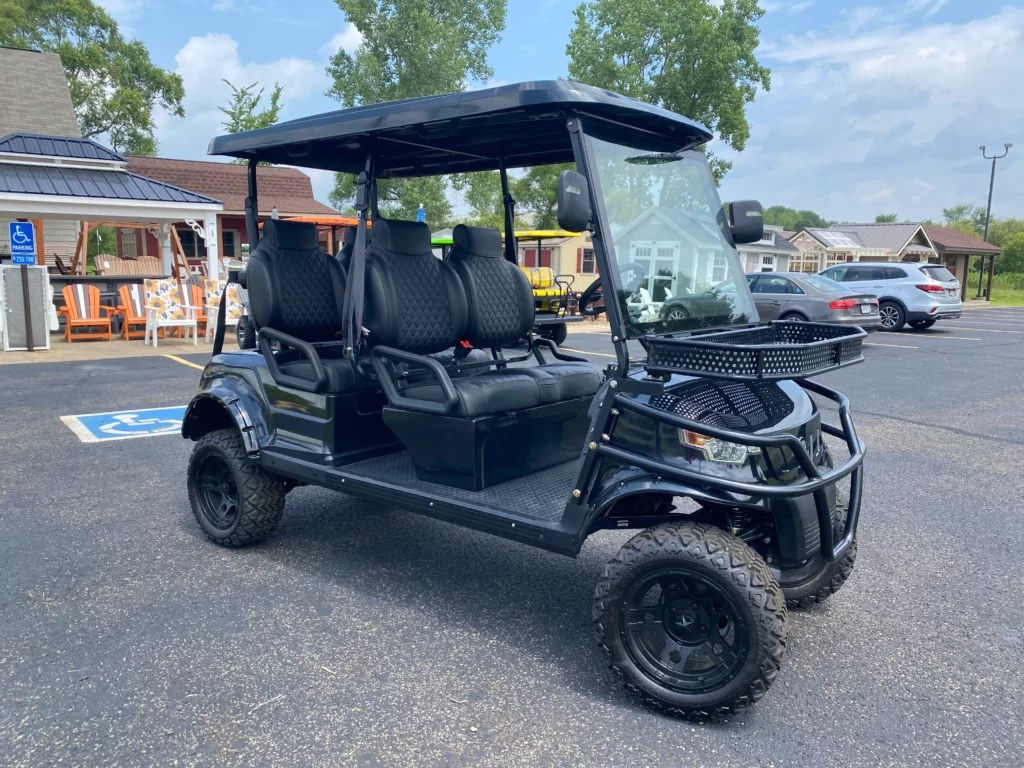 But customization isn't the only feather in their cap. Epic Carts also integrates advanced technology into their electric models, enhancing your golfing experience. These carts are equipped with smart connectivity features, making your rounds on the greens more convenient and enjoyable. Imagine having a cart that not only carries your clubs but also seamlessly connects with your smartphone or other devices, providing information and entertainment at your fingertips.
Epic Carts' electric golf carts are more than just vehicles; they're expressions of individuality and innovation. When you choose an Epic Cart, you're selecting a golfing companion that's as unique as you are, designed to elevate your game and make a lasting impression on and off the course. For Ohio golfers seeking a personalized and tech-savvy approach to golf cart ownership, Epic Carts is undoubtedly a top choice.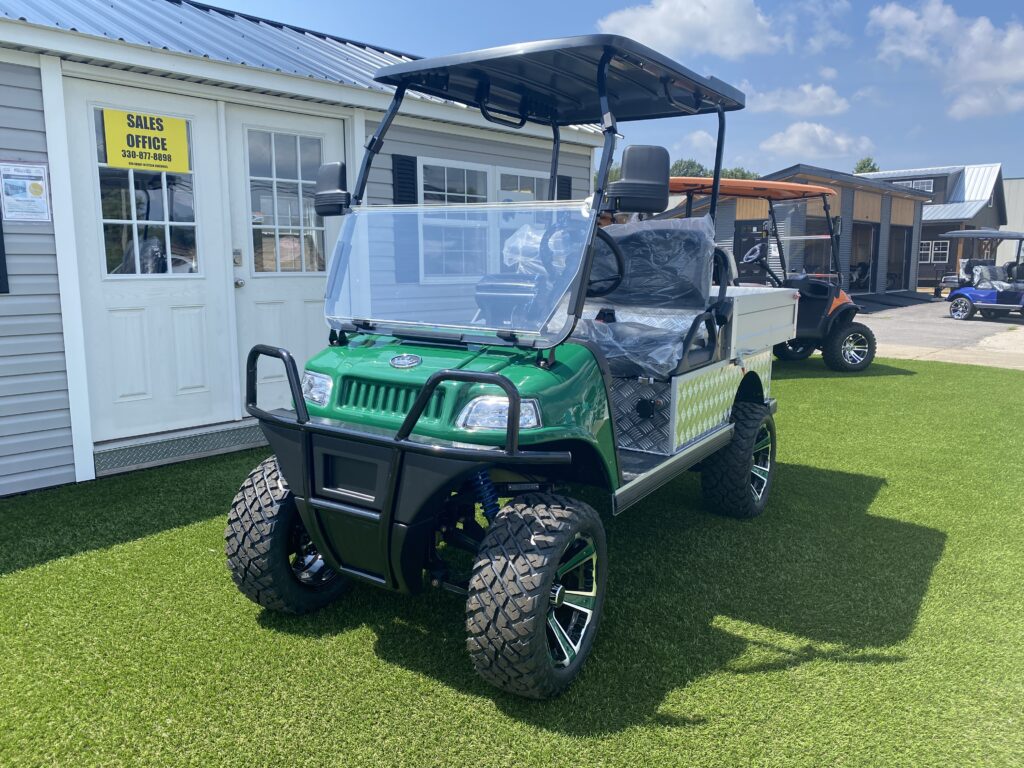 Evolution Electric Vehicles: Where Innovation Meets Performance
Evolution Electric Vehicles has emerged as a great choice in the electric golf cart market, offering an extraordinary fusion of innovation and performance that captivates golfers and enthusiasts alike. What sets Evolution apart is its relentless pursuit of pushing the boundaries of what electric golf carts can offer.
One standout feature of Evolution Golf Carts is their commitment to eco-friendliness. Their electric models are designed to minimize their environmental impact, making them the perfect choice for environmentally conscious golfers in Ohio. These carts provide a quiet, emission-free ride, ensuring that your golfing experience remains serene and environmentally responsible.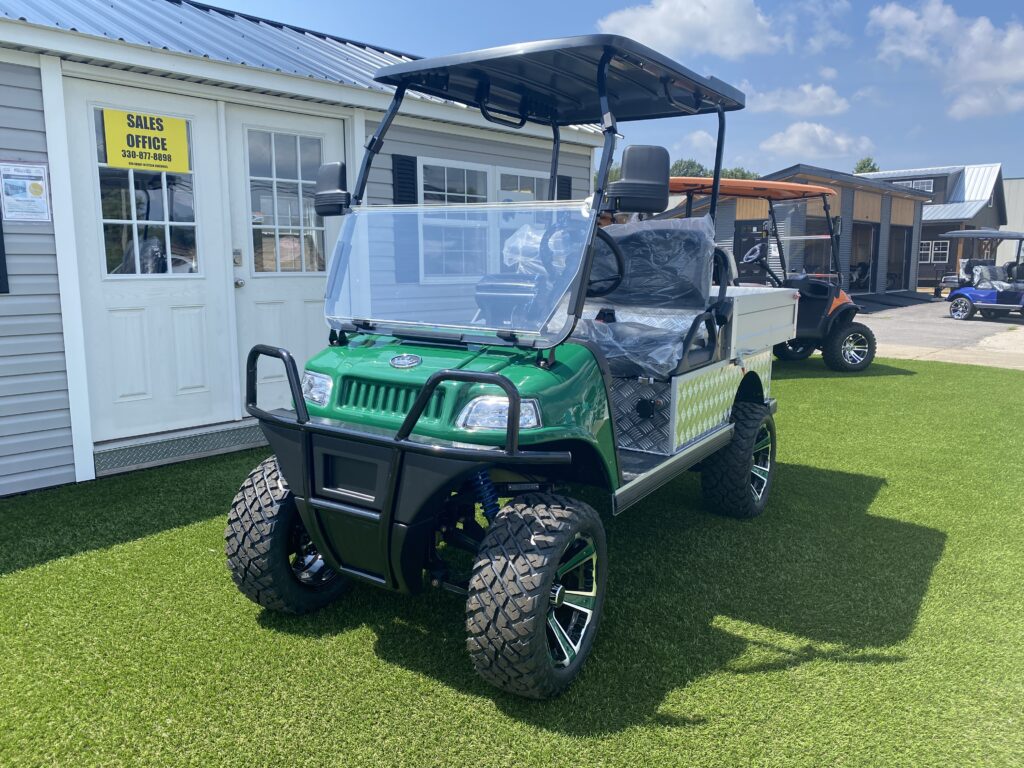 However, it's not just their green credentials that make Evolution exceptional. These carts are a marvel of modern technology. Equipped with advanced features, they provide an unrivaled golfing experience. Imagine having an electric golf cart that not only effortlessly transports you around the course but also integrates seamlessly with your digital life. Evolution's carts often boast electric power options, including lithium batteries for extended range and quick charging.
Whether you're navigating the greens or cruising your local golf course, Evolution Golf Carts offer an impeccable blend of style, sustainability, and cutting-edge technology. If you're an Ohio golfer who values innovation and high-performance electric carts, Evolution Golf Carts are an outstanding choice to take your golfing experience to the next level.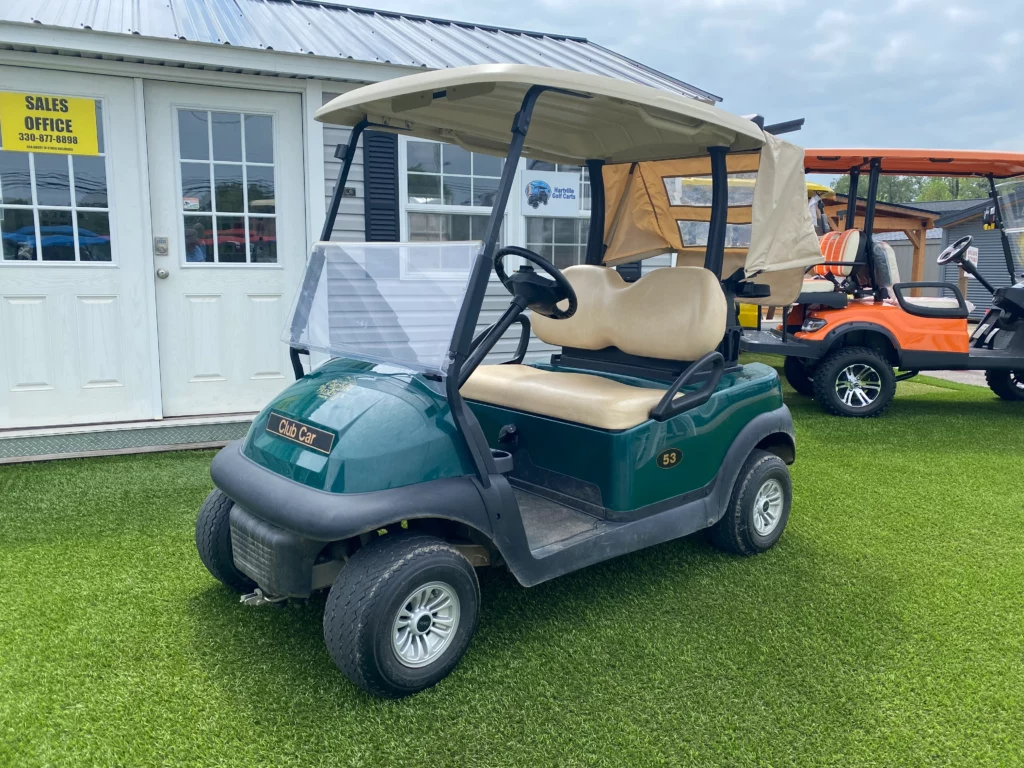 Club Car: A Trusted Name in Golf Carts
Club Car has earned its reputation as a trusted and reliable brand in the golf cart market. Their carts are known for their durability, making them ideal for Ohio's diverse terrain. Whether you're a golf enthusiast or someone looking for a dependable utility vehicle, Club Car offers a range of options to meet your needs. With a legacy of excellence, Club Car is a name you can trust when searching for the best golf carts for sale in Ohio.
5. Yamaha: Quality and Performance Combined
Yamaha has been a leader in the automotive industry, and their golf carts are no exception. These carts are synonymous with quality and performance. With a commitment to innovation and engineering excellence, Yamaha golf carts offer a smooth and reliable ride. If you're looking for a well-established brand that delivers on its promises, Yamaha should be at the top of your list when considering the best golf carts for sale in Ohio.
6. EZ-GO: Time-Tested Reliability
EZ-GO is a name that's synonymous with time-tested reliability. These golf carts are built to last, making them a popular choice among Ohio golfers and residents alike. If you prioritize a sturdy, dependable ride that can withstand the test of time and various weather conditions, EZ-GO deserves your attention when browsing for the best golf carts for sale in Ohio.
7. Kandi: Value and Versatility
Kandi are known for their exceptional value and versatility. These carts offer a balance between affordability and functionality, making them a practical choice for a wide range of buyers. Whether you're looking for a cost-effective golf cart for recreational use or utility purposes, Kandi provides a solution that won't break the bank. When seeking the best golf carts for sale in Ohio that offer value and versatility, Kandi should be on your shortlist.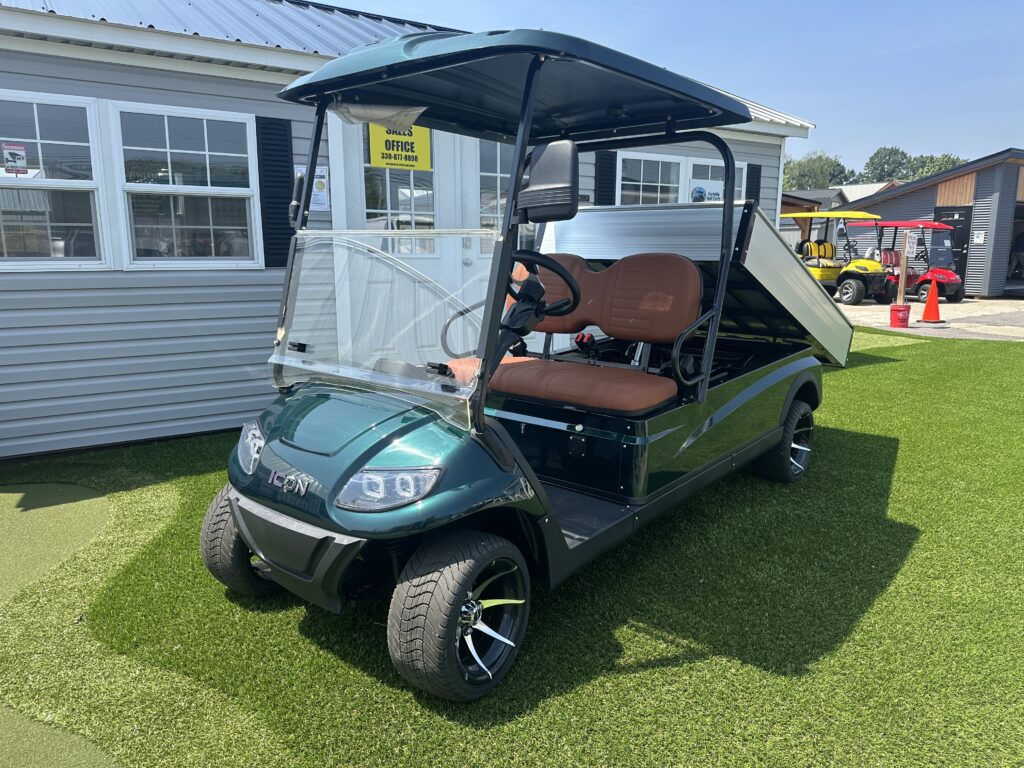 Concluding
In your quest to find the best golf carts for sale in Ohio, these brands offer a range of choices to suit your unique preferences and needs. Whether you value craftsmanship, customization, innovation, reliability, performance, or affordability, Ohio has a golf cart solution for everyone. There are even more makes available out there that make fantastic golf carts set for sale that is not listed in this article currently speaking. We hope that this helps you look at the massive variety available when looking for golf carts for sale Ohio.