Get A Luxurious 6 Seater Golf Cart With The Icon i60
The Icon i60 Golf Cart is the ultimate choice for golf enthusiasts looking for style, performance, and comfort. It is the perfect vehicle to cruise around the golf course with ease and in luxury. Hartville Golf Carts is proud to offer this exceptional golf cart for sale. Equipped with multiple features such as 14-inch wheels, a tinted windshield, and LED headlights, the Icon i60 Golf Cart guarantees a smooth ride on the course. Its sturdy construction and reliable performance ensure years of quality use. With its sleek design, luxurious interiors, superior functionality and enhanced safety features, the Icon i60 Golf Cart is the perfect addition for every golf enthusiast's game. Purchase this incredible golf cart today at Hartville Golf Carts, and elevate your golfing experience to a whole new level!
Powerful and Electric Motor
The 48V Icon 5KW 3 Phase Torque Motor on the Icon i60 Golf Cart is a powerful piece of machinery that allows for an efficient and smooth ride on the golf course. With its 5KW power output and 3 phase design, this torque motor provides the necessary strength to travel uphill or through rough terrain with ease. The 48V system also allows for a longer battery life, meaning fewer trips to the charging station. The Icon i60 Golf Cart is well-known for its dependability and high-performance capabilities, and a significant part of that is thanks to the powerful torque motor. With its advanced technology and superior power, the 48V Icon 5KW 3 Phase Torque Motor has made the Icon i60 Golf Cart a popular choice among golfers who seek efficiency and reliability in their vehicles.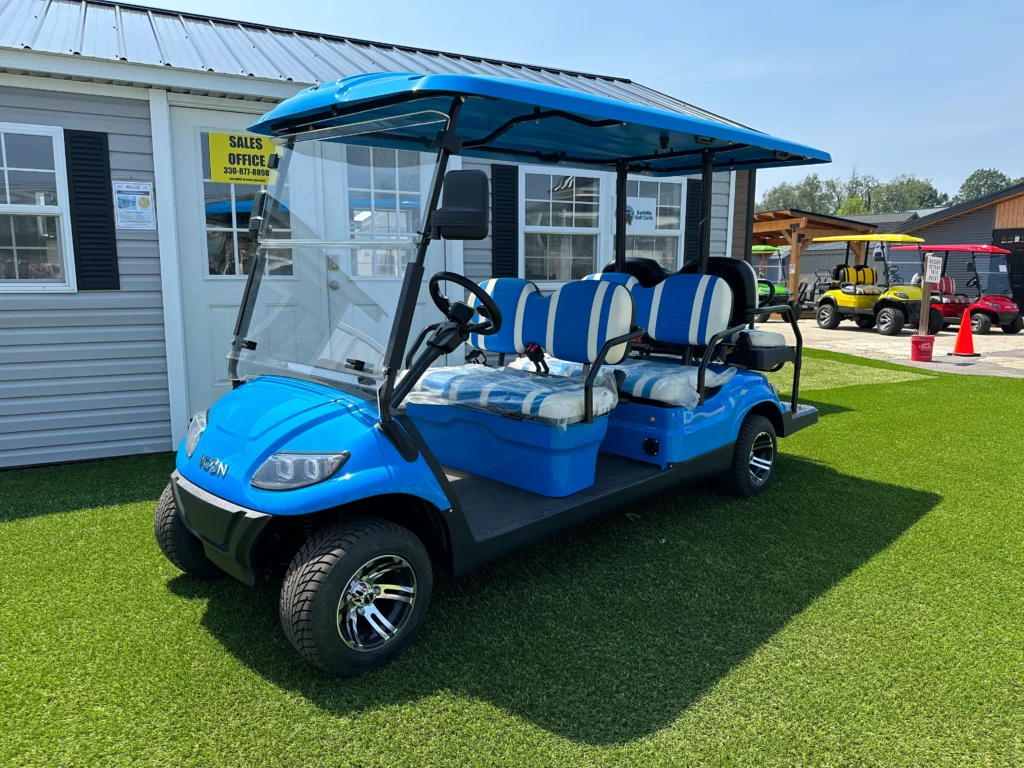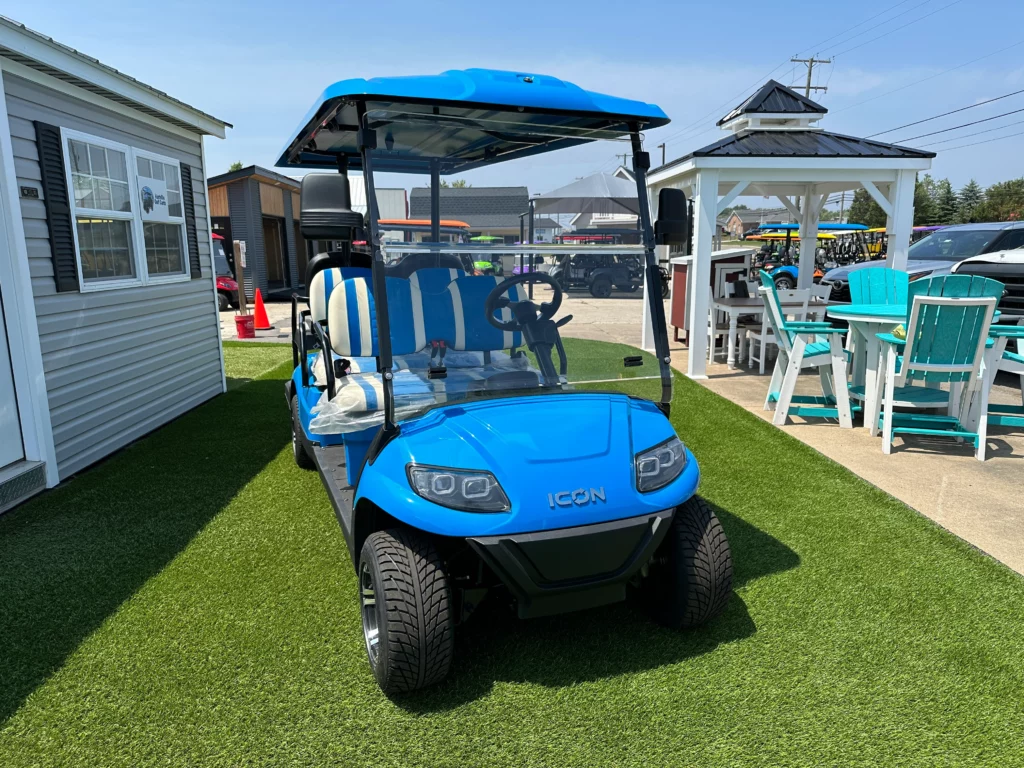 Extra Long Lasting Battery Applied
The Icon i60 Golf Cart boasts an impressive long battery life thanks to its advanced lithium-ion battery technology. The cart's batteries can provide up to 35 miles of range on a single charge, making it ideal for longer golf rounds or extended use throughout the day. Additionally, the batteries can be charged quickly and efficiently to ensure downtime is minimized and the cart remains ready for use. The advanced battery management system of the i60 Golf Cart also allows for optimal performance, ensuring that the batteries are utilized efficiently and effectively. Overall, this long battery life is a significant advantage for golfers who want to spend more time on the course without the need for frequent recharging.
Extremely Fast Charging For Sooner Use
The Icon i60 Golf Cart features a fast and efficient charging lifecycle, allowing users to quickly and easily recharge the battery in just a few hours. The cart utilizes an advanced on-board charging system that charges the battery while it is being used, eliminating the need for a separate charging station or frequent charging breaks.

The charging cycle is also designed to maximize battery life and optimize power efficiency. The i60 features a high-capacity lithium-ion battery that can provide up to 50 miles of range on a single charge, allowing golfers to spend more time on the course and less time worrying about battery life.

Overall, the fast and efficient charging lifecycle of the Icon i60 Golf Cart makes it an ideal choice for golfers who want a reliable, high-performance cart that can keep up with the demands of the game without slowing down.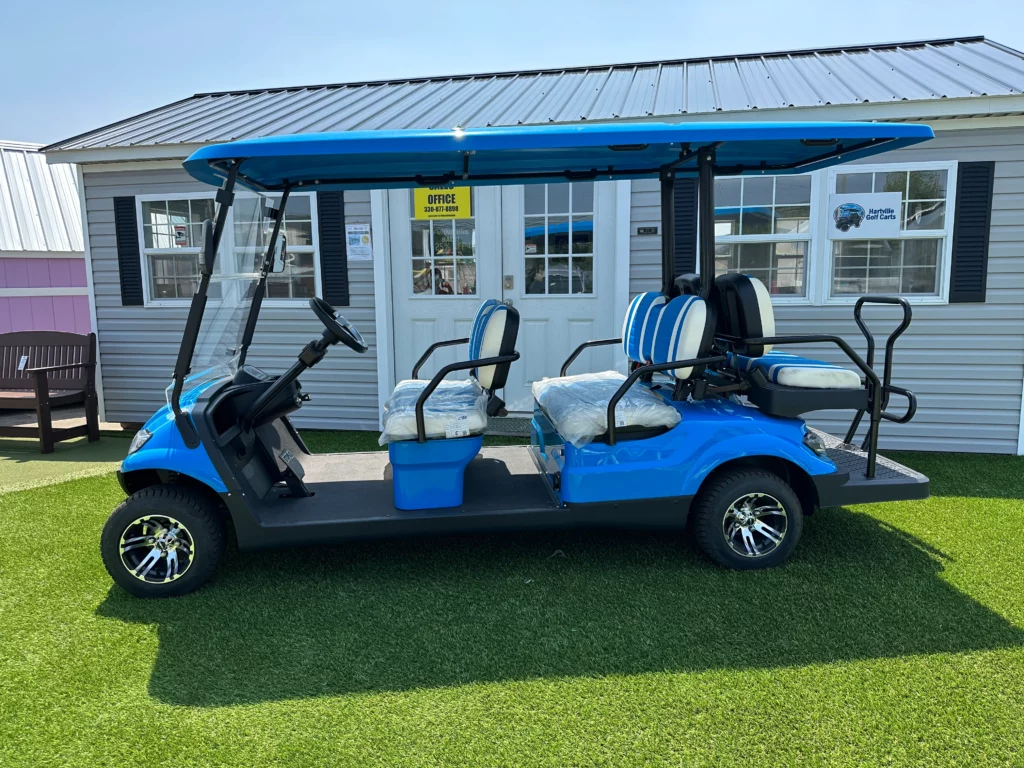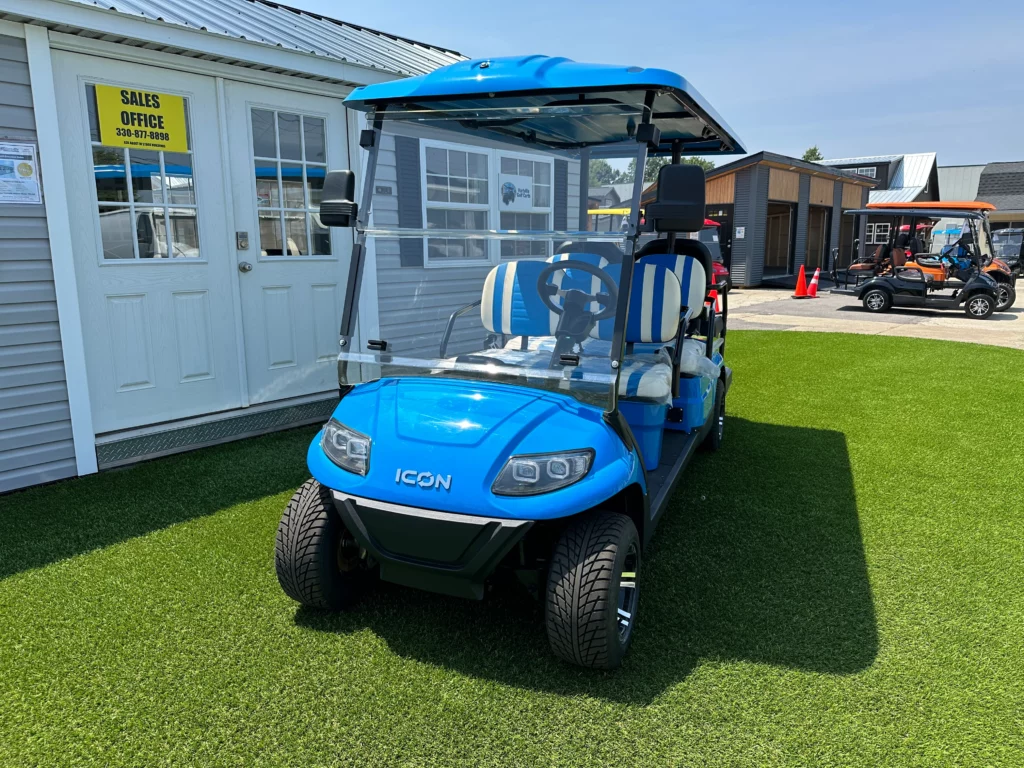 Reliable, Smooth and Includes Outstanding Amenities
The Icon i60 Golf Cart is a very reliable vessel that delivers high-quality performance consistently. It comes equipped with powerful lithium batteries that provide long-lasting power and have a quick charging time. The cart has a robust and durable build that can withstand harsh weather conditions and offer a comfortable ride. The i60 golf cart also has outstanding amenities that include a stylish design, an ergonomic dashboard, comfortable seats with adjustable armrests, and an integrated cooler. It also has a built-in touchscreen display that enables the user to control features such as GPS, Bluetooth connectivity, and speakers. The Icon i60 Golf Cart offers premium features that make it a comfortable, reliable, and fun vehicle to navigate around the golf course.
Fantastic and Comfortable Design
The Icon i60 Golf Cart is the ultimate experience for golfers looking for a luxurious and efficient mode of transportation. It boasts an outstanding design that blends excellent craftsmanship with superior functionality. The cart features a sleek, aerodynamic body that is eye-catching and stylish. This golf cart is not just about looks; it is also designed for efficiency, with a powerful electric motor that provides a smooth ride and excellent acceleration. The i60 has a comfortable interior with ample seating space, providing an optimal riding experience. It is equipped with high-quality accessories such as a customizable dash, stereo systems, and LED lights, making it the perfect ride for golf enthusiasts looking for top-of-the-line accessories to complement their golf experience. The Icon i60 follows a sustainable approach in its design and is eco-friendly, making it a great choice for eco-conscious buyers. Overall, the Icon i60 Golf Cart is the perfect combination of luxury, design, and functionality that every golfer should consider.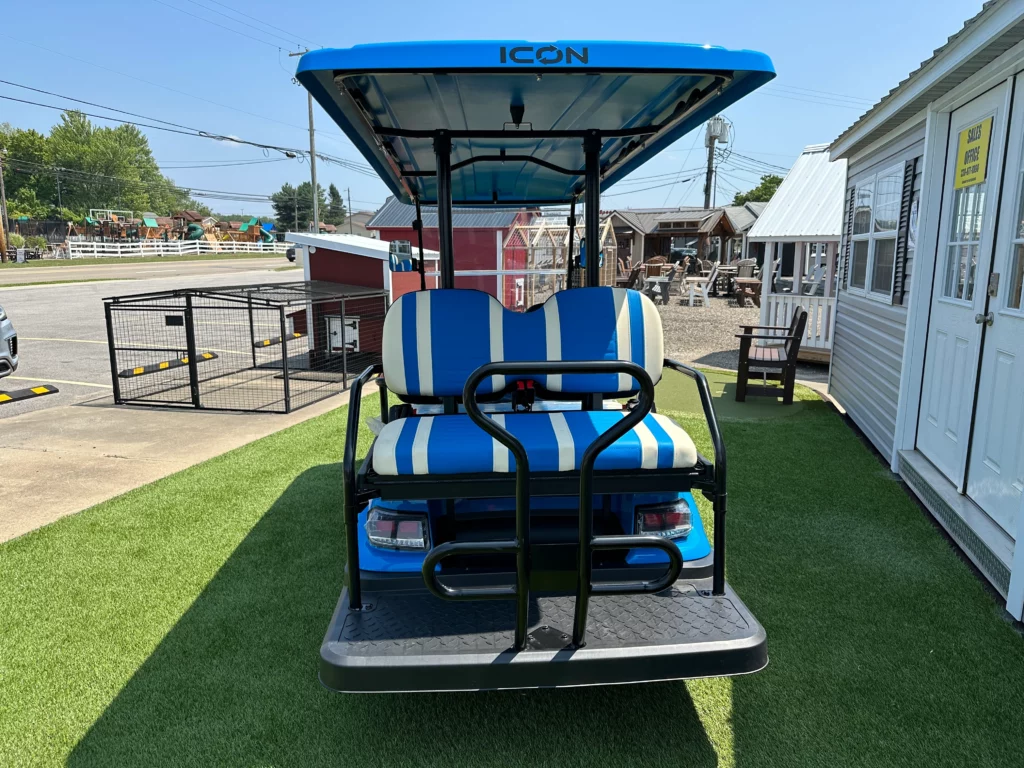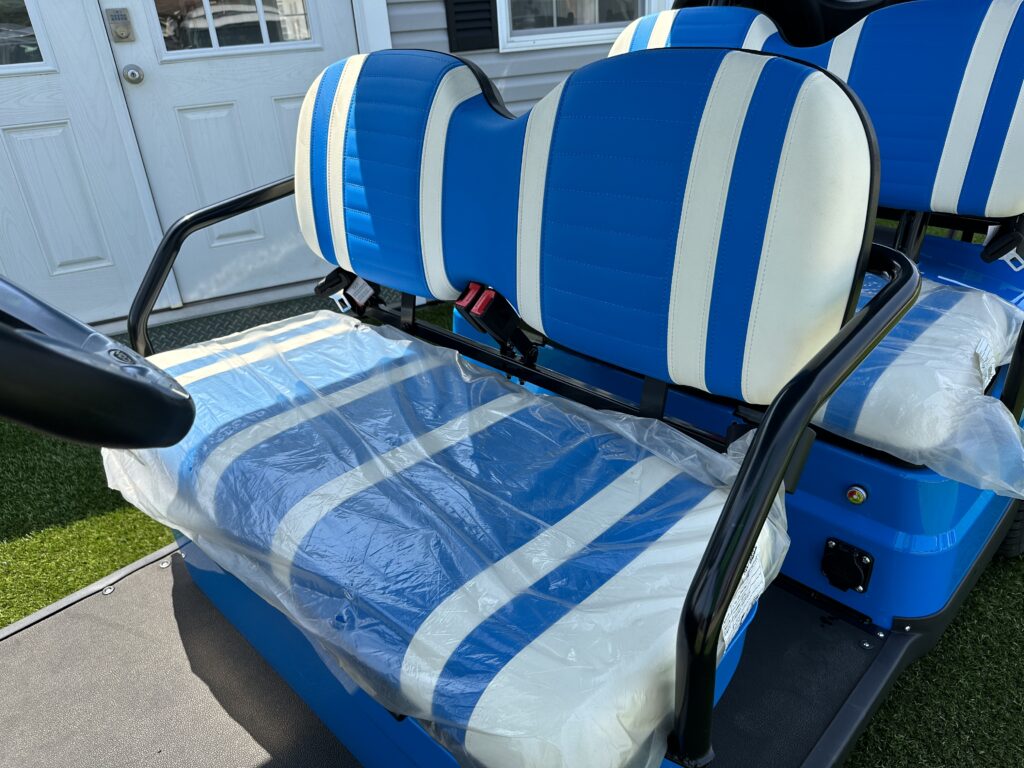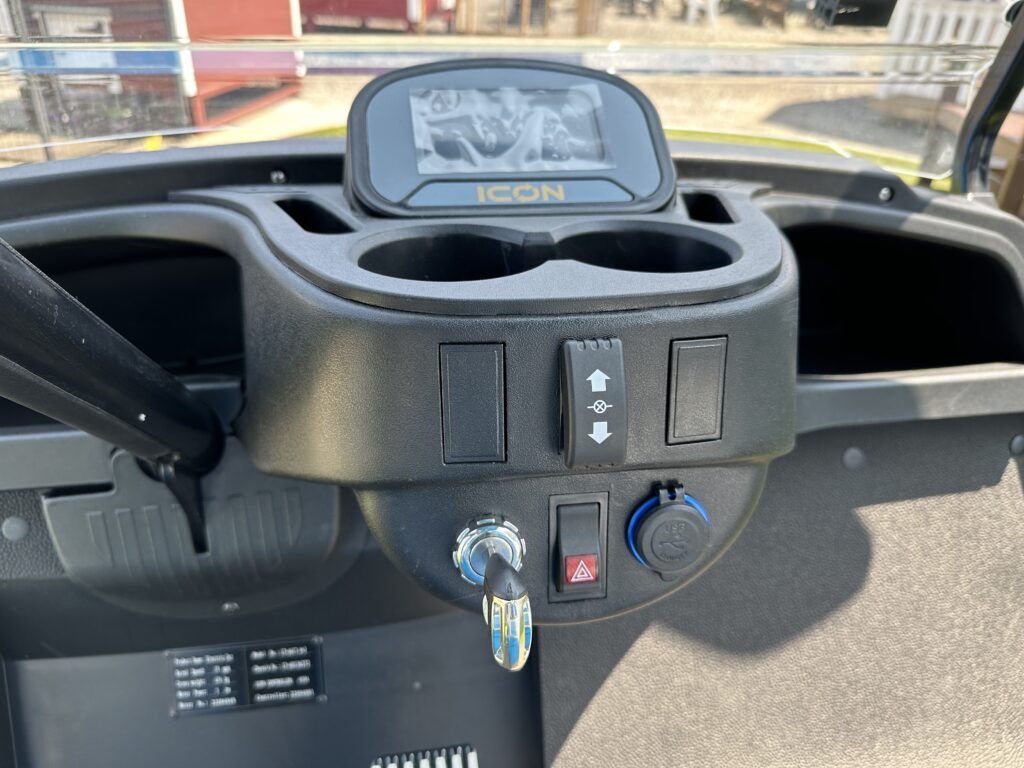 All Modern Interior, Radio System and Speakers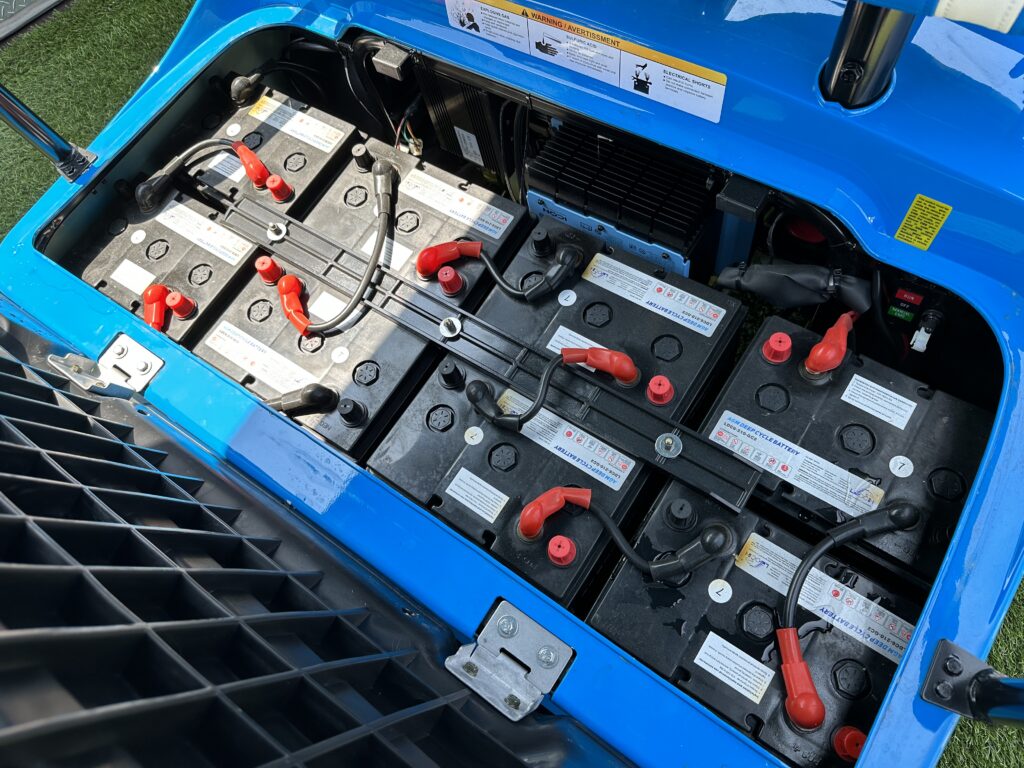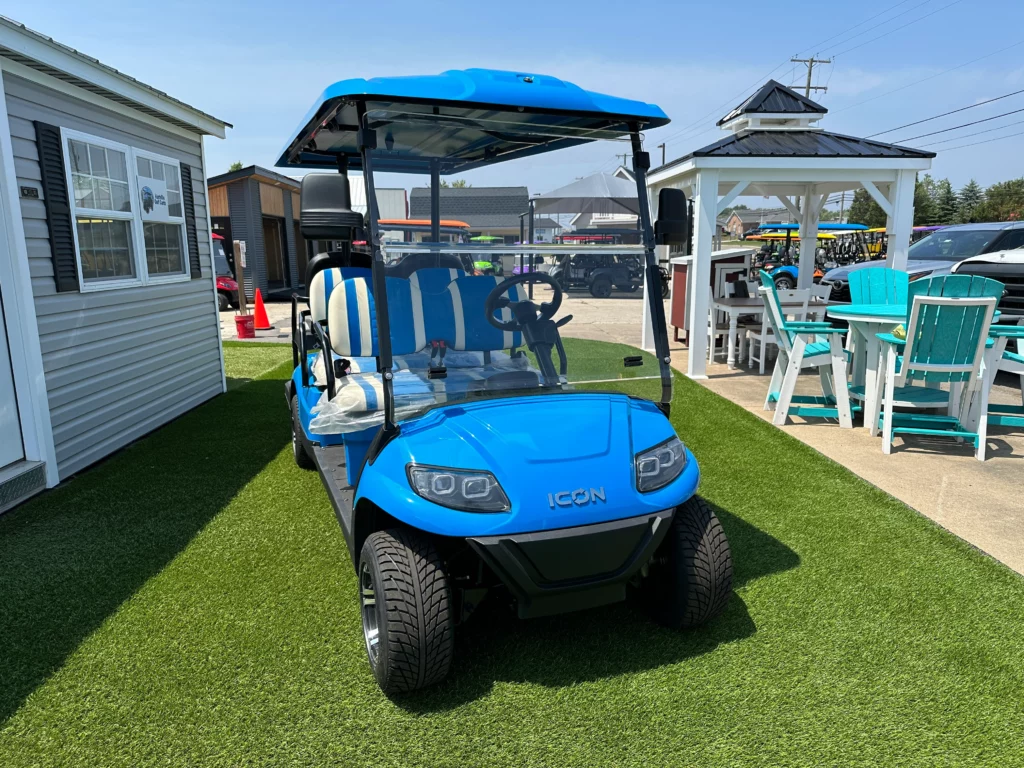 Convenience No Matter Where You're Seated
Foldable Acrylic/Optional DOT Acrylic
Innovative air deflecting design with full high-strength aluminum frame
Fully Adjustable and Foldable
High-Density Polyethylene molded for extra strength and toughness with Rubber Floor Mat
10 or 12 Inch Machined Face Aluminum with Powder Coated Accents
23×10.5R12 4 Ply Nylon Cord
Macpherson Style Fully Independent Coil Over Shock
Solid Axle Coil Over Shock and Stabilizing Bar
Four Wheel Disc Brakes and Electromagnetic Parking Brake System
Single Combination Switch for LED Projector Hi & Lo Beam Headlights, LED Signal Lights, Taillights, and Horn
Maximum distance per full charge:
Tubular Powder Coated Steel Frame
Fully Integrated Digital Instrument Cluster
Side Hip Restraint & Retractable Seat Belts
Self-Adjusting Double-Ended Rack and Pinion
Forward/Neutral/Reverse Switch, USB and 12V Plugs, Cubby Storage, Multiple Cup Holders, Key Switch, Instrumentation Cluster
Marine Grade Vinyl, Custom Stitched Panel, Single Color, Color Matched with White or Black Accents. Fold Flat Rear Seat for Hauling
48V ICON 5KW 3 Phase High Torque Motor
ICON 48V On-Board Charging System with Body Mounted Charge Indicator
(8) 6 Volt Sealed Maintenance-Free AGM Batteries, or an optional upgrade to 51V 105AH Eco Lithium Battery now available!
In Stock Icon i60 Golf Carts
Secure Your Icon i60 Golf Cart
The Icon i60 Golf Cart is an exceptional choice for avid golfers looking for a stylish, durable, and effortless ride on the course. This state-of-the-art cart provides sophisticated features and unrivaled comfort, making your golfing experience an absolute pleasure. With a super-responsive acceleration system and powerful electric motor, you can effortlessly navigate across even the steepest hills with ease. The i60's advanced GPS system and the large touchscreen display allows you to plan your game while enjoying a seamless ride to your next hole. Additionally, its sleek, modern design and classy exterior finish will make you the envy of your fellow golfers. This cart is perfect for golfers seeking a high-performing, luxury cart that is designed to make their golfing experience enjoyable. Get your Icon i60 Golf Cart today and experience the ultimate ride!
Interested In Our Selection?