Experience Luxury With The Icon i20L Golf Cart
The Icon i20L Golf Cart is a top-of-the-line mode of transportation for golfers seeking mobility and convenience on the greens. It boasts a sleek and modern design, with a glossy metallic finish that catches the eye. The i20L is powered by an electric motor and equipped with premium features such as a windshield, headlights, taillights, turn signals, and a rearview mirror. Comfortable seating and ample storage space make this golf cart a practical choice for those seeking both luxury and functionality. The i20L's durable construction and reliable performance make it the perfect choice for navigating golf courses and beyond. If you're looking for a superior golf cart, the Icon i20L is the ultimate choice. Discover it at Hartville Golf Carts and experience the ultimate in golfing convenience.
Powerful and Electric Motor
The 448V ICON 5KW 3 Phase High Torque Motor is a powerful and efficient motor designed for industrial and commercial use. This motor is a critical component of the Icon i20L machine, which is used in a variety of industries including food processing, manufacturing, packaging, and more. The high torque of the motor ensures that the machine can operate effectively under heavy loads, while the 448V power supply allows for maximum efficiency. The motor is also 3 phase, meaning it is more reliable and efficient compared to single-phase motors. Overall, the 448V ICON 5KW 3 Phase High Torque Motor is a high-quality, durable component that helps the Icon i20L machine to be a reliable and efficient solution to industrial and commercial needs.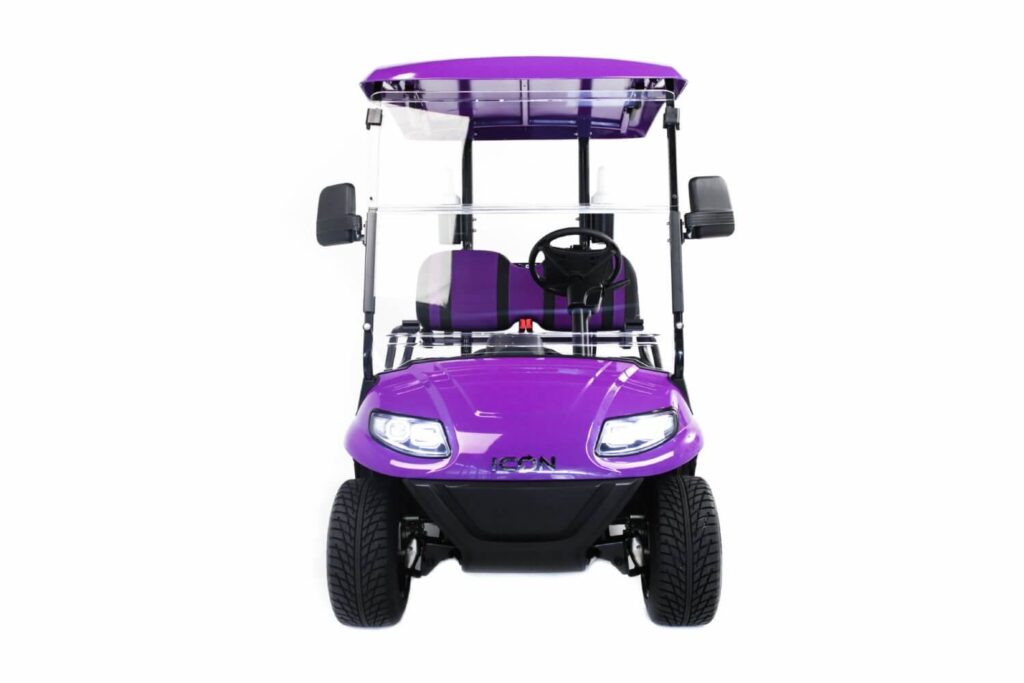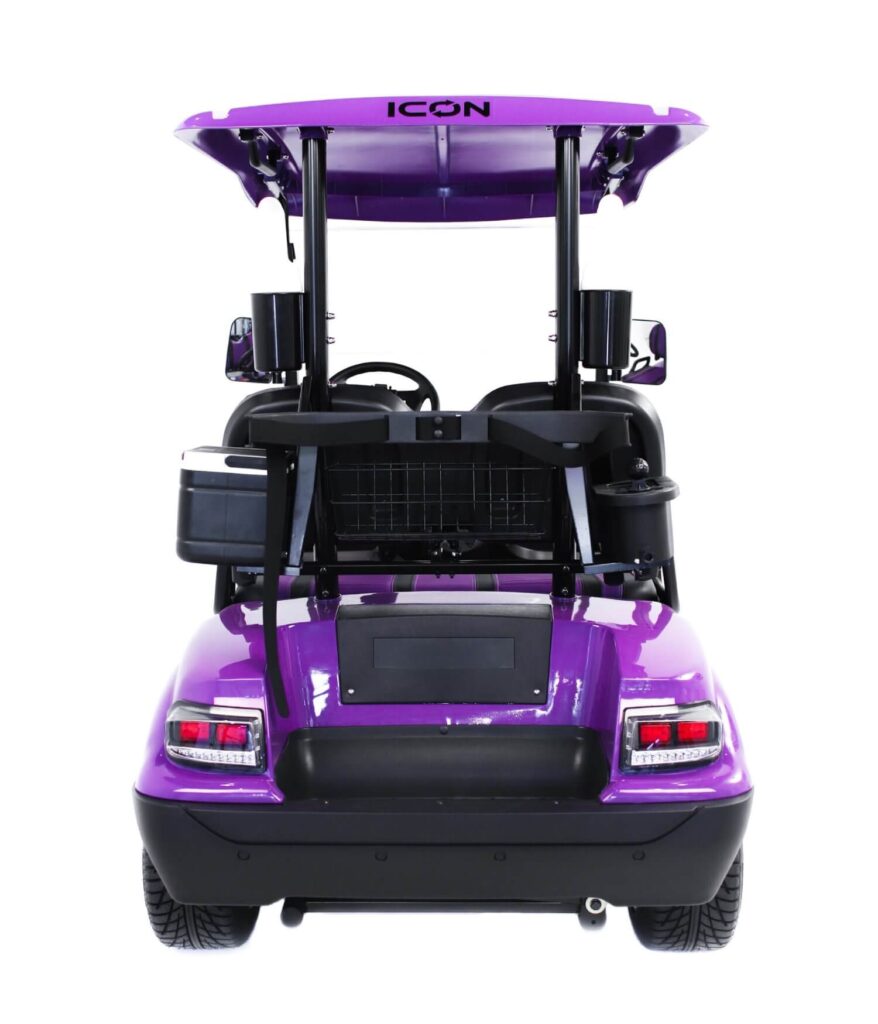 Extra Long Lasting Battery Applied
The 8 volt sealed maintenance free AGM (Absorbent Glass Mat) batteries are a reliable and long-lasting power source for a variety of applications, including golf carts, small boats, and utility vehicles. These batteries are sealed, meaning they don't require any maintenance such as adding water or checking the electrolyte levels. They are also spill-proof, vibration-resistant, and can be mounted in any position.

Recently, an upgrade to Eco Lithium technology has become available for these batteries. Eco Lithium batteries are lighter, have a longer lifespan, and can be recharged faster than traditional AGM batteries. They also have a lower environmental impact, as they don't contain hazardous materials or toxic chemicals. This upgrade makes the already reliable 8 volt sealed maintenance free AGM batteries even better, providing users with a more efficient and eco-friendly option for their power needs.
Extremely Fast Charging For Sooner Use
The Icon i20L golf cart has long been renowned for its exceptional lifespan, which is a testament to its superior engineering and build quality. A key factor contributing to the i20L's longevity is its advanced aluminum frame and body construction, which provides unparalleled durability that can withstand even the harshest of conditions.

Furthermore, the i20L's powerful electric motor and advanced battery technology ensure that it can maintain peak performance over an extended period without needing any significant servicing. Additionally, the steering and suspension systems have been expertly designed to provide exceptional handling, minimizing wear and tear on the vehicle's components and ensuring that it remains reliable over the years.

Research indicates that golf courses and resorts have been able to operate the Icon i20L for almost a decade with minimal maintenance costs, thanks to its dependable design and robust construction. Overall, the Icon i20L is an investment that pays off over time, delivering outstanding value and performance for many years to come.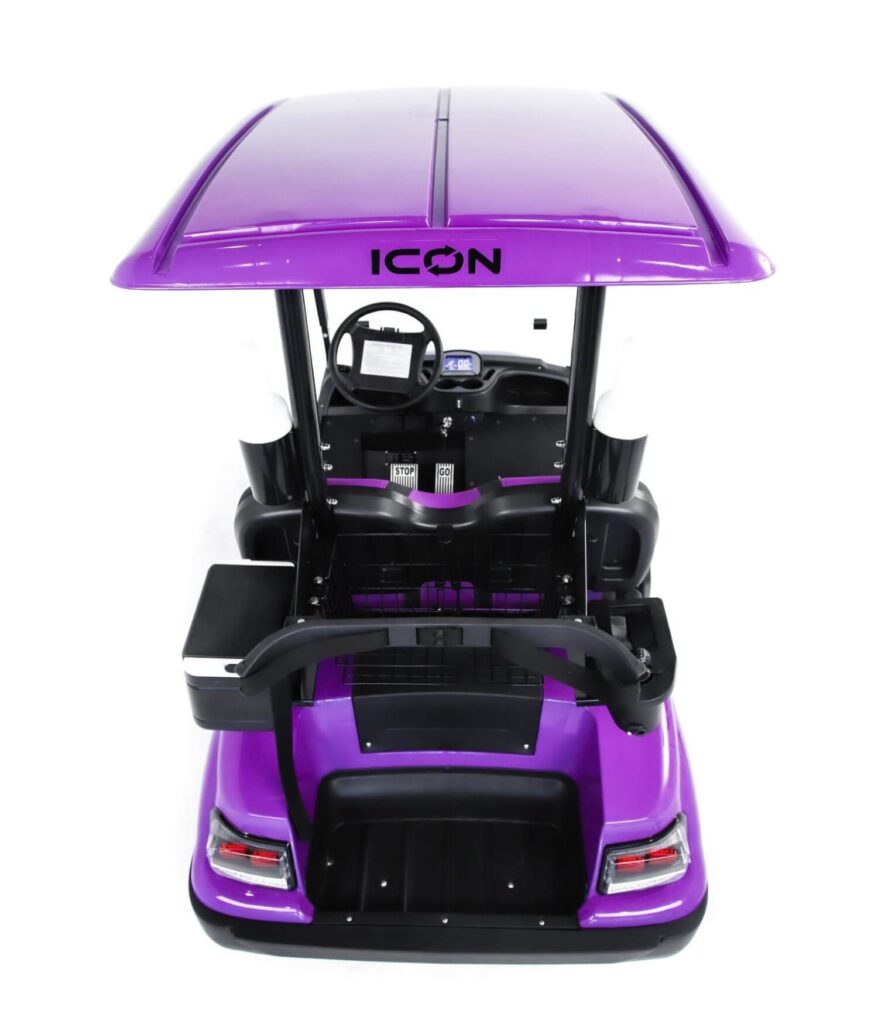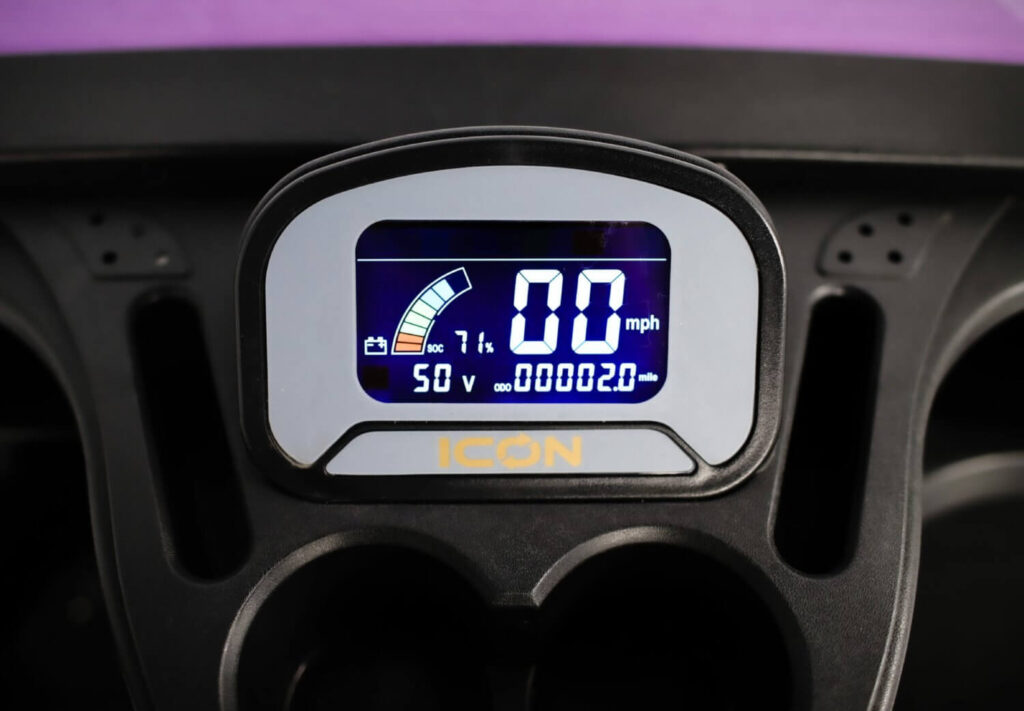 Smoother Ride, Outstanding Amenities
The Icon i20L Golf Cart is an exceptional golf cart that boasts a range of amenities and features. Equipped with a great suspension system, the i20L offers a smooth and comfortable ride, enabling golfers to manoeuvre through different terrains with ease. The cart also has excellent stability, ensuring golfers remain stable and safe while playing their game. Additionally, it has a powerful motor that allows it to climb steep hills effortlessly. As far as amenities go, the Icon i20L has a range of features, including LED headlights, windshields, rearview mirrors, and a USB port for charging mobile devices. It also has comfortable seating, cup holders, and a storage compartment for accessories. The Icon i20L is an excellent choice for golfers who want a stylish and high-quality golf cart with all the modern features they need.
Fantastic and Comfortable Design
Experience unparalleled comfort and sleek design with the Icon i20L Golf Cart. This impressive vehicle is bursting with luxurious features, including a plush, ergonomic seat that molds to your body for unmatched comfort during long rounds on the green. With a spacious interior and advanced suspension system, the i20L provides a smooth ride, free of bumps and jostles.

But that's not all. The i20L also boasts a sleek and modern design, turning heads wherever it goes. From its aerodynamic lines to its stylish color schemes, the i20L is sure to impress onlookers at the course. And with intuitive controls and a quiet electric motor, operating this cart is a breeze, allowing you to focus on what really matters: your game. Upgrade your golfing experience with the Icon i20L Golf Cart.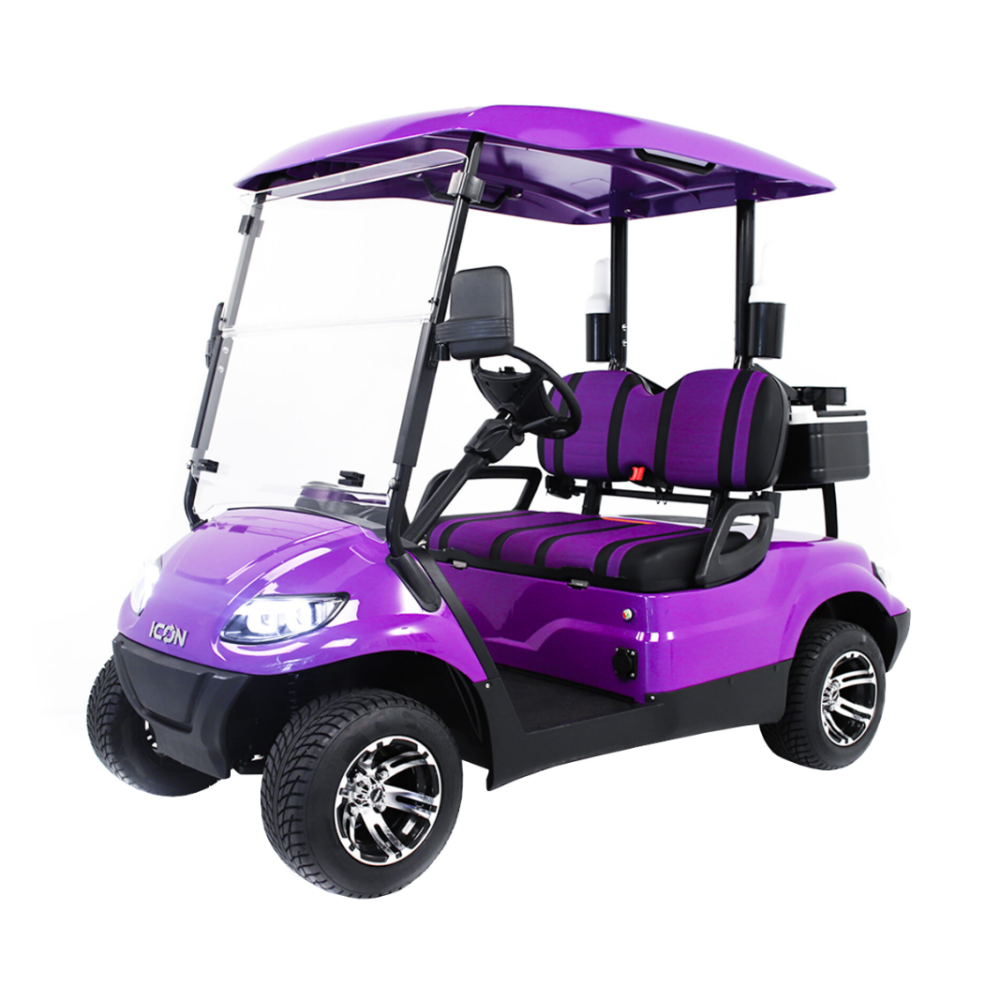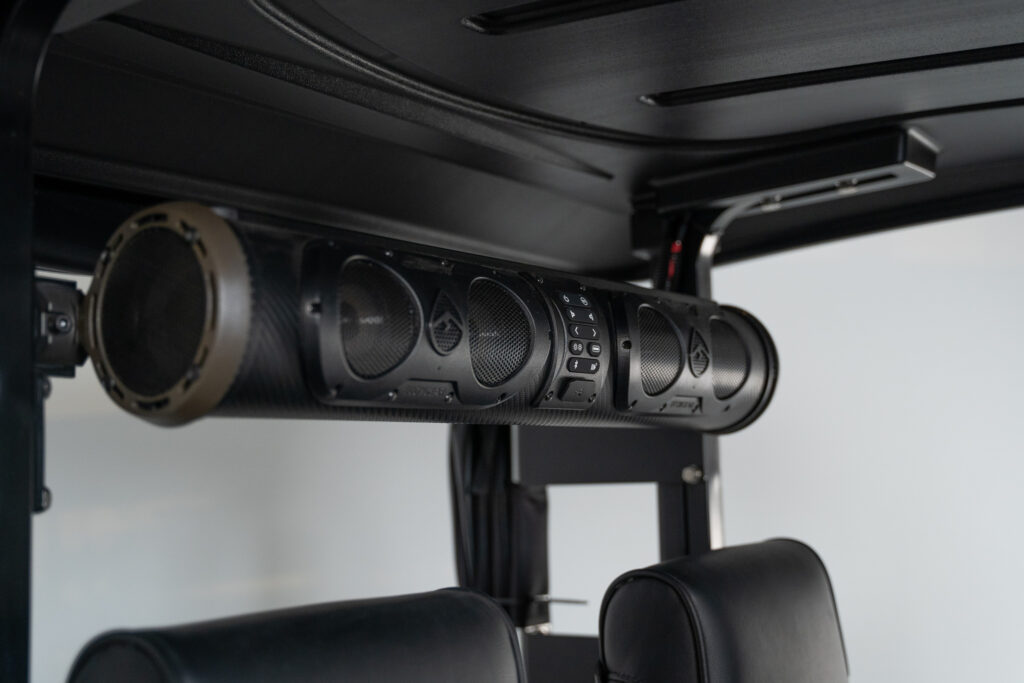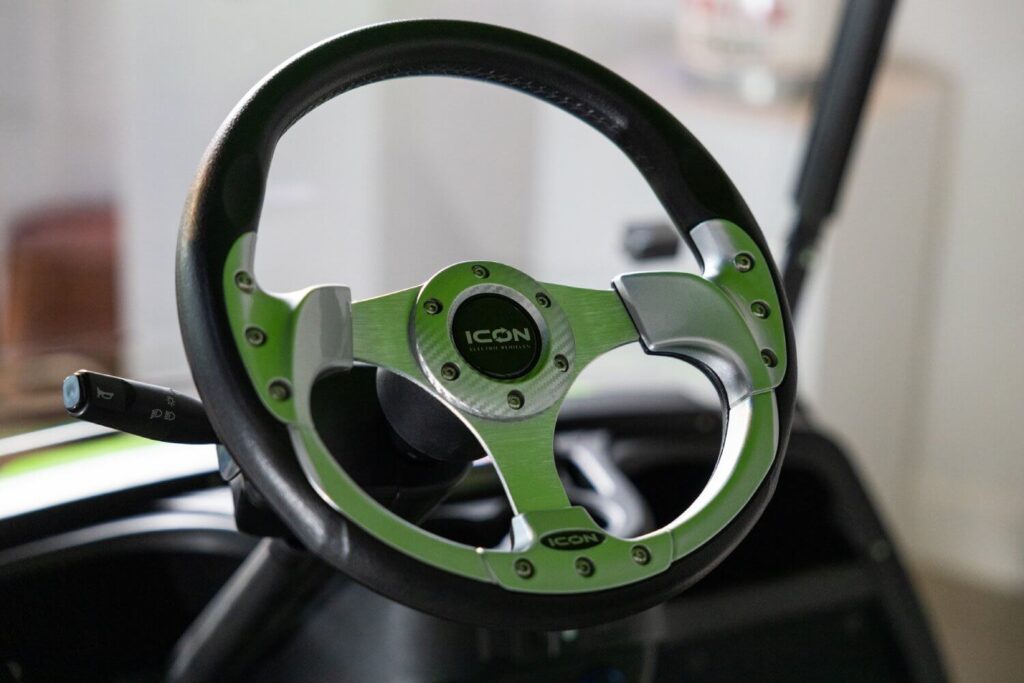 Convenience No Matter Where You're Seated
Foldable Acrylic/Optional DOT Acrylic
Innovative air deflecting design with full high-strength aluminum frame
Injection Molded Thermoplastic that is both stylish and resilient to outside damage
Fully Adjustable and Foldable
High-Density Polyethylene molded for extra strength and toughness with Rubber Floor Mat
12 Inch Machined Face Aluminum with Powder Coated Accents
23×10.5R12 4 Ply Nylon Cord
Macpherson Style Fully Independent Coil Over Shock
Solid Axle Coil Over Shock and Stabilizing Bar
Four Wheel Disc Brakes and Electromagnetic Parking Brake System
Single Combination Switch for LED Projector Hi & Lo Beam Headlights, LED Signal Lights, Taillights, and Horn
14:1 High Speed Rear Axle
Tubular Powder Coated Steel Frame
Fully Integrated Digital Instrument Cluster
Side Hip Restraint & Retractable Seat Belts
Self-Adjusting Double-Ended Rack and Pinion
Forward/Neutral/Reverse Switch, USB and 12V Plugs, Cubby Storage, Multiple Cup Holders, Key Switch, Instrumentation Cluster
Marine Grade Vinyl, Custom Stitched Panel, Single Color, Color Matched with White or Black Accents
Sand/Seed Bottles, Ball/Club Washer, Cooler, Sweater Basket all included
48V ICON 5KW 3 Phase High Torque Motor
ICON 48V On-Board Charging System with Body Mounted Charge Indicator
(6) 8 Volt Sealed Maintenance-Free AGM Batteries, or an optional upgrade to 51V 105AH Eco Lithium Battery now available!
More i20L Golf Carts Are On The Way
Secure Your Icon i20L Golf Cart
The Icon i20L Golf Cart is an exceptional choice for avid golfers looking for speed, power, and style. With its advanced AC electric motor and top speed of 28 mph, it's the perfect combination of comfort and luxury, and a fantastic way to navigate the course. The design is both sleek and sporty, with a durable aluminum frame and a sturdy roof that deflects wind and rain. It also features a state-of-the-art suspension system that gives riders a smooth and comfortable ride, while the hydraulic disc brakes provide excellent stopping power for safety. The i20L Golf Cart also has ample storage space, an onboard charger, and a 48-volt battery system that promises long-lasting performance. Simply put, the Icon i20L Golf Cart is one of the best golf carts on the market, and a fantastic investment for serious golfers looking to take their game to the next level.
Interested In Our Selection?