Experience Extensive Luxury With The Icon i40L ECO
Introducing the Icon i40L ECO golf cart – the ultimate combination of style and functionality, exclusively available at Hartville Golf Carts. This sleek and modern design packs a powerful punch with a 4kW AC drive motor, making it perfect for cruising around the golf course with ease. Its smooth acceleration and agile handling provide an unparalleled riding experience, while the state-of-the-art technology ensures reliability and efficiency at all times. But that's not all – the Icon i40L also features a spacious and comfortable interior, complete with premium materials and ergonomic seats, making every ride a delightful one. Whether you're a seasoned golfer or a leisurely rider, this golf cart is sure to exceed your expectations and stand out from the crowd. 
Powerful and Electric Motor
The Icon i40L ECO Golf Cart is an electric golf cart that features a powerful motor to ensure a smooth and efficient ride. The motor is a 4kw AC motor that delivers impressive acceleration and torque, making it perfect for navigating hills and rough terrain. The motor is also energy-efficient, allowing for a longer battery life and minimizing the need for recharging. The i40L ECO Golf Cart can travel up to 50 miles on a single charge, which is a remarkable feat for an electric golf cart of this size. Additionally, the motor is designed to be quiet, reducing noise pollution and allowing for a peaceful ride on the golf course. Overall, the motor is a critical component of the Icon i40L ECO Golf Cart and is crucial for providing a top-notch golfing experience.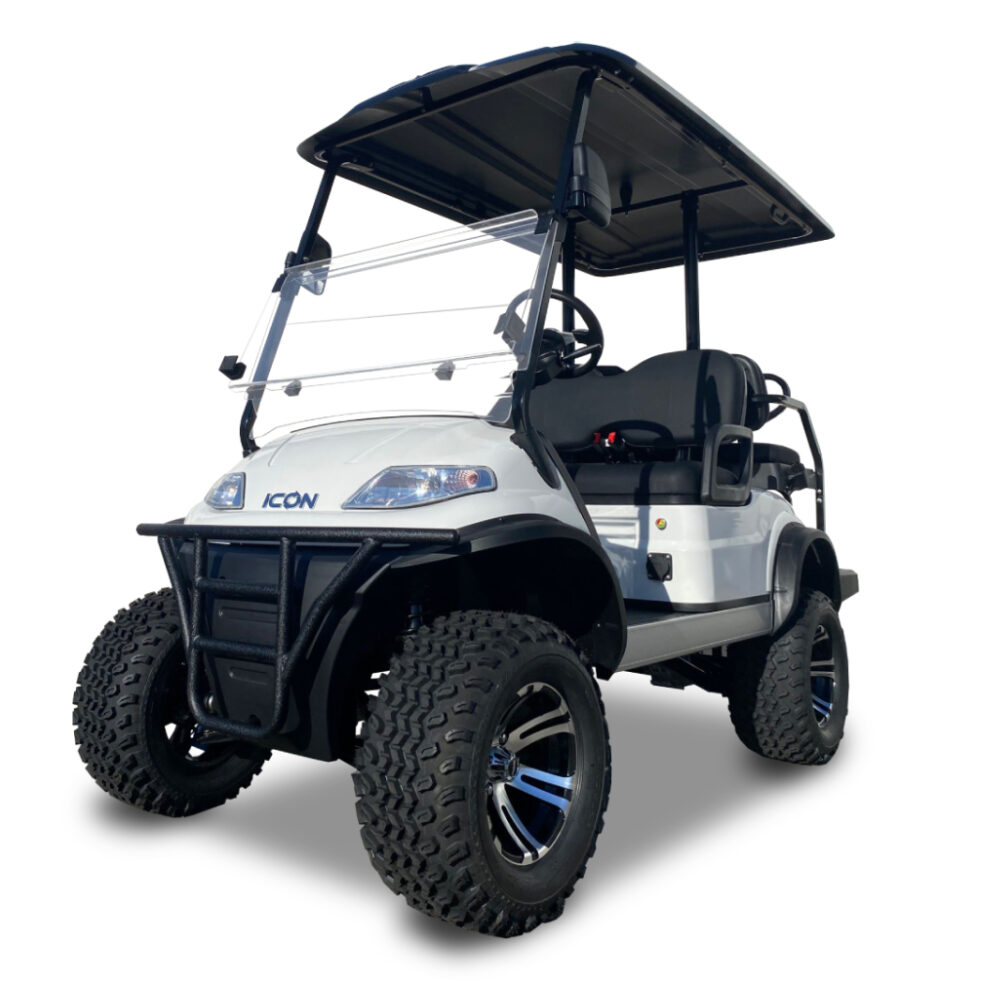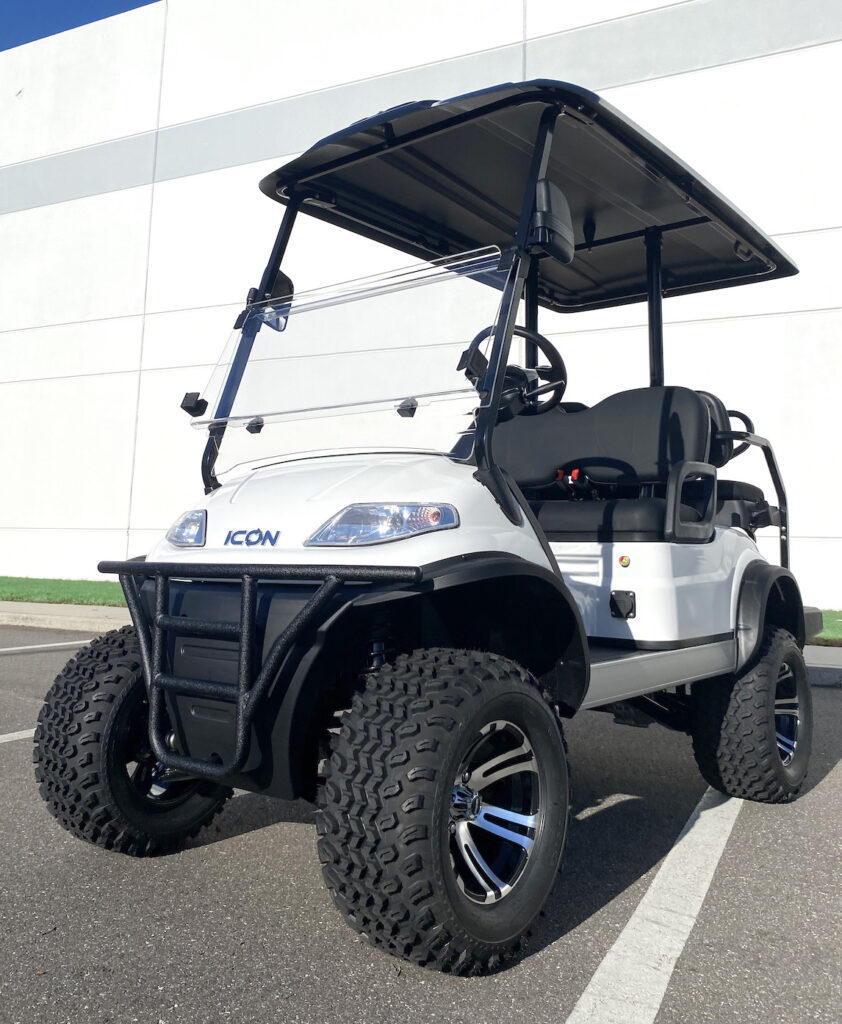 Extra Long Lasting Battery Applied
The Icon i40L Eco Golf Cart is powered by a 6 volt sealed maintenance free AGM battery that provides reliable and long-lasting performance. This type of battery uses a sealed design that prevents leakage and maintenance requirements, making it an ideal choice for golf cart applications. The AGM technology also offers enhanced durability and resistance to vibration, which is particularly beneficial in a golf course setting where the cart can experience rough terrain and bumps.
The battery's 6 volt capacity provides ample power to drive the golf cart for an extended period, while the maintenance-free design eliminates the need for frequent upkeep and monitoring. Overall, the efficient 6 volt sealed maintenance free AGM battery is a crucial component in the Icon i40L Eco Golf Cart, providing reliable and consistent power to ensure optimal performance on the green.
Extremely Fast Charging For Sooner Use
The Icon i40L ECO Golf Cart is built to exceed expectations, especially when it comes to its battery life. With its efficient power consumption, this golf cart can last up to 50 miles on a single charge, making it perfect for long-distance golfing sessions. The battery is also durable, with a lifespan of up to five years. Its efficient regenerative braking system ensures that energy is conserved, providing longer battery life and reducing the chances of sudden power loss. So, whether you're a professional golfer, a golf course owner, or a casual player, the Icon i40L ECO Golf Cart is the perfect investment that ensures you get the most out of your golfing experience without worrying about running out of power.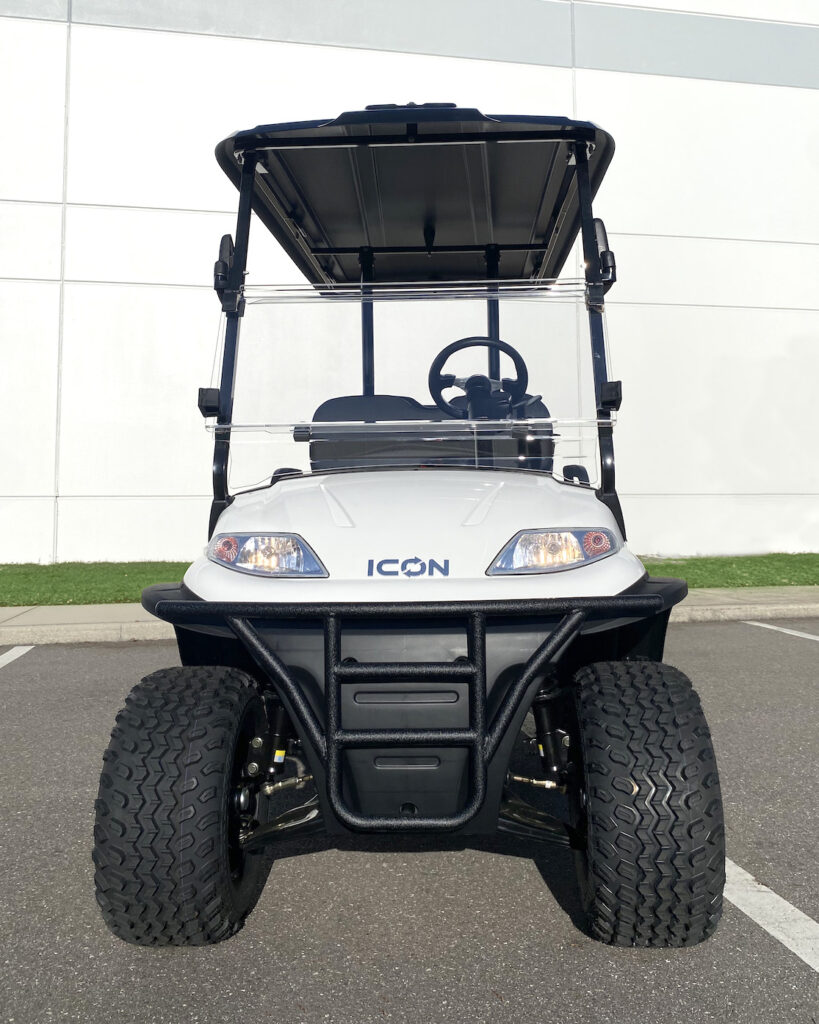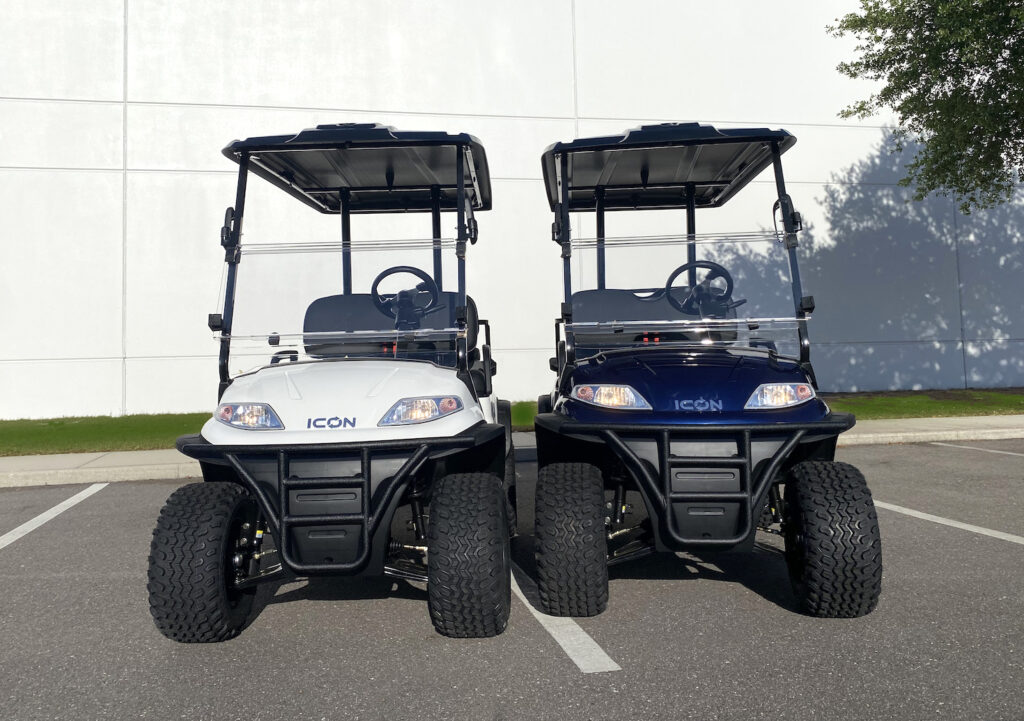 Reliable, Smooth and Includes Outstanding Amenities
The ICON i40L ECO Golf Cart is gaining popularity due to its reliability and exceptional features. The cart can travel up to 60 miles on a single charge, making it perfect for extended periods on the golf course, resort or private property. The i40L ECO includes a powerful 5.5 kW AC motor and can reach speeds up to 25 mph, making it ideal for traversing the hills and valleys of golf courses. It features an LCD display that provides real-time information on speed, battery power, and other vital metrics. The cart's LED lights help to improve visibility, and its ergonomic steering wheel offers a comfortable grip for extended use. Additionally, the cart includes amenities like cup holders, a USB charging port, and a rearview mirror. Overall, the ICON i40L ECO Golf Cart is a reliable and luxurious option for any golf course or private property.
Fantastic and Comfortable Design
The Icon i40L ECO Golf Cart features a sleek and comfortable design that is both appealing and practical. It offers a spacious interior space that can comfortably seat up to four passengers, with plenty of legroom and headroom. The ergonomic seats are designed to provide maximum comfort during long drives around the golf course. The cart's low noise levels make it a perfect vehicle for use on golf courses and other outdoor venues. The body of the golf cart is made of durable materials that can withstand harsh weather conditions and rough terrain. The cart's advanced suspension system ensures a smooth and comfortable ride, even on bumpy and uneven surfaces. Its energy-efficient electric motor and battery system make it an eco-friendly option that is kind to the planet. Overall, the sleek and comfortable design of the Icon i40L ECO Golf Cart makes it a top choice for golfers who value both style and comfort.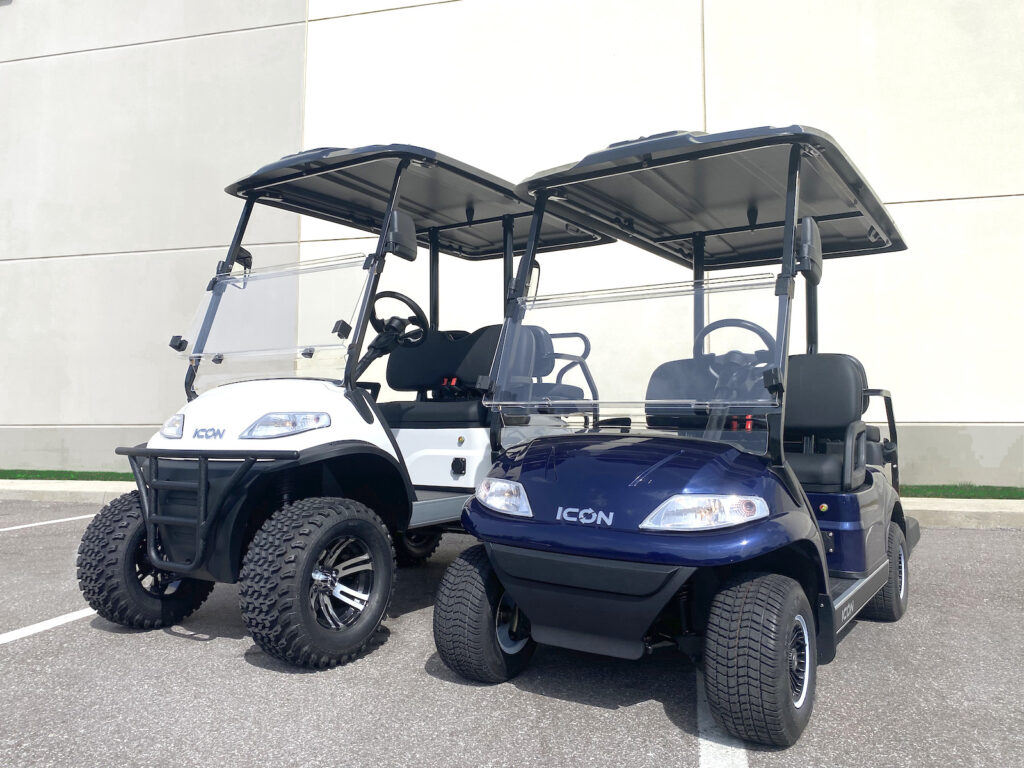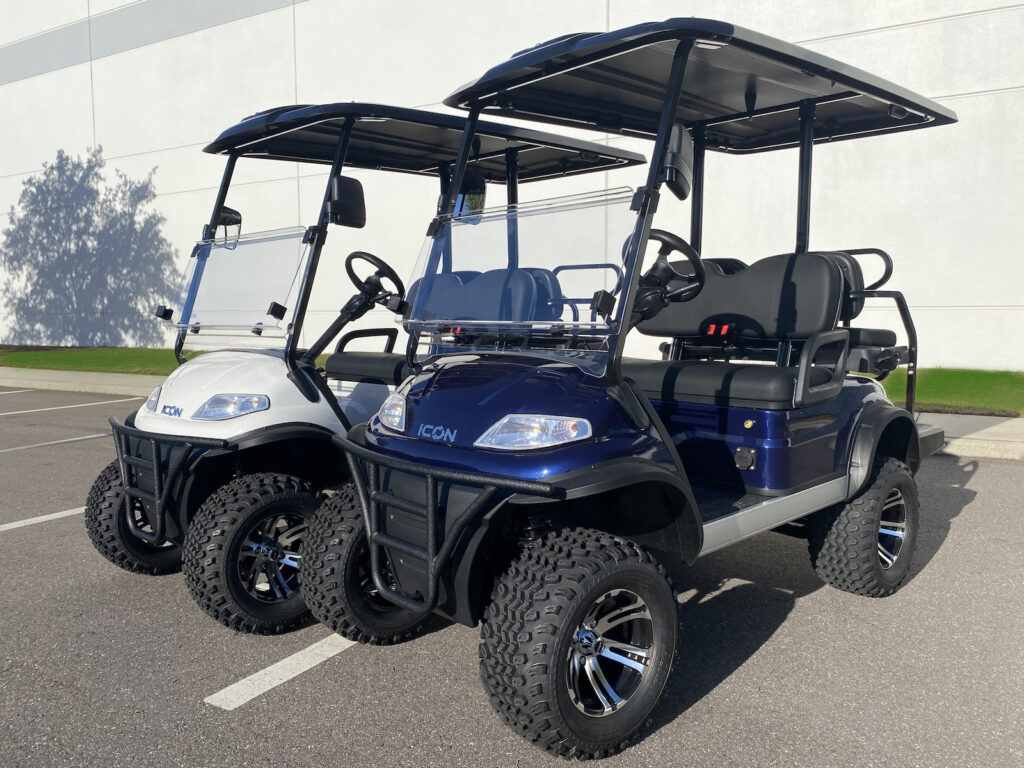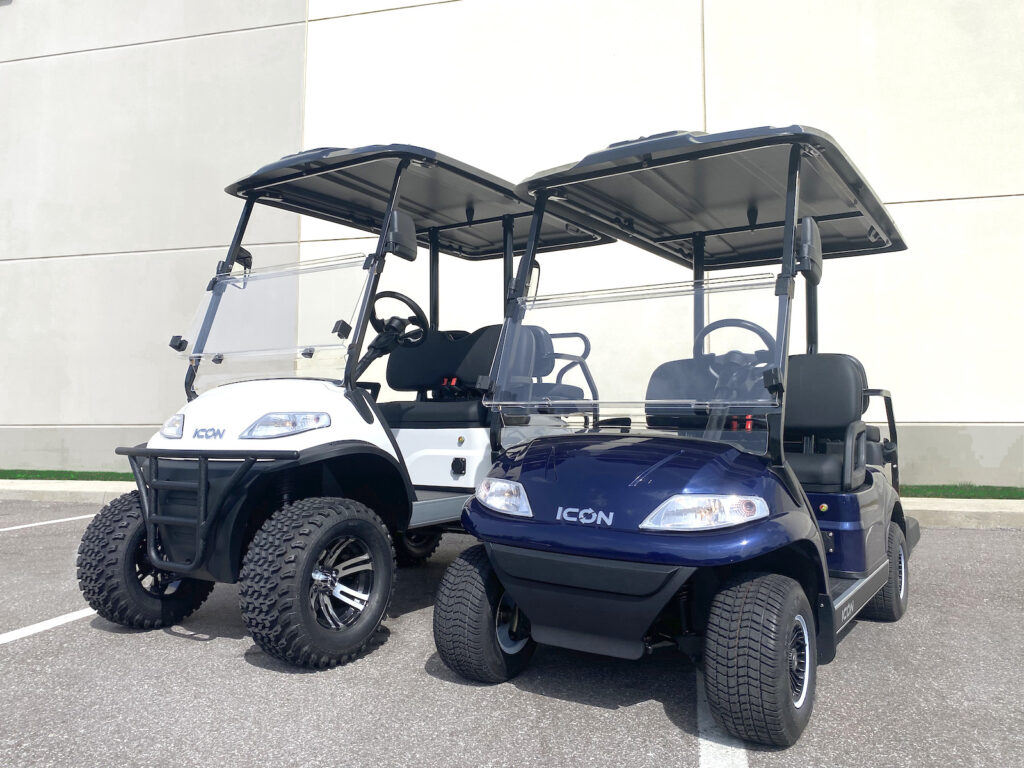 Convenience No Matter Where You're Seated
Icon i40L ECO Specifications
Foldable Acrylic/Optional DOT Acrylic
Innovative air deflecting design with full high-strength aluminum frame
Injection Molded Thermoplastic that is both stylish and resilient to outside damage
Fully Adjustable and Foldable
High-Density Polyethylene molded for extra strength and toughness with Rubber Floor Mat
12 Inch Machined Face Steel With Powder Coated Accents
23×10.5R12 4 Ply Nylon Cord
Macpherson Style Fully Independent Coil Over Shock
Solid Axle Coil Over Shock and Stabilizing Bar
Four Wheel Disc Brakes and Electromagnetic Parking Brake System
Single Combination Switch for LED Projector Hi & Lo Beam Headlights, LED Signal Lights, Taillights, and Horn
10.5:1 or 14:1 High Speed Rear Axle
Tubular Powder Coated Steel Frame
Fully Integrated Digital Instrument Cluster
Side Hip Restraint & Retractable Seat Belts
Self-Adjusting Double-Ended Rack and Pinion
Forward/Neutral/Reverse Switch, USB and 12V Plugs, Cubby Storage, Multiple Cup Holders, Key Switch, Instrumentation Cluster
Marine Grade Vinyl, Custom Stitched Panel, Single Color, Color Matched with White or Black Accents
ICON 48V On-Board Charging System with Body Mounted Charge Indicator
(8) 6 Volt Sealed Maintenance Free AGM
Contact Sales About The Icon i40 ECO Golf Cart
Secure Your Icon i40 ECO Golf Cart
If you're in the market for a reliable yet eco-friendly golf cart, the Icon i40L ECO Golf Cart is your perfect match. This state-of-the-art golf cart is perfect for first-time golf cart buyers who want to save money and the environment. With its top-of-the-line components, strong motor, and an option to choose between lead acid or lithium-ion batteries, it's more efficient than traditional golf carts. You can enjoy longer rides without worrying about fuel costs or emissions. 
The wireless control option allows you to communicate with the cart in real-time, making navigation a breeze. It also comes with a weather enclosure kit, so you can stay comfortable no matter the weather. You'll love the smooth and quiet ride, and the ergonomic seats provide pure comfort. The Icon i40L ECO Golf Cart is the perfect way to transform your golfing experience with a reliable and eco-friendly ride.
Interested In Our Selection?