Get Things Done With The Icon i20U Golf Cart With Dump Bed
Looking for a golf cart that's both stylish and functional? Look no further than the Icon i20U Utility golf cart with Dump Bed at Hartville Golf Carts. With its sleek design and cutting-edge features, this cart offers everything you need for a fun and efficient game. The dump bed is an added bonus, providing a convenient way to transport your clubs and accessories, while the durable construction ensures that it will last for years to come. Whether you're a casual player or a serious golfer, the Icon i20U Utility golf cart with Dump Bed is sure to exceed your expectations. 
Powerful and Electric Motor
Introducing the ultimate powerhouse duo – the 48v Icon 5K3 3 Phase High Torque Motor with the Icon i20U Golf Cart. Built for the adventurers who crave nothing but the best, this combination is a force to be reckoned with. The 450A Icon Motor boasts a compact size and an incredibly powerful motor that guarantees maximum utility and efficiency. It is built to endure tough conditions and is perfect for off-road excursions. The Icon i20, on the other hand, is the perfect controller for the 450A Icon Motor. Its Bluetooth connectivity and intuitive controls make it easy to operate, while its sleek design and rugged construction ensure durability. Together, the 450A Icon Motor and the Icon i20U make an unbeatable team that delivers unmatched strength, performance, and control. Get ready to take on any terrain and conquer every adventure with ease!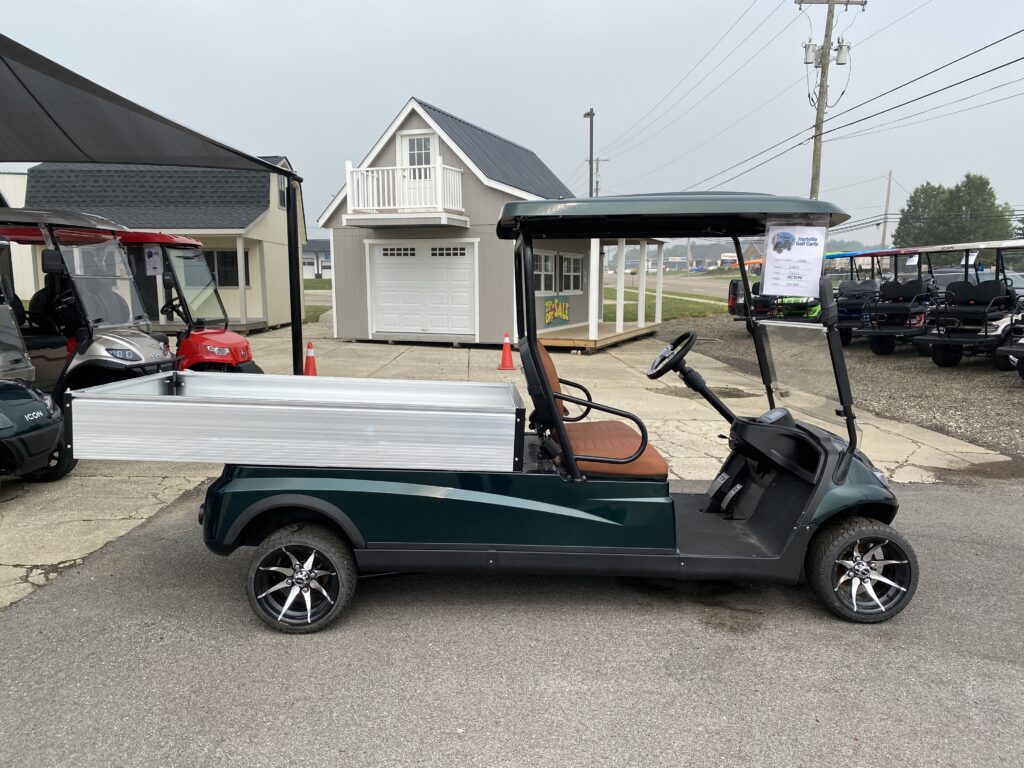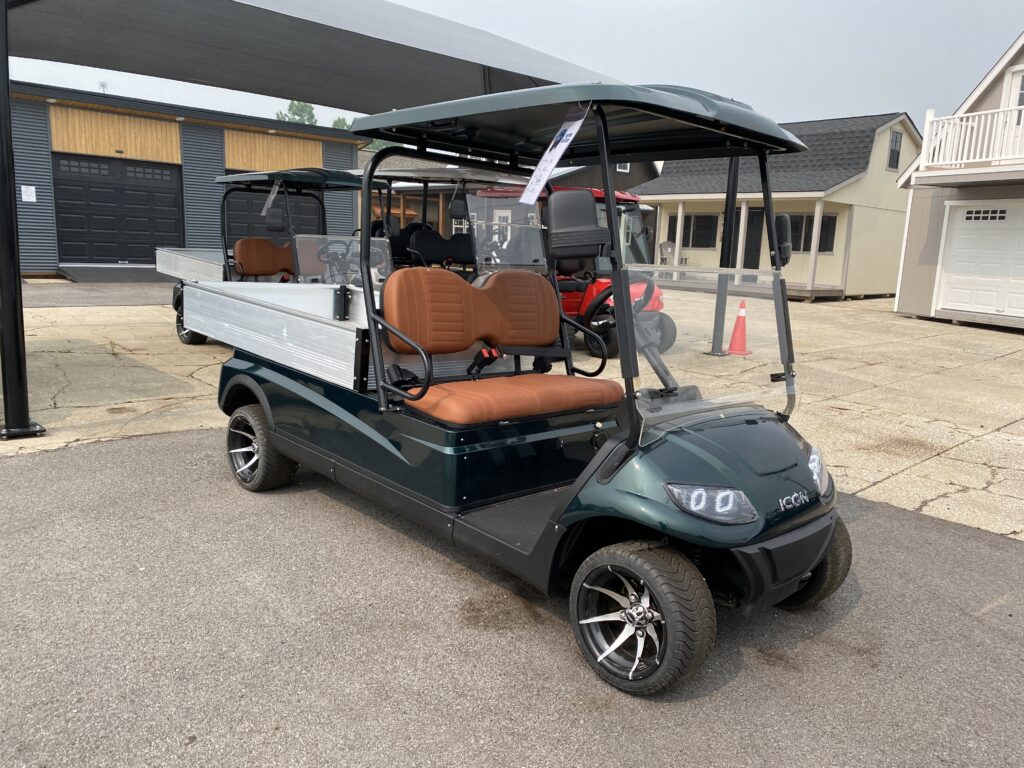 Extra Long Lasting Battery Applied
The Icon i20U comes equipped with a powerful 8-volt sealed maintenance-free AGM battery that is built to last. With its advanced technology, this battery provides a reliable and consistent power supply for your golf cart or other electric vehicle. 
Extremely Fast Charging For Sooner Use
Extend the lifespan of your Icon i20U and enjoy uninterrupted usage with a few easy steps. With proper charging habits, you can give your device a boost and ensure it lasts longer. Consider investing in a high-quality charging cable and avoiding overcharging, which can harm the battery. In addition, keeping your device away from extreme temperatures can also benefit its battery life. Taking these simple steps can not only reduce the likelihood of battery failure but also maximize your battery's potential output. Enjoy your Icon i20U for longer and boost your productivity with a fully charged device at all times.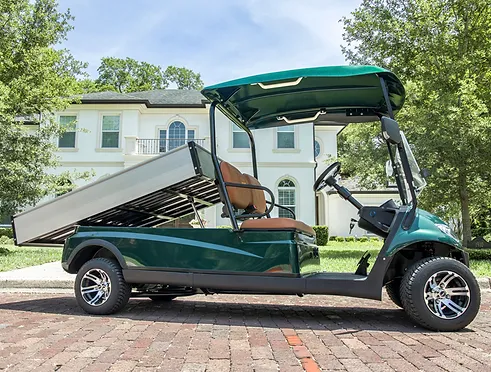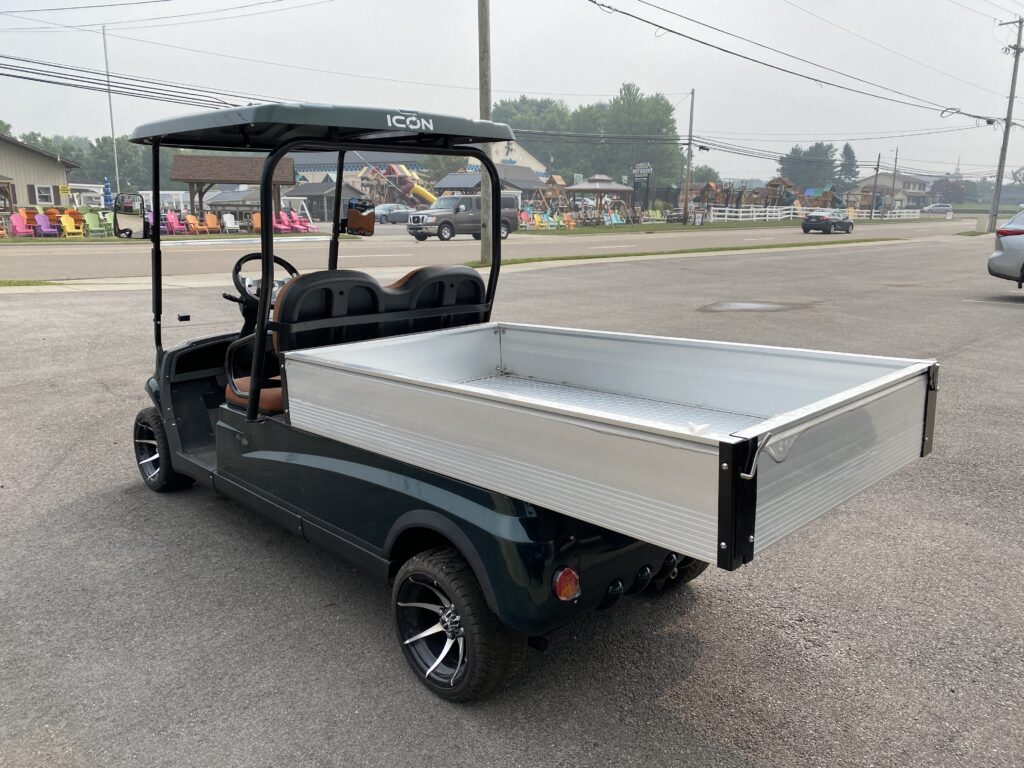 The dump bed feature of the Icon i20U Golf Cart is a unique addition that makes it an efficient and versatile transportation option. It is designed with a bed that can be easily tilted to dump any load that is being carried, making it suitable for various purposes. Users can transport anything from gardening tools, golf clubs, groceries, to construction materials, and more. Its dumping capacity is also impressive, making it ideal for small construction sites, golf courses, and gardeners. The dump bed is also easy to operate, ensuring that anyone can use it without encountering any problem. Overall, the Icon i20U Golf Cart's dump bed feature is a useful addition that makes the cart highly flexible and adaptable with any type of load or work that needs to be transported.
Fantastic and Comfortable Design
The Icon i20U Utility Dump Bed Golf Cart has a sleek and modern design that combines functionality and style. The cart features a spacious dump bed that can hold up to 500 pounds, allowing users to easily transport tools, supplies, or any other equipment needed for their work or leisure activities. The bed is also equipped with a hydraulic lift system, making it easy to unload items with minimal effort. The cart is powered by a reliable and efficient 48-volt electric motor and comes equipped with a variety of safety features, including headlights, taillights, and turn signals. The sturdy steel frame and durable poly bed ensure that the cart can withstand rough terrain and heavy loads. Overall, the Icon i20U Utility Dump Bed Golf Cart is a versatile and reliable option for anyone in need of a utility vehicle for work or play.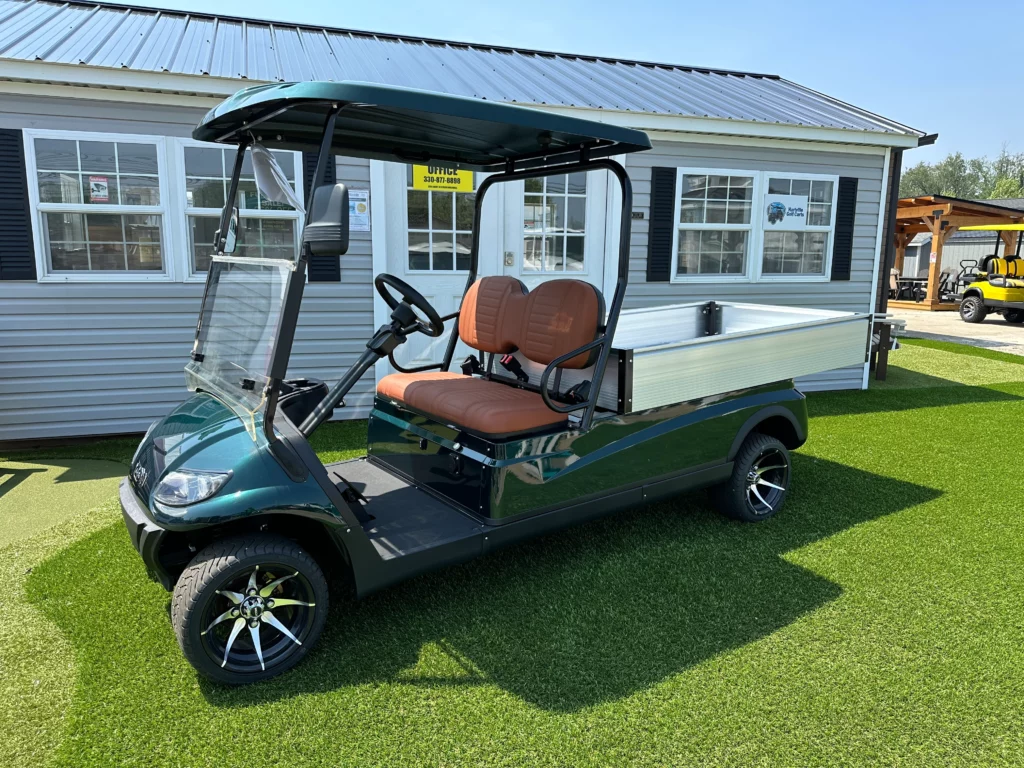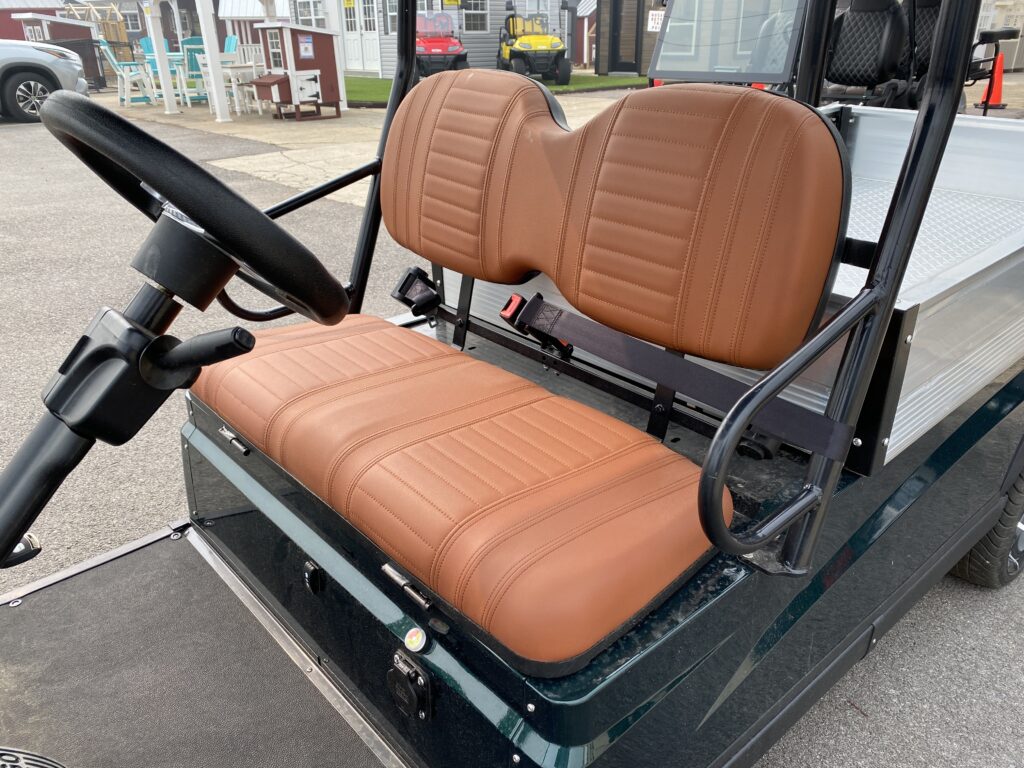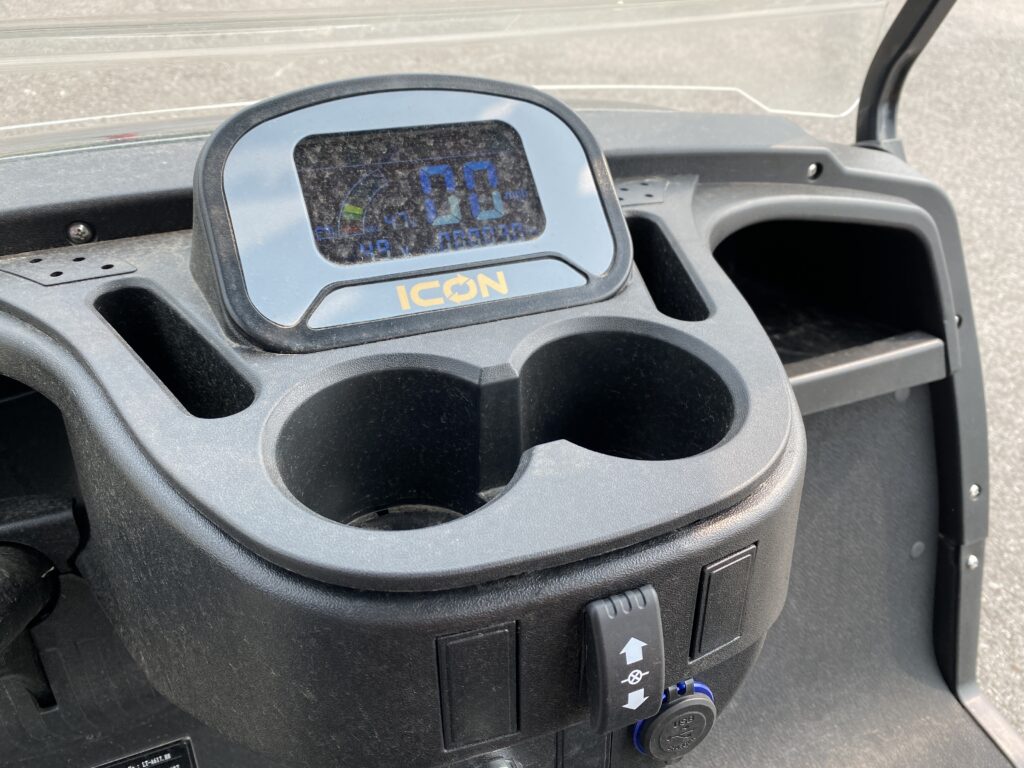 Convenience No Matter Where You're Seated
Foldable Acrylic/Optional DOT Acrylic
Innovative air deflecting design with full high-strength aluminum frame
Injection Molded Thermoplastic that is both stylish and resilient to outside damage
Fully Adjustable and Foldable
High-Density Polyethylene molded for extra strength and toughness with Rubber Floor Mat
12 Inch Machined Face Aluminum with Powder Coated Accents
23×10.5R12 4 Ply Nylon Cord
Macpherson Style Fully Independent Coil Over Shock
Solid Axle Coil Over Shock and Stabilizing Bar
Four Wheel Disc Brakes and Electromagnetic Parking Brake System
Single Combination Switch for LED Projector Hi & Lo Beam Headlights, LED Signal Lights, Taillights, and Horn
14:1 High Speed Rear Axle
Tubular Powder Coated Steel Frame
Fully Integrated Digital Instrument Cluster
Side Hip Restraint & Retractable Seat Belts
Self-Adjusting Double-Ended Rack and Pinion
Forward/Neutral/Reverse Switch, USB and 12V Plugs, Cubby Storage, Multiple Cup Holders, Key Switch, Instrumentation Cluster
Marine Grade Vinyl, Custom Stitched Panel, Single Color, Color Matched with White or Black Accents
Sand/Seed Bottles, Ball/Club Washer, Cooler, Sweater Basket all included
48V ICON 5KW 3 Phase High Torque Motor
ICON 48V On-Board Charging System with Body Mounted Charge Indicator
(6) 8 Volt Sealed Maintenance-Free AGM Batteries, or an optional upgrade to 51V 105AH Eco Lithium Battery now available!
In Stock Icon i20U Golf Carts
Secure Your Icon i20U Golf Cart
The Icon i20U Utility Golf Cart with Dump Bed is the ideal choice for those who want to effortlessly transport goods around their property. It is a reliable and durable vehicle that is perfect for those who want to move heavy objects with ease. The dump bed is a valuable addition that allows you to load and unload goods efficiently.

The i20U is designed for all-terrain and is powered by a 48-volt electric motor. It is equipped with a 500-pound capacity, providing ample space for carrying heavy equipment. The cart is energy-efficient and can travel up to 25 miles on a single charge. The dump bed has a hydraulic lift mechanism that ensures that the goods are unloaded effortlessly.

The Icon i20U Utility Golf Cart with Dump Bed is a top-performing vehicle that offers convenience and reliability. Whether you are transporting gardening tools or construction materials, this cart will make your work easier and more efficient. Choose the i20U for your hauling needs and experience effortless transportation like never before.
Interested In Our Selection?