Ride With Comfort On The Jupiter Defiant PRO Ebike
The Jupiter Defiant Pro EBike with Fat Tires is now available at Hartville Golf Carts. This electric bike has all-terrain fat tires, perfect for off-road adventures or daily commuting. With five levels of pedal assist and a maximum speed of 28mph, this bike can conquer any terrain. The Jupiter Defiant Pro also has a range of up to 40 miles on a single charge, providing long-lasting and reliable transportation. Other features include LED lights, a backlit LCD, and hydraulic disc brakes. The bike's sleek design ensures a comfortable riding experience, with an adjustable seat and handlebars to cater to any rider's needs. The Jupiter Defiant Pro EBike is a quality, high-performance choice for any cyclist looking for an adventure-ready ride.
Efficient Motor and Long Lasting Battery
The Jupiter Defiant Pro Ebike boasts a powerful 750W motor that can propel riders up to 28mph, making it an ideal option for commuting, running errands, or weekend adventures. With five levels of pedal assist and throttle mode, this e-bike provides a smooth and intuitive ride experience that caters to different riding styles and terrains. Additionally, the Defiant Pro's advanced battery system can cover up to 40 miles on a single charge, allowing riders to enjoy longer journeys without worrying about running out of juice. The compact and lightweight battery can be easily removed for charging, making it convenient for outdoor activities or commuting. The combination of a powerful motor and efficient battery makes the Jupiter Defiant Pro an excellent choice for riders seeking reliability, performance, and versatility in an e-bike.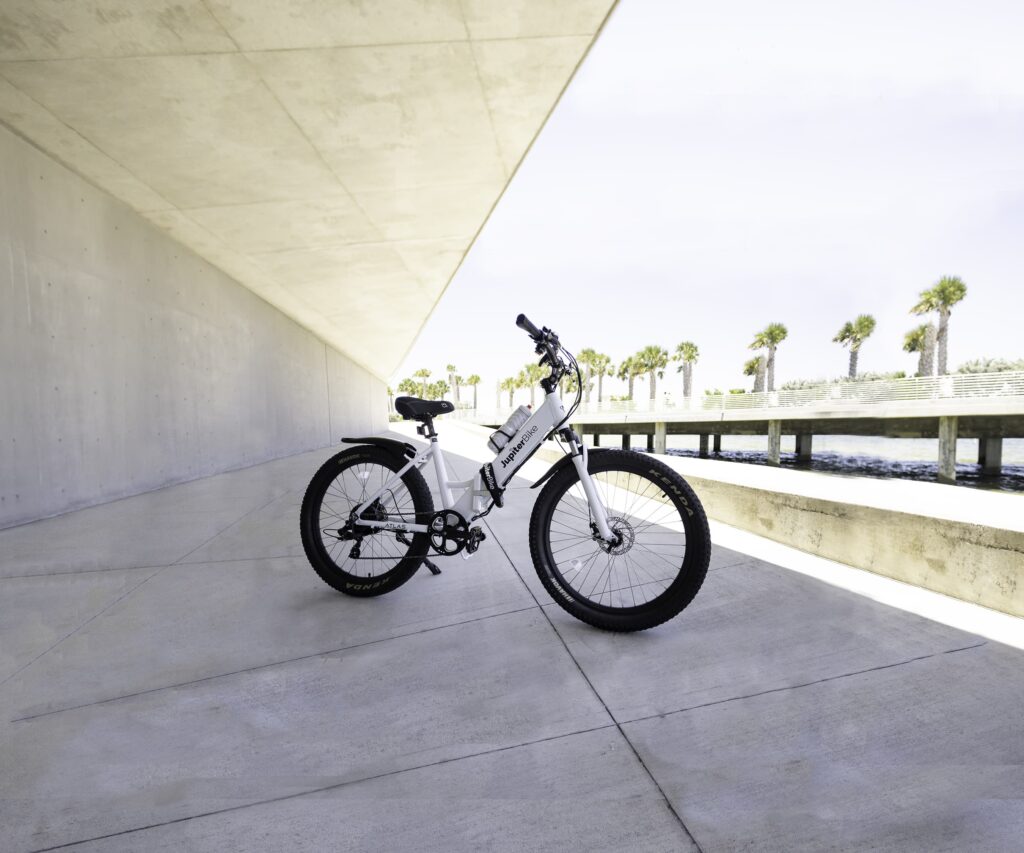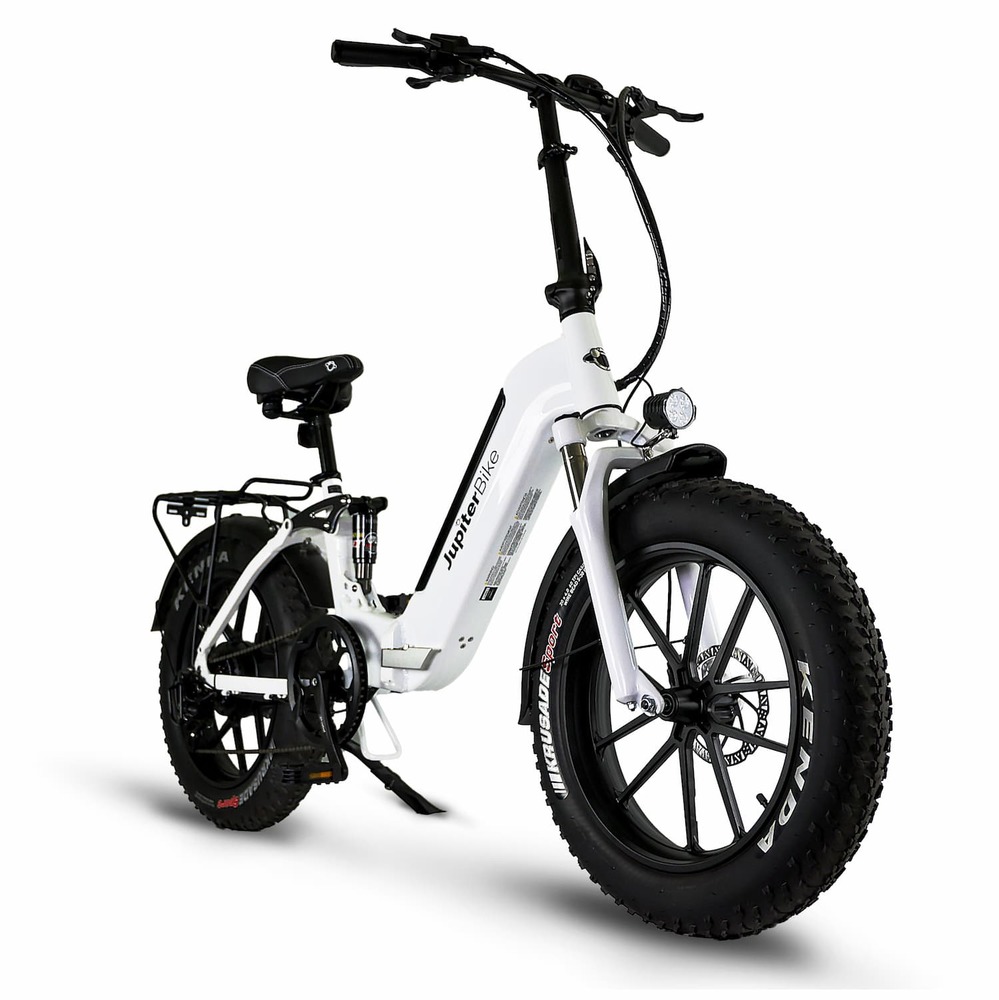 Great Performance, Built With Safety
The Jupiter Defiant Pro electric bike is excellent for high performance and safety. With its powerful 750W motor, the bike can easily cruise up hills and reach up to 28mph speeds. Its battery system is also impressive, offering riders a range of up to 40 miles on a single charge. Safety is another area where the Defiant Pro excels, thanks to its powerful front and rear LED lights, puncture-resistant fat tires, and responsive hydraulic disc brakes. These features ensure riders can focus on the road ahead and enjoy a safe and comfortable ride. The fat tires offer smooth rides, even on rough terrain and bumpier roads. Whether you're commuting or looking for an adventure, the Jupiter Defiant Pro is a fantastic option for riders looking for a high-performance e-bike with top-notch safety features.
Modern Approach, Fully Foldable
The Jupiter Defiant Pro Ebike is a high-end electric bike with many modern features. The Defiant PRO is powered by a 750-watt motor with a top-end speed of up to 28 mph. The bike has a 48V 14Ah battery, ranging up to 60 miles on a single charge. The Defiant Pro also features a suspension fork and rear suspension, making riding comfortable on rough terrain.
One unique feature of the Defiant Pro is its foldability. The bike can be easily folded down and carried in a compact form, which makes it easy to store the bike in small spaces or transport it in a car or public transportation. The bike also features a digital display, showing speed, battery life, and other important information. Finally, the Defiant Pro comes with powerful hydraulic brakes that can quickly stop the bike even at high rates, making it a safe and reliable electric bike for any rider.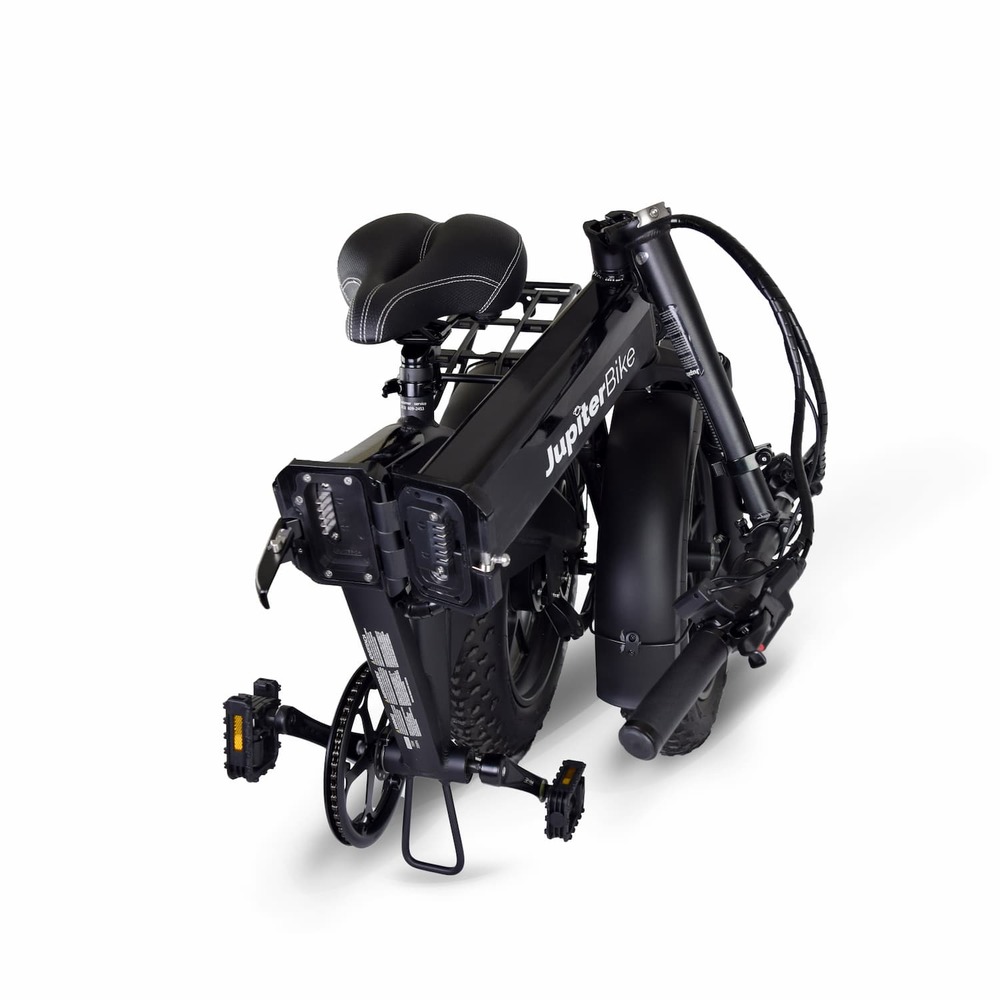 Jupiter Defiant PRO Specifications
Overall Folded Dimensions
Overall Unfolded Dimensions
20 mph / adjustable to 28mph
Shimano Altus w/ Paddle Shifter
750 Watt (1130 watt peak) Hub Motor
Jupiter Defiant PRO Ebikes
The Jupiter Defiant PRO Fat Tire Folding Electric Bike
The Jupiter Defiant PRO Ebike is the ultimate investment for anyone looking to upgrade their commuting game. This EBike is engineered precisely and built to last, making every ride smooth and enjoyable. The powerful 750W motor allows for easy and efficient pedal assist up to 28 mph, making it the perfect option for long commutes or leisurely rides. The large-capacity battery ensures that the Jupiter Defiant PRO will take you where you need to go without worrying about running out of charge. The bike also features hydraulic brakes, a suspension fork, and puncture-resistant tires, all of which combine to provide stability and comfort on any surface. The Jupiter Defiant PRO Ebike is a versatile and reliable investment that will be a worthwhile addition to any bike enthusiast's collection.
Interested In Our Selection?