Ride With Style On The Icon EB01 Ebike
The Icon EB01 is a high-performance electric bike that caters to even the most discerning cyclist. With its sleek and modern design, the Icon EB01 stands out from the crowd. It features a powerful motor and battery that can propel you up to 50 miles on a single charge. Equipped with advanced features such as hydraulic disc brakes, an adjustable suspension system, and a Shimano Di2 electronic shifting system, this high-tech e-bike offers an exceptional riding experience. The Icon EB01 is ideal for anyone who is looking for a reliable and stylish mode of transportation or desires to add a little more excitement to their leisurely rides. Whether you are a daily commuter, avid cyclist, or weekend adventurer, the Icon EB01 is sure to impress.
Efficient Motor and Long Lasting Battery
The Icon EB01 electric bike is equipped with a powerful 750W 48V rear hub motor and a 48V16AH 3200mAh Samsung battery cell. This combination provides riders with a smooth, reliable, and efficient ride. The motor is designed to deliver a maximum speed of 28 mph and has enough power to tackle steep hills and rough terrain. The 48V16AH 3200mAh battery cell delivers an impressive 50-60 mile range on a single charge, making it ideal for long-range commuting or recreational rides.
The Samsung battery cell ensures reliable and long-lasting performance with a high energy density and a long cycle life. It also has advanced safety features, including a battery management system that prevents overcharging and over-discharging. The combination of the powerful motor and the high-capacity battery makes the Icon EB01 Ebike an excellent choice for those who want an eco-friendly and cost-effective mode of transportation that doesn't compromise on performance. One battery charge can get up to 20 miles on a single charge.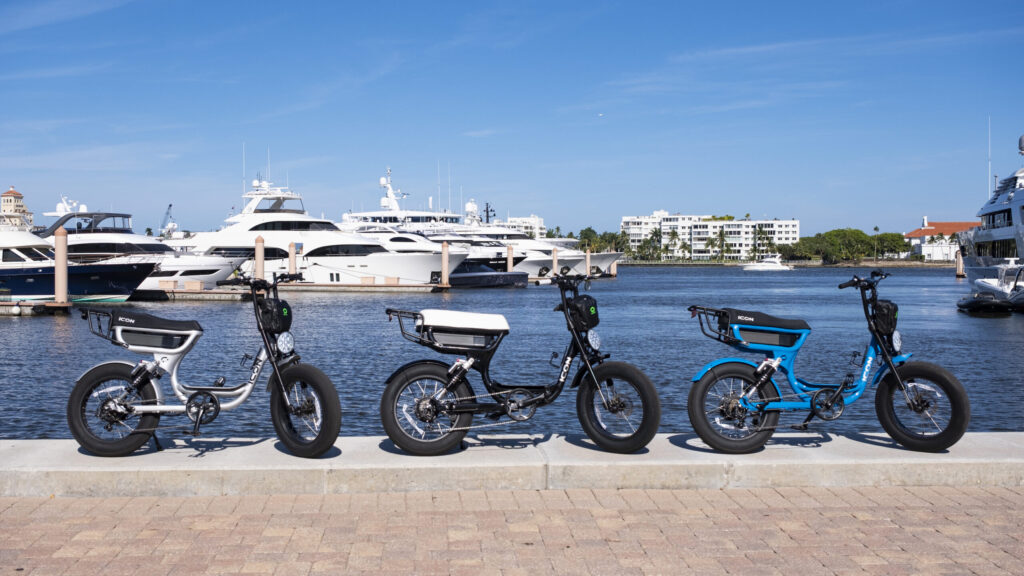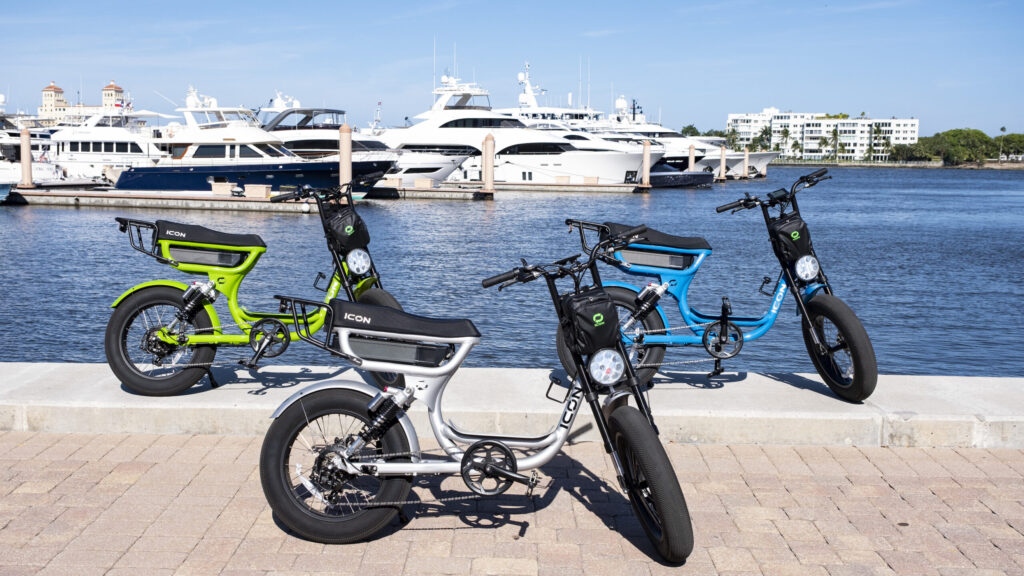 Great Performance, Built With Safety
The Icon EB01 Ebike is a gamechanger in the world of electric bicycles due to its outstanding performance and safety features. Its lightweight frame makes it easy to maneuver on the road, while its powerful motor allows riders to travel at speeds of up to 28mph. The bike's battery life lasts up to 50 miles on a single charge, making it ideal for daily commutes.

Additionally, the Icon EB01 Ebike comes equipped with a variety of safety features to ensure riders' peace of mind. Its hydraulic disc brakes provide reliable stopping power in any weather condition. The bike also features an automatic pedal-assist mode, which detects when the rider is struggling and provides additional support to help overcome steep inclines.

Overall, the Icon EB01 Ebike is a high-performance electric bicycle that prioritizes safety without compromising on speed and convenience. It is the perfect choice for anyone seeking a reliable and efficient mode of transportation for their daily commute or weekend adventures.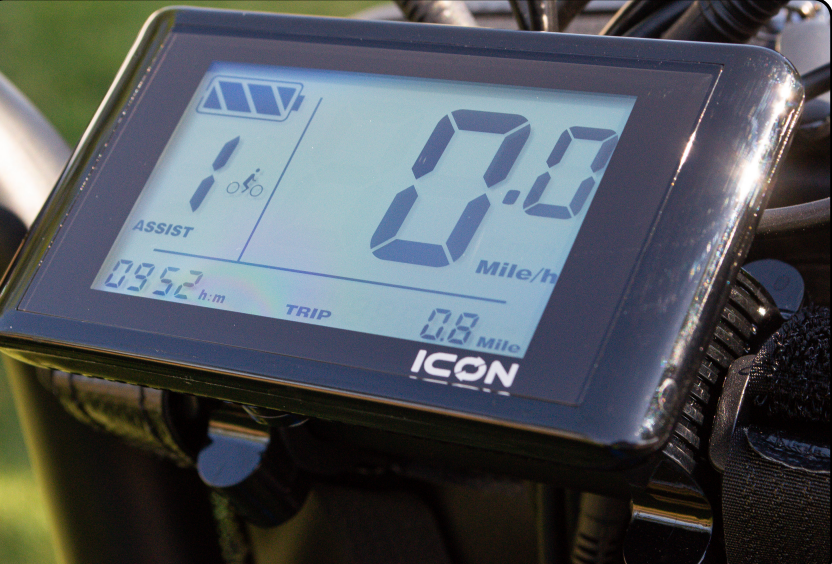 Modern Approach, More Convenience
The Icon EB01 represents a new modern approach to e-bike design, combining style, functionality and performance to deliver an exceptional riding experience. One of the standout features of the EB01 is its advanced speedometer system, which offers a range of readouts and metrics including speed, distance and battery life. This makes it easy for riders to keep track of their cycling progress and manage their power usage, ensuring they get the most out of their bike's battery life.

Another key highlight of the EB01 is its mileage tracking capabilities. The bike is equipped with sophisticated algorithms that use GPS and other sensors to accurately measure distances travelled, providing riders with precise information about their rides. This feature is particularly useful for commuters and fitness enthusiasts who wish to track their performance over time and set goals for themselves.

Overall, the Icon EB01 is a highly advanced and stylish e-bike that is setting the bar for modern design and functionality. With its speedometer and mileage tracking capabilities, it provides riders with an unparalleled riding experience that is both enjoyable and informative.
Aluminum Alloy Frame, Height 19"
Aluminum Alloy, Suspension fork
20"*13G*36H, Aluminum Alloy
Alloy, 9/16" with balls and reflectors, black, WELLGO
Tektro Mechanical Disc Brake, with 160 mm Rotors, Brake Levers with Motor Inhibitor
750W 48V Rear Hub Motor, Brushless
48V16AH (3200mAh samsung battery cell) Lithium-ion
Icon EB01 EBikes Are On The Way
Secure Your Amazing Ebike Today
Congratulations on choosing to explore the exciting world of ebikes! We know that choosing the right bike can be overwhelming, especially for first-time buyers. That's why we're excited to introduce you to the Icon EB01 Ebike.

The Icon EB01 is the perfect combination of style and function. Not only is it sleek and modern in design, but it also boasts powerful yet smooth pedal assistance thanks to its 250W motor. With three levels of support, you can effortlessly ride for miles, even on the toughest hills.

But it's not just about the motor. The Icon EB01 also comes equipped with high-quality components, like a Shimano derailleur and Tektro hydraulic disc brakes, making for an exceptionally safe and smooth ride.

And the best part? You don't have to sacrifice comfort for performance. The EB01 comes with a plush saddle, ergonomic grips, and front suspension – perfect for cruising around town or exploring new trails.

In short, the Icon EB01 Ebike is the perfect choice for a first-time ebike buyer. With its stylish design, powerful motor, and high-quality components, you can rest assured that you're making a wise investment.
Interested In Our Selection?