Expand The Icon i60 With The Icon i60F
The Icon i60F Golf Cart is a state-of-the-art electric vehicle designed for golfers looking for comfort, style, and convenience on the golf course. This cart is equipped with an advanced motor system that allows it to easily navigate different terrains while providing a seamless ride. Its sleek design and superior performance set it apart from traditional golf carts, while its energy-efficient batteries make it an eco-friendly alternative. With ample storage space, comfortable seating, and a range of customizable features, the Icon i60F Golf Cart is perfect for golf enthusiasts who value both form and function. Whether you're hitting the greens for a round of golf or simply cruising around town, this iconic golf cart is sure to deliver a memorable and enjoyable experience.
Powerful and Electric Motor
The 48V Icon 5KW 3 Phase High Torque Motor is a powerful electric motor capable of delivering exceptional performance and torque in a variety of applications. With a maximum output of 5KW, this motor is suitable for use in industrial equipment, electric vehicles, and other high-powered machinery. Its 3-phase design ensures consistent and reliable power delivery, while its high torque rating enables it to handle heavy loads and challenging operating conditions with ease. The motor operates quietly and efficiently, thanks to its advanced brushless design and precision engineering. Overall, the 48V Icon 5KW 3 Phase High Torque Motor is a reliable and versatile choice for anyone seeking a powerful and efficient electric motor.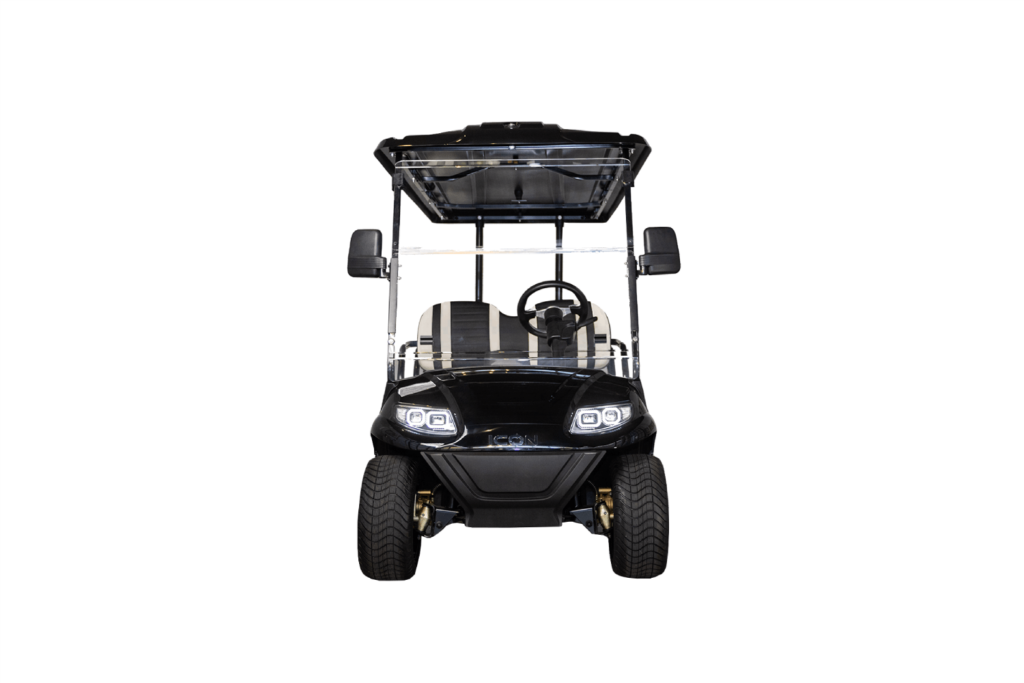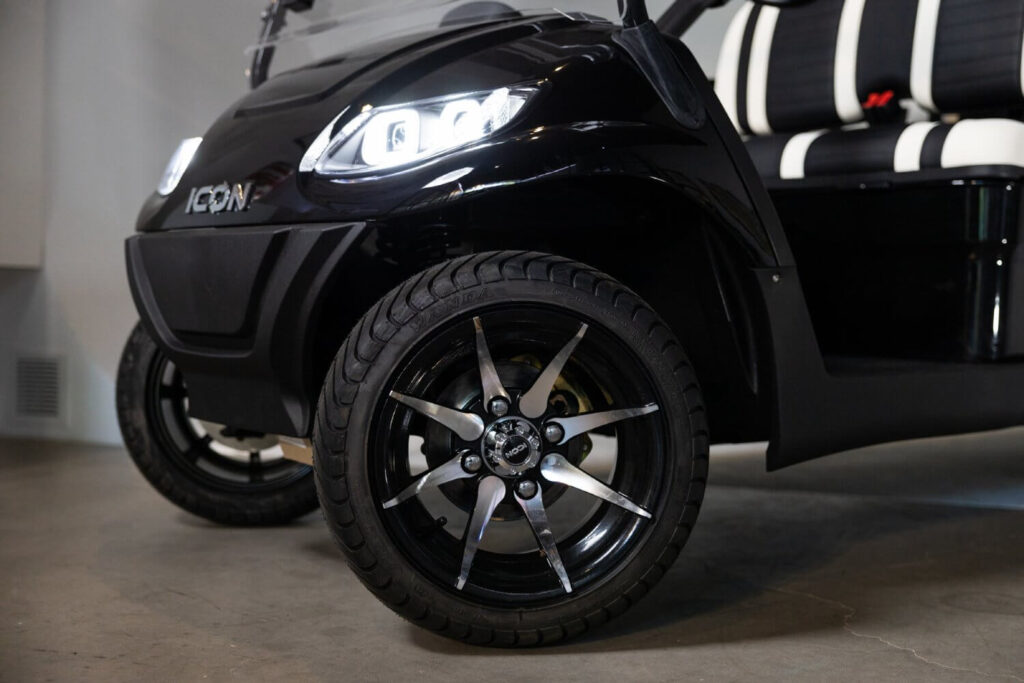 Extra Long Lasting Battery Applied
The Icon i60F golf cart comes equipped with six 8-volt lead-acid batteries, which provide a standard range of around 25 miles on a single charge. However, for those looking to upgrade, there is an option to switch to a lithium eco battery. Lithium batteries are more expensive than lead-acid batteries, but they provide several benefits, including a longer lifespan, faster charging times, and higher energy density. The Eco Battery option can increase the range of the Icon i60F golf cart up to 40 miles on a single charge. This means that users can spend more time on the course without worrying about running out of power. Lithium batteries are also lighter than lead-acid batteries, which can improve the overall performance of the golf cart. Ultimately, the decision to upgrade to a lithium eco battery will depend on usage habits and budget, but it's a viable option for those looking to improve the performance and range of their Icon i60F golf cart.
Extremely Fast Charging For Sooner Use
The Icon i60F Golf Cart is a highly efficient and long-lasting vehicle that delivers exceptional performance on the greens. With a powerful lithium-ion battery, this cart can run for up to 50 miles on a single charge, making it ideal for golfers who want to enjoy a full day on the course without worrying about running out of power. Its regenerative braking system ensures that energy is recovered during the braking process, maximizing the use of the battery.

Further, the Icon i60F Golf Cart is designed to be environmentally friendly, emitting zero emissions during use. The cart is also equipped with advanced features like onboard GPS, USB charging ports, and a touchscreen display. Its sturdy construction and advanced technology make it a popular choice among golfers, ensuring long-lasting durability and reliability. Overall, the Icon i60F Golf Cart is an impressive vehicle that delivers exceptional performance, efficiency, and convenience on the greens.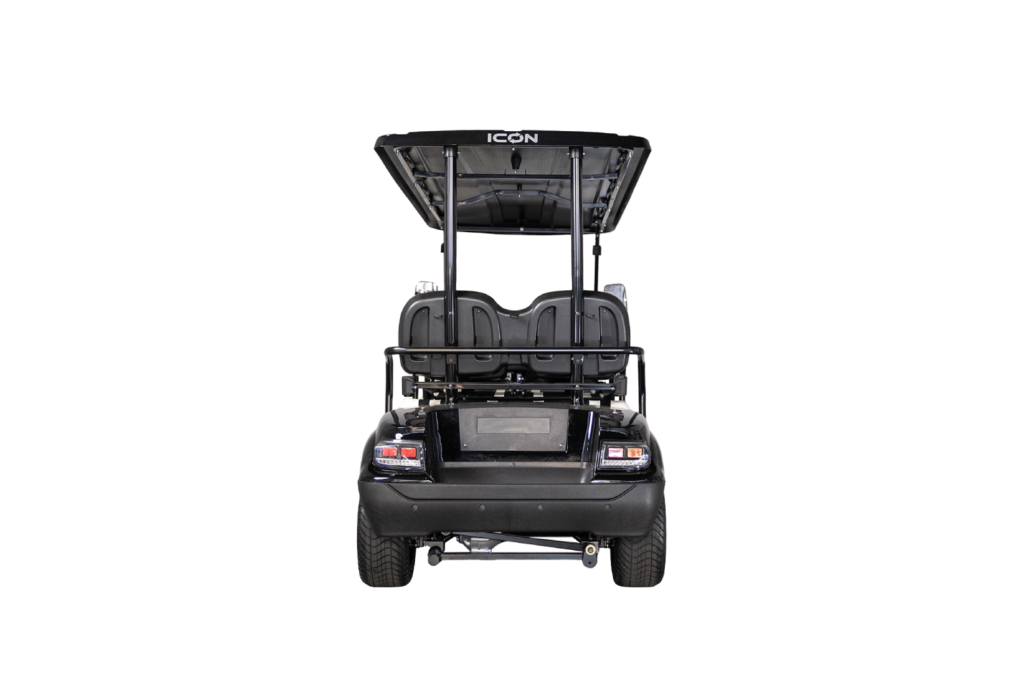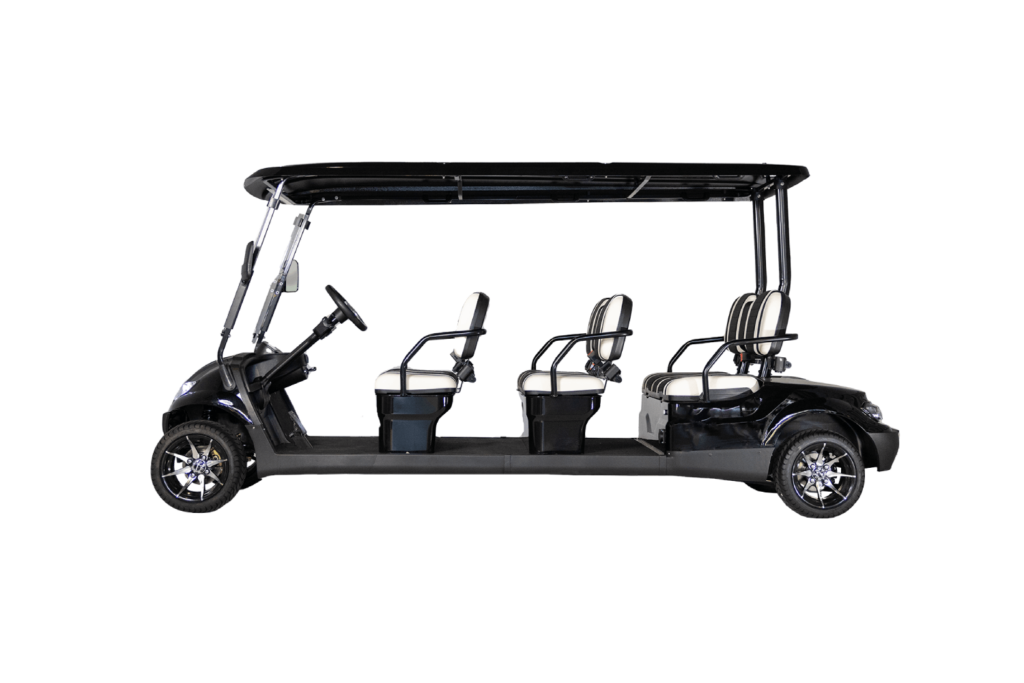 Reliable, Smooth and Includes Outstanding Amenities
The Icon i60F Golf Cart is a reliable and top-performing vehicle designed for golf enthusiasts. This high-end golf cart boasts an array of outstanding amenities that enhance the golfing experience, such as a built-in ice chest, cup holders, and a scorecard holder. The cart's sleek design, heavy-duty frame, and powerful motor make it durable and reliable on the golf course. Furthermore, the Icon i60F Golf Cart features a regenerative braking system that optimizes the cart's battery life while reducing overall maintenance costs. The cart also includes digital instrumentation, making it easy to monitor speed, battery level, and other vital stats. In summary, the Icon i60F Golf Cart is a reliable, top-performing vehicle that enhances the golfing experience with its outstanding amenities.
Fantastic and Comfortable Design
The Icon i60F Golf Cart boasts a sleek and modern design that catches the eye. From the flowing curves of the front grille to the aerodynamic roofline, every detail has been carefully considered to create a visually striking vehicle. The streamlined body and sleek profile make it easy to maneuver through narrow spaces and challenging terrain. The low profile tires and sporty wheel design add to the overall aesthetic appeal. The interior is equally impressive, with a spacious cabin that offers ample legroom and comfortable seating. High-end materials and premium finishes give the i60F a feeling of luxury and sophistication. The dashboard features a digital display that provides important vehicle information, while the advanced sound system ensures that passengers always enjoy a top-notch audio experience. Overall, the Icon i60F Golf Cart is an excellent example of modern design meeting functionality and performance.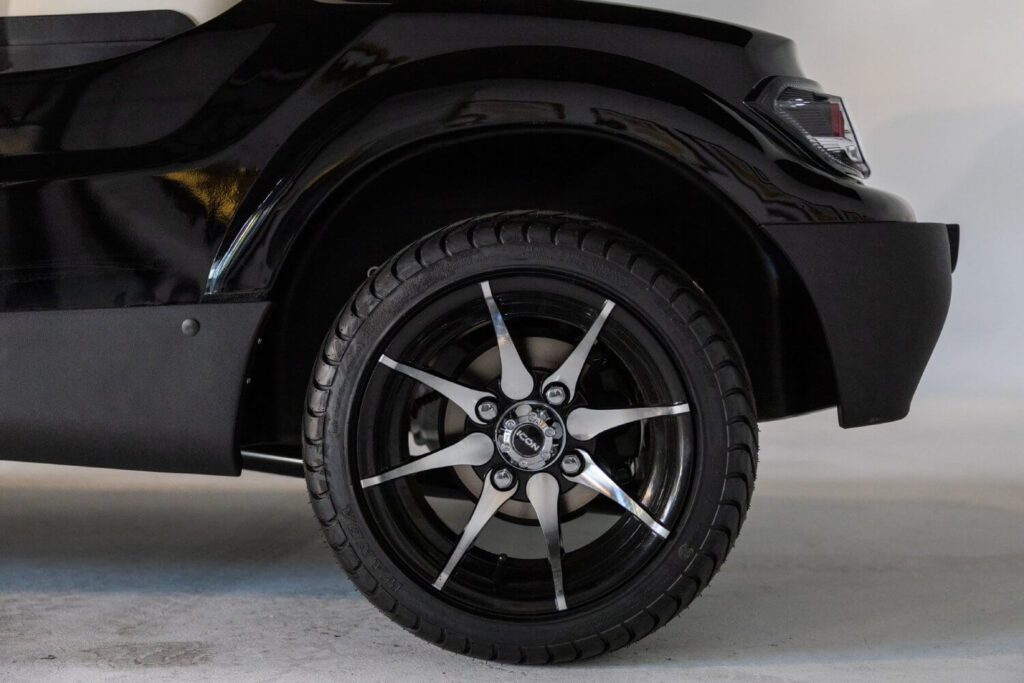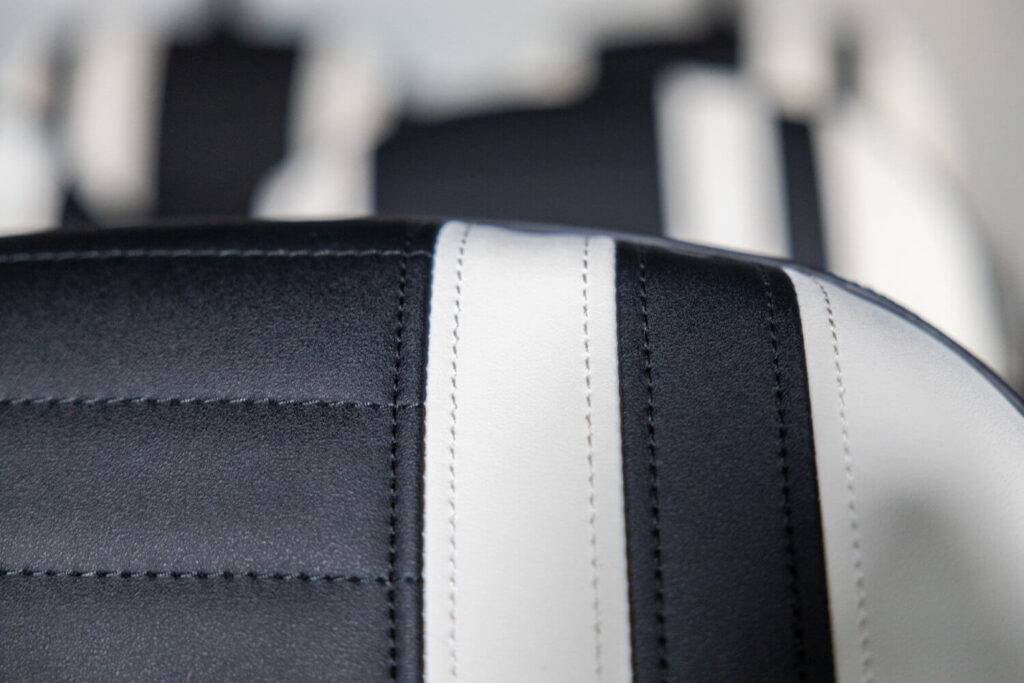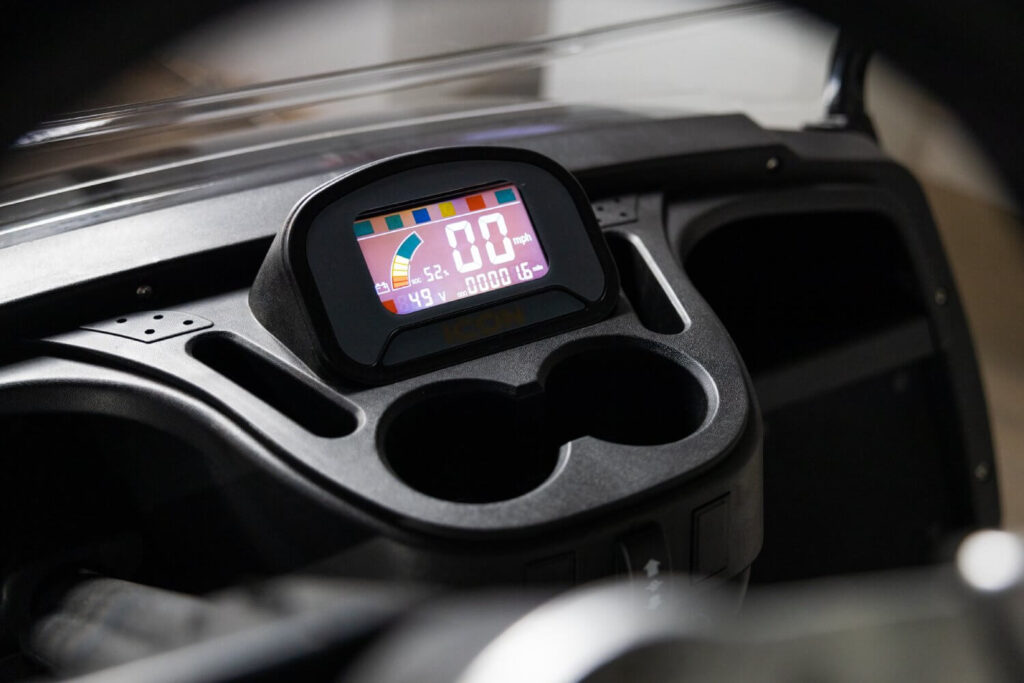 All Modern Interior, Radio System and Speakers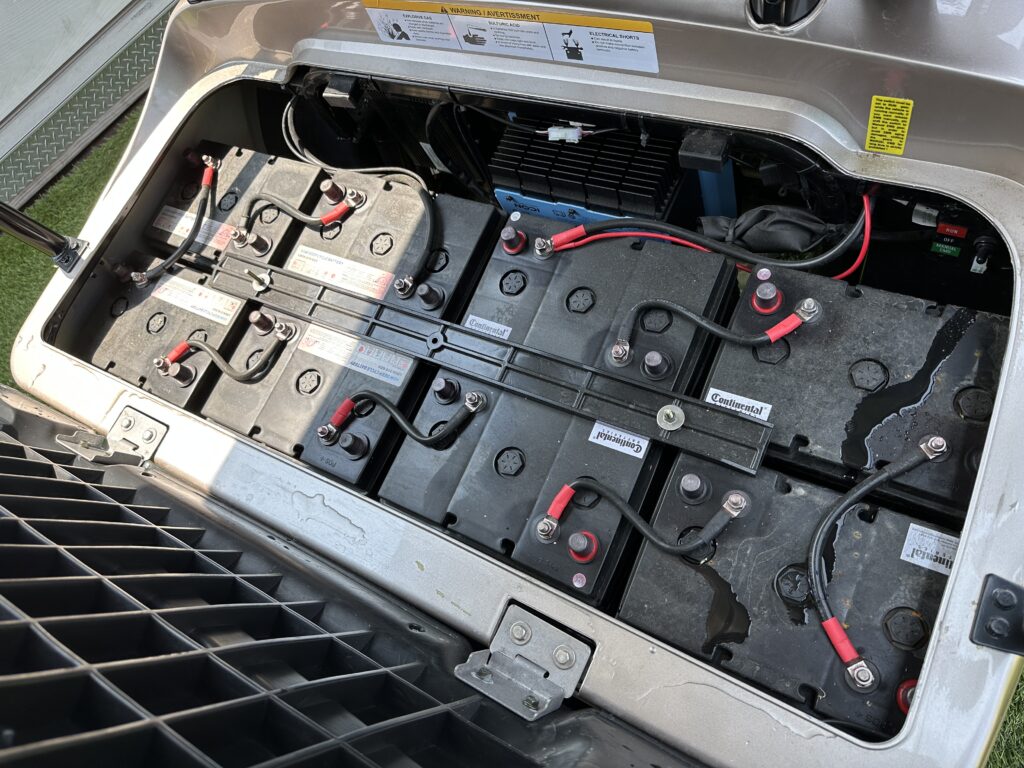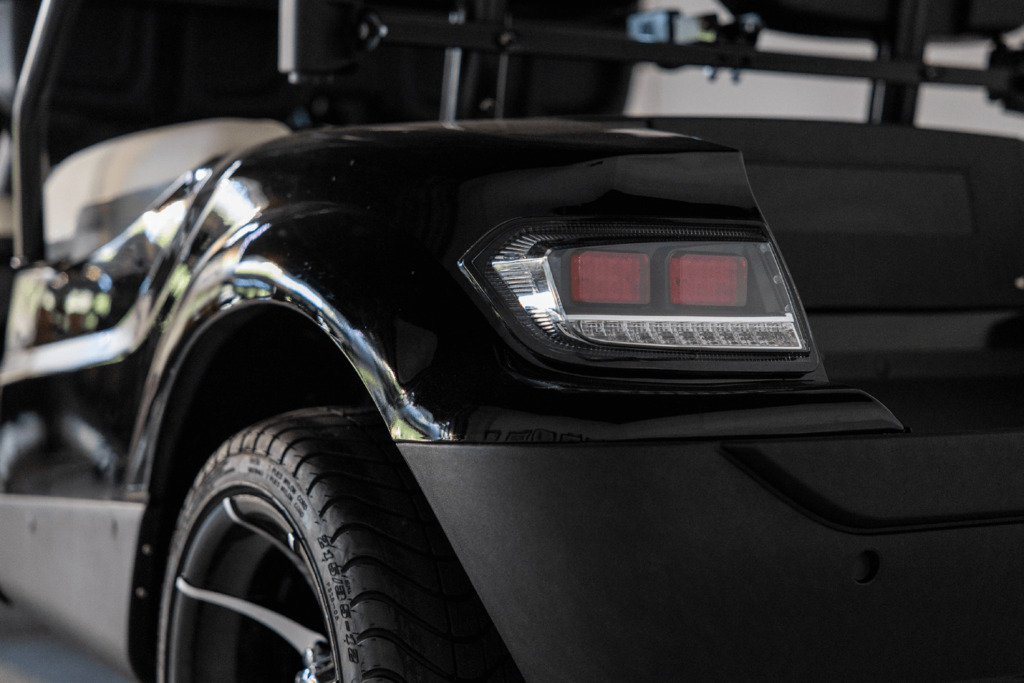 Convenience No Matter Where You're Seated
Foldable Acrylic/Optional DOT Acrylic
Innovative air deflecting design with full high-strength aluminum frame
Injection Molded Thermoplastic that is both stylish and resilient to outside damage
Fully Adjustable and Foldable
High-Density Polyethylene molded for extra strength and toughness with Rubber Floor Mat
10 Inch Machined Face Aluminum with Powder Coated Accents
205/50R10 6 Ply Nylon Cord
Macpherson Style Fully Independent Coil Over Shock
Solid Axle Coil Over Shock and Stabilizing Bar
Four Wheel Disc Brakes and Electromagnetic Parking Brake System
Single Combination Switch for LED Projector Hi & Lo Beam Headlights, LED Signal Lights, Taillights, and Horn
Maximum distance per full charge:
Tubular Powder Coated Steel Frame
Fully Integrated Digital Instrument Cluster
Side Hip Restraint & Retractable Seat Belts
Self-Adjusting Double-Ended Rack and Pinion
Forward/Neutral/Reverse Switch, USB and 12V Plugs, Cubby Storage, Multiple Cup Holders, Key Switch, Instrumentation Cluster
Marine Grade Vinyl, Custom Stitched Panel, Single Color, Color Matched with White or Black Accents. Fold Flat Rear Seat for Hauling
48V ICON 5KW 3 Phase High Torque Motor
ICON 48V On-Board Charging System with Body Mounted Charge Indicator
(8) 6 Volt Sealed Maintenance-Free AGM Batteries, or an optional upgrade to 51V 105AH Eco Lithium Battery now available!
Order Your Icon i60F Golf Cart
Secure Your Icon i60 Golf Cart
Are you a golfing enthusiast looking for a comfortable and reliable ride on the greens? Look no further than the Icon i60F Golf Cart. With its sleek and modern design, this cart will turn heads on and off the course. Boasting a top speed of 24 miles per hour and a range of up to 35 miles on a single charge, the i60F can handle 18 holes with ease and then some. The spacious cabin offers room for two and comes fully equipped with all the necessary features including a Bluetooth sound system, USB charging ports, and a digital display. Built with quality in mind, the Icon i60F Golf Cart is perfect for the first-time buyer looking for a high-performing and stylish ride. Invest in the i60F and elevate your golf game today!
Interested In Our Selection?