Get Extensive Luxury With The Icon i40FL
The Icon i40FL is the latest addition to Hartville Golf Carts' premium electric golf cart lineup. With sleek design, advanced features, and exceptional performance, the Icon i40FL promises to take your golfing experience to a whole new level. This cart boasts a powerful AC drive motor with a 4-kW output, making it efficient enough to save you money on fuel costs. You won't have to worry about lack of power anymore – the Icon i40FL has got you covered. Enjoy longer drives with the comfort of its premium seats and a host of other features, including smartphone compatibility, rearview camera, and Bluetooth speakers. With its ability to conquer slopes and challenging terrain, the Icon i40FL is the perfect golf companion. Visit Hartville Golf Carts today and experience golf cart innovation at its finest.
Powerful and Electric Motor
The Icon i40FL Golf Cart is a powerful and high-performance vehicle designed for golf enthusiasts who enjoy the game in style and comfort. This model features a 5KW 3 Phase High Torque motor, making it one of the most robust in its class. The motor is engineered to deliver seamless acceleration and top speeds, making the vehicle a joy to drive.

Additionally, the Icon i40FL Golf Cart boasts several other exciting features, including a sleek and modern design, comfortable seating, advanced suspension systems, and durable construction. The vehicle is perfect for those who desire a luxurious and high-performance ride while on the golf course or around town.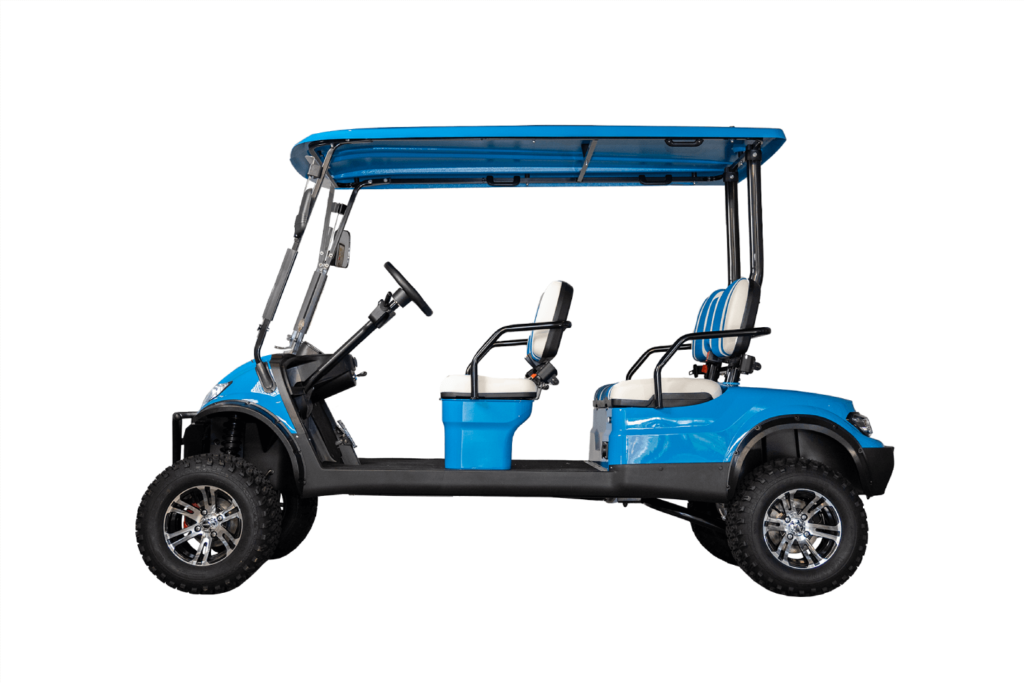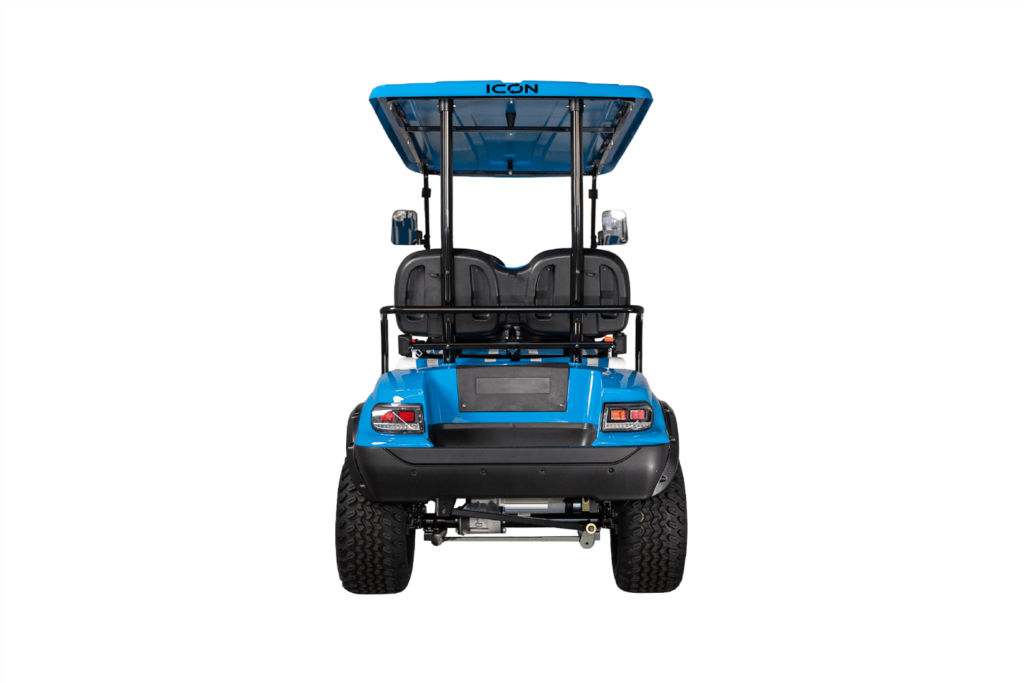 Extra Long Lasting Battery Applied
Looking for a reliable and maintenance-free battery option for your Icon i40FL Golf Cart? Look no further than our AGM 6 Volt or Upgraded Lithium Eco Batteries! Our AGM batteries offer superior performance and extended cycle life, ensuring you can stay on the course longer without worrying about battery failure. Our Lithium Eco Batteries are even more efficient and lightweight, giving you the ultimate mobility and power to get through a full round with ease. Both options are easy to install and require little to no maintenance, making them a hassle-free choice for any golfer. Invest in the best for your Icon i40FL Golf Cart and enjoy an elevated performance on the links!
Extremely Fast Charging For Sooner Use
The Icon i40FL Golf Cart boasts a fast and convenient charging system, allowing you to spend more time on the golf course and less time waiting for your cart to charge. With a powerful 48V charging system, the i40FL can be fully charged in just 4-6 hours. Additionally, the lithium-ion battery system provides a long-lasting charge, with the ability to travel up to 50 miles on a single charge. This means that you can cruise around the green all day without having to worry about running out of power. The i40FL also features a battery level indicator, so you always know how much charge is remaining. With its fast charging time and long-lasting charge, the Icon i40FL Golf Cart is the perfect choice for any avid golfer looking for a reliable and efficient mode of transportation on the course.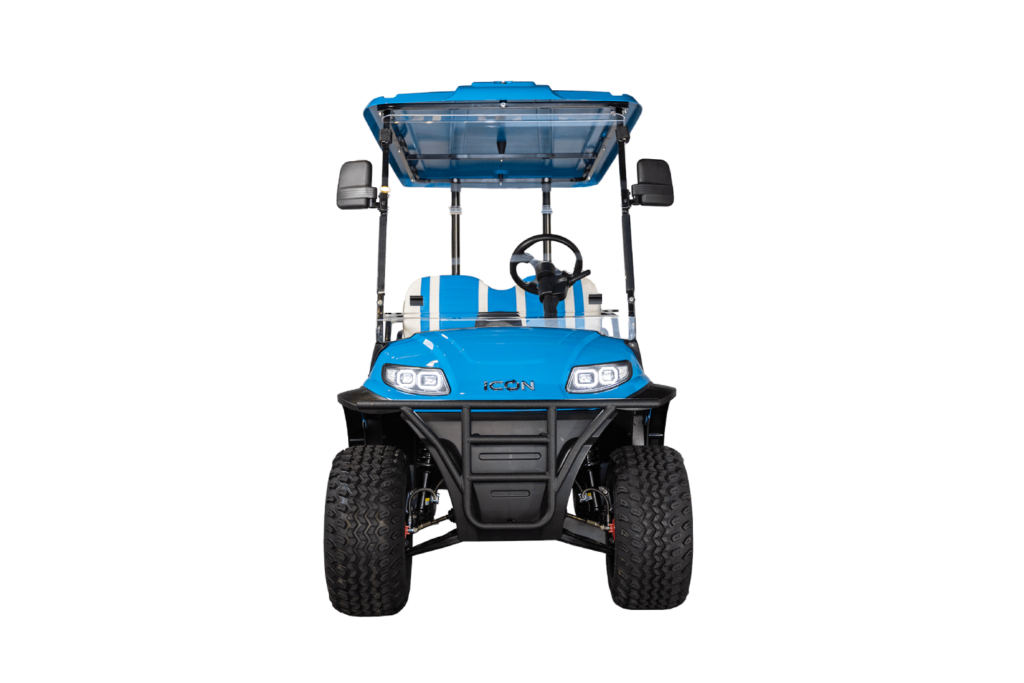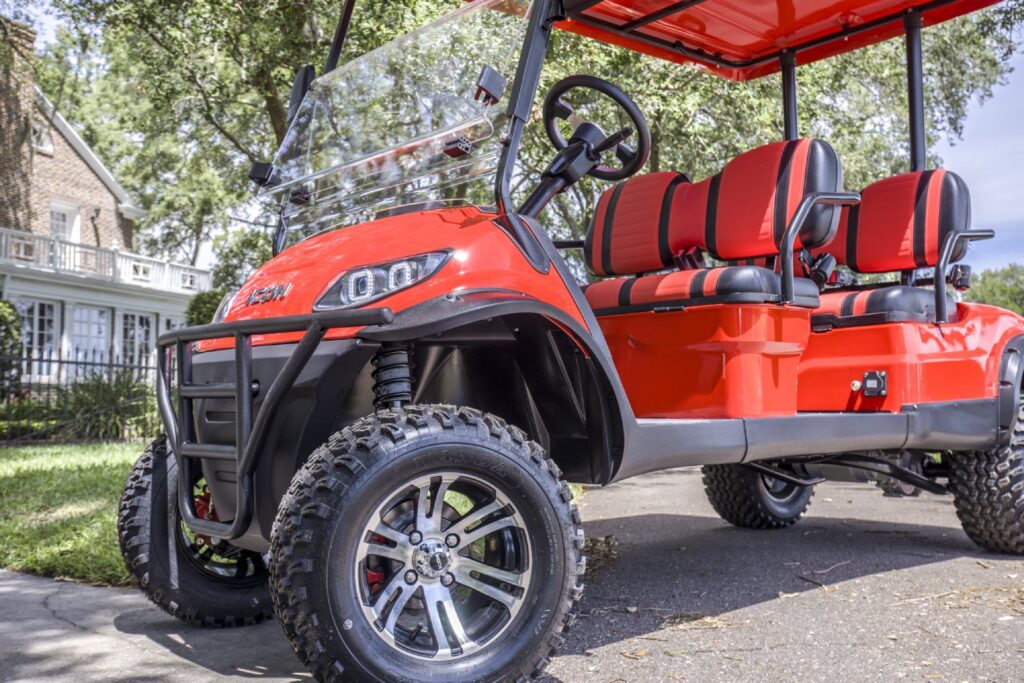 Reliable, Smooth and Includes Outstanding Amenities
The Icon i40FL Golf Cart is a top-of-the-line golf cart that comes packed with a range of amenities designed to enhance your golfing experience. The cart features a high-powered motor and a smooth, quiet ride, making it easy to navigate around the golf course.

Other amenities include a built-in cooler to keep your drinks chilled, a scorecard holder, and a convenient storage compartment for all your golfing equipment. The cart also features a stylish design with a sleek, modern look, making it stand out on the greens.


Fantastic and Comfortable Design
The Icon i40FL Golf Cart boasts an exceptional design that sets it apart from conventional golf carts in the market. This highly efficient electric vehicle is built with a lightweight aluminum frame that offers durability, agile handling, and a smooth ride. The i40FL's unique design features a front suspension system that provides a comfortable ride even on rough terrain. The spacious cabin is designed to comfortably accommodate four passengers and their golfing gear. The sleek dashboard integrates state-of-the-art technology that includes a high-resolution touchscreen display and a Bluetooth sound system. The i40FL's attention-grabbing design is further enhanced by its LED lighting system, which illuminates the cart's path and exudes a stylish aura. Overall, the Icon i40FL Golf Cart is an excellent choice for golf enthusiasts who desire a stylish, efficient, and comfortable ride on the course.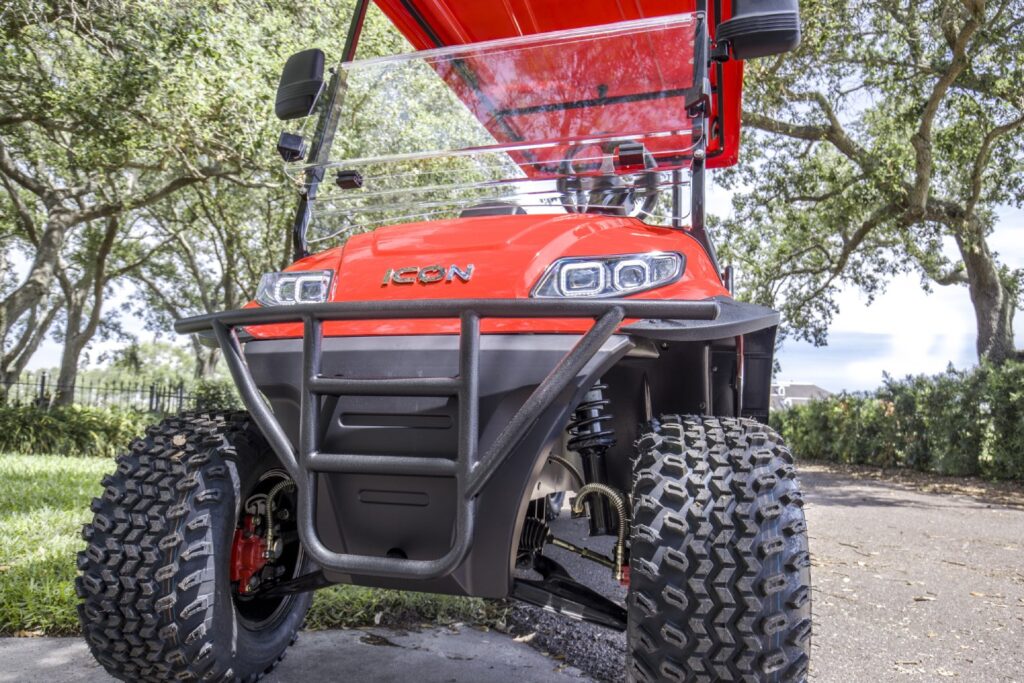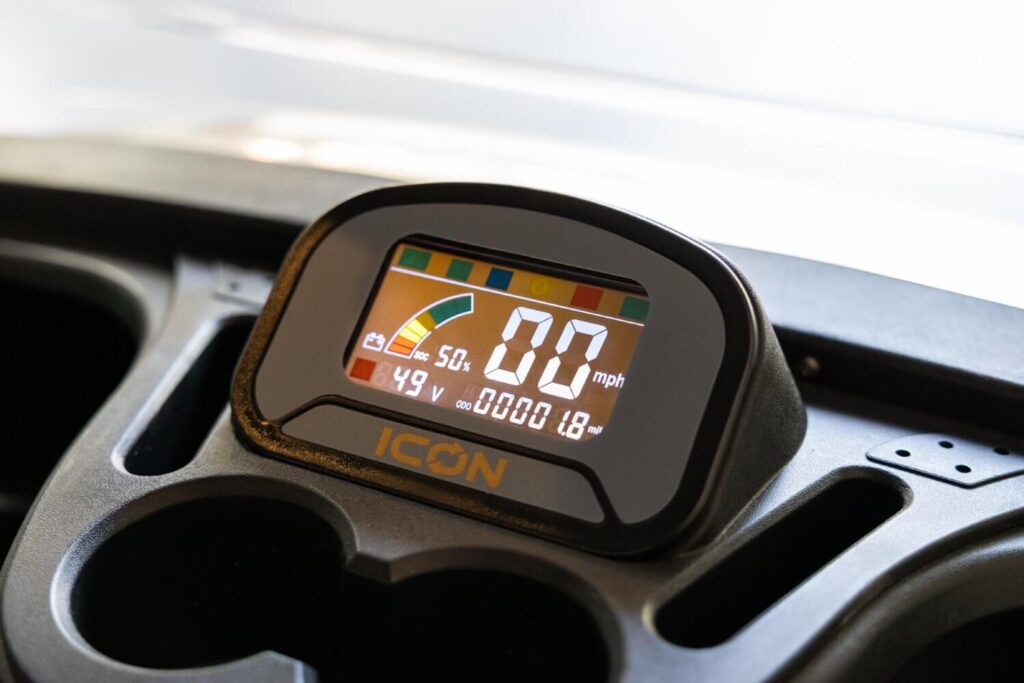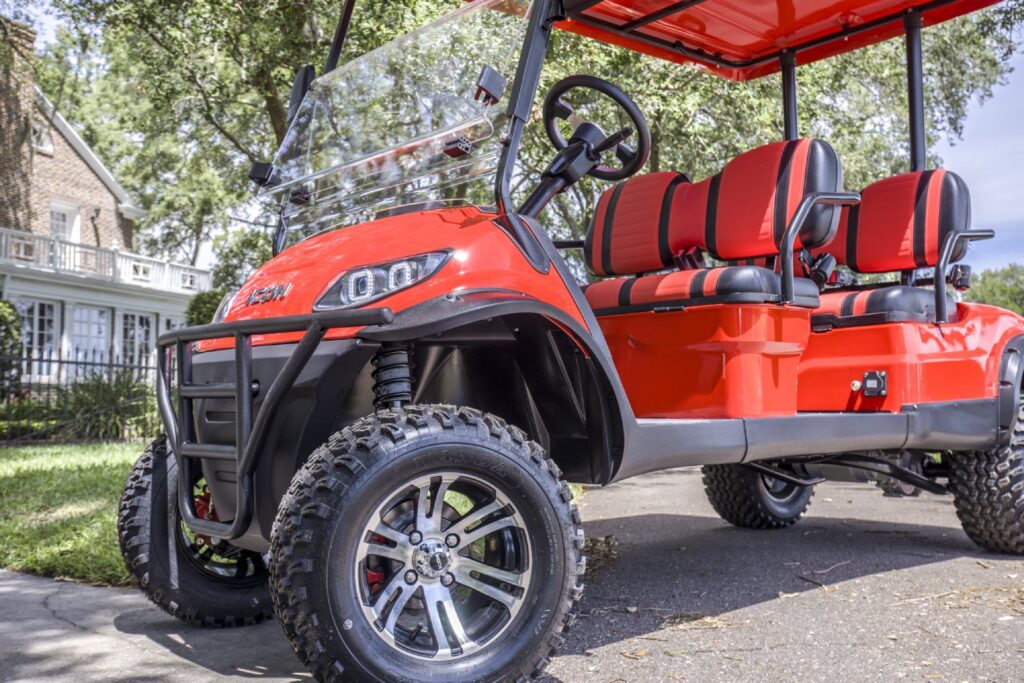 Convenience No Matter Where You're Seated
Icon i40FL Specifications
Foldable Acrylic/Optional DOT Acrylic
Innovative air deflecting design with full high-strength aluminum frame
Injection Molded Thermoplastic that is both stylish and resilient to outside damage
Fully Adjustable and Foldable
High-Density Polyethylene molded for extra strength and toughness with Rubber Floor Mat
12 Inch Machined Face Aluminum with Powder Coated Accents
23×10.5R12 4 Ply Nylon Cord
Macpherson Style Fully Independent Coil Over Shock
Solid Axle Coil Over Shock and Stabilizing Bar
Four Wheel Disc Brakes and Electromagnetic Parking Brake System
Single Combination Switch for LED Projector Hi & Lo Beam Headlights, LED Signal Lights, Taillights, and Horn
14:1 High Speed Rear Axle
Tubular Powder Coated Steel Frame
Fully Integrated Digital Instrument Cluster
Side Hip Restraint & Retractable Seat Belts
Self-Adjusting Double-Ended Rack and Pinion
Forward/Neutral/Reverse Switch, USB and 12V Plugs, Cubby Storage, Multiple Cup Holders, Key Switch, Instrumentation Cluster
Marine Grade Vinyl, Custom Stitched Panel, Single Color, Color Matched with White or Black Accents
48V ICON 5KW 3 Phase High Torque Motor
ICON 48V On-Board Charging System with Body Mounted Charge Indicator
(6) 8 Volt Sealed Maintenance-Free AGM Batteries, or an optional upgrade to 51V 105AH Eco Lithium Battery now available!
Contact Sales For An Icon i40FL Golf Cart
Secure Your Icon i40FL Golf Cart
The Icon i40FL Golf Cart is the ultimate golfing companion that perfectly blends style, comfort, and performance into one sleek package. With a powerful electric motor, you can effortlessly zip around the golf course without breaking a sweat. The cart's lightweight frame makes it easy to maneuver, and its advanced suspension system ensures a smooth ride on any terrain. The Icon i40FL Golf Cart is also spacious enough to accommodate up to four passengers comfortably, making it an ideal choice for group golfing trips. Plus, with its eye-catching design and customizable options, you can turn heads on the green and make a statement. 
At Hartville Golf Carts, we offer the Icon i40FL at unbeatable prices, backed by our exceptional customer service and support. Experience the ultimate golfing luxury with the Icon i40FL Golf Cart today!
Interested In Our Selection?