Experience Luxury With The Icon i20 Golf Cart
The Icon i20 Golf Cart is redefining what it means to hit the links in style. This luxurious electric solution offers a smooth ride for two golfers and their clubs. With its sleek design, attention to detail, and modern technology, the i20 is a true standout on the course. This 2-seater golf cart combines top-of-the-line features like a Bluetooth sound system, leather seats, and LED lights with eco-friendly power. Its electric motor provides a quiet and efficient ride that won't disturb other golfers on the green. The i20's compact size and ease of use also make it perfect for navigating tight spaces. Whether you're a seasoned pro or new to the game, the Icon i20 Golf Cart promises to elevate your golf experience to new heights of luxury and comfort.
Powerful and Electric Motor
Introducing the ultimate powerhouse duo – the 450A Icon Motor with the Icon i20. Built for the adventurers who crave nothing but the best, this combination is a force to be reckoned with. The 450A Icon Motor boasts a compact size and an incredibly powerful motor that guarantees maximum utility and efficiency. It is built to endure tough conditions and is perfect for off-road excursions. The Icon i20, on the other hand, is the perfect controller for the 450A Icon Motor. Its Bluetooth connectivity and intuitive controls make it easy to operate, while its sleek design and rugged construction ensure durability. Together, the 450A Icon Motor and the Icon i20 make an unbeatable team that delivers unmatched strength, performance, and control. Get ready to take on any terrain and conquer every adventure with ease!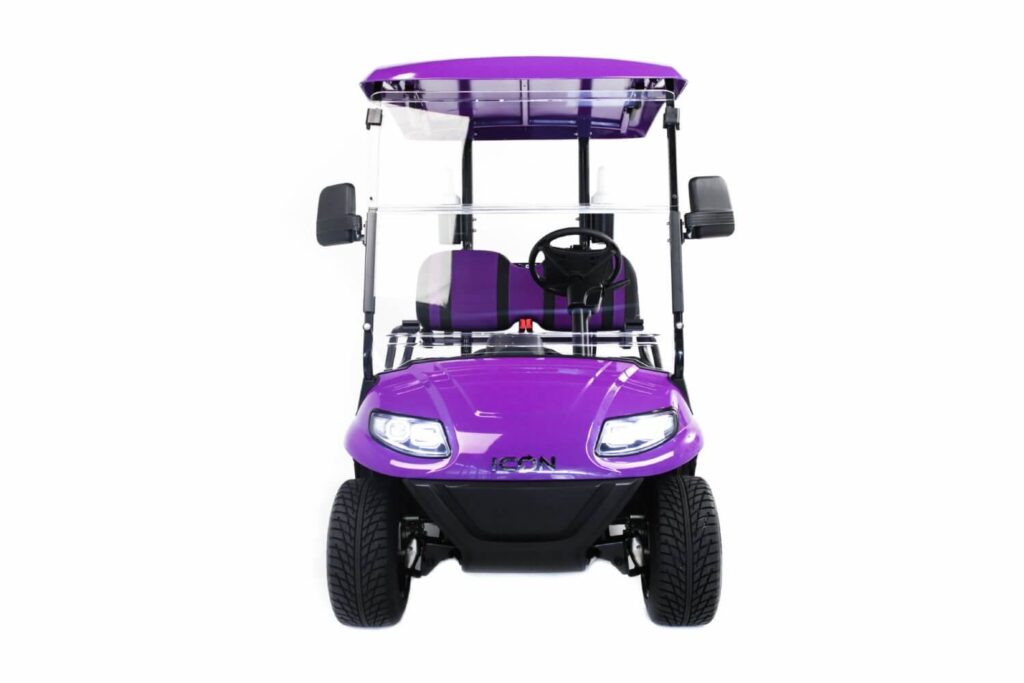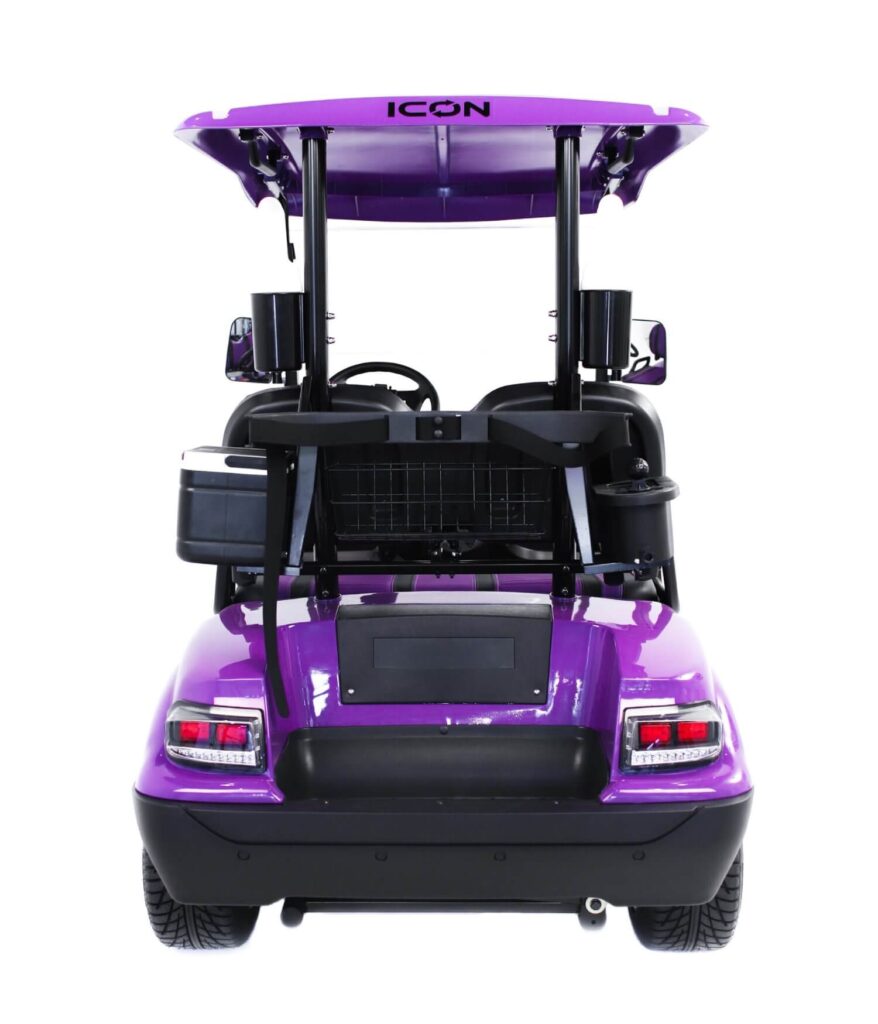 Extra Long Lasting Battery Applied
The Icon i20 comes equipped with a powerful 8-volt sealed maintenance-free AGM battery that is built to last. With its advanced technology, this battery provides a reliable and consistent power supply for your golf cart or other electric vehicle. And if you're looking to upgrade, the Icon i20 provides plenty of room for an Eco Lithium battery. Eco Lithium is renowned for its long-lasting performance and eco-friendliness, making it an ideal choice for those who demand the best from their electric vehicles. Whether you're on the golf course or cruising around town, the Icon i20's battery delivers the power you need to keep moving, while the possibility of an upgrade ensures you'll never be left behind in terms of technology.
Extremely Fast Charging For Sooner Use
Extend the lifespan of your Icon i20 and enjoy uninterrupted usage with a few easy steps. With proper charging habits, you can give your device a boost and ensure it lasts longer. Consider investing in a high-quality charging cable and avoiding overcharging, which can harm the battery. In addition, keeping your device away from extreme temperatures can also benefit its battery life. Taking these simple steps can not only reduce the likelihood of battery failure but also maximize your battery's potential output. Enjoy your Icon i20 for longer and boost your productivity with a fully charged device at all times.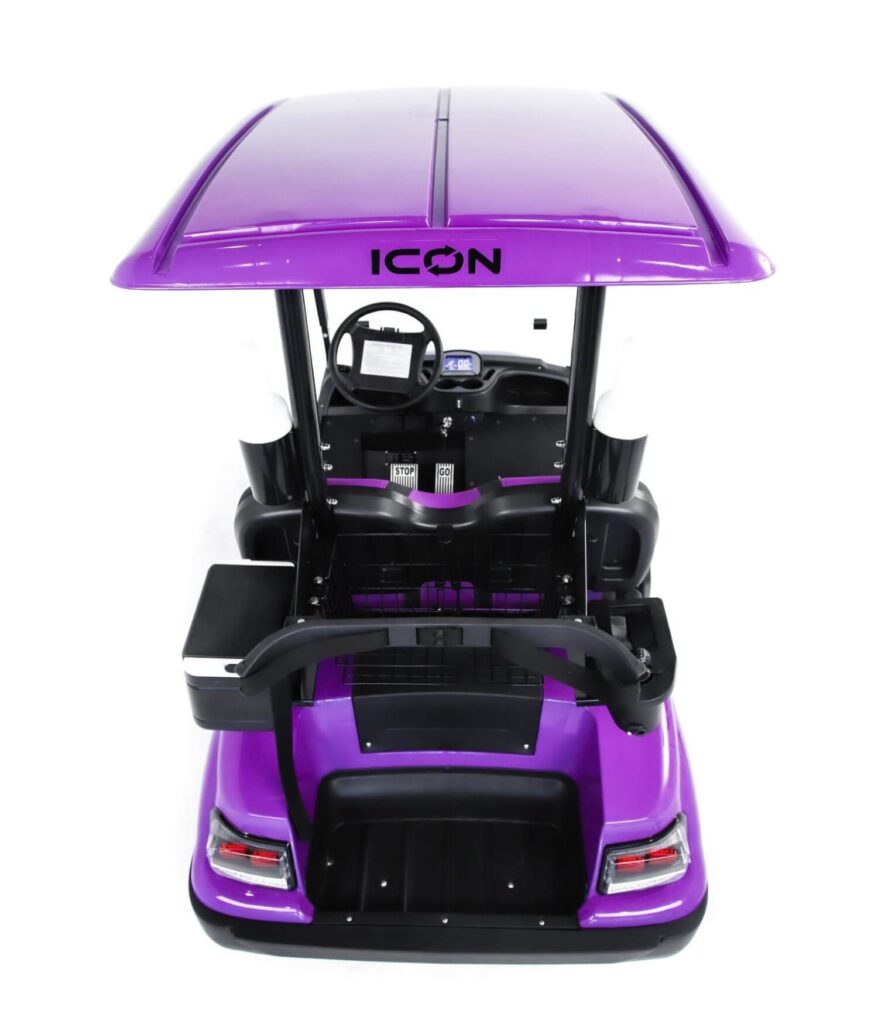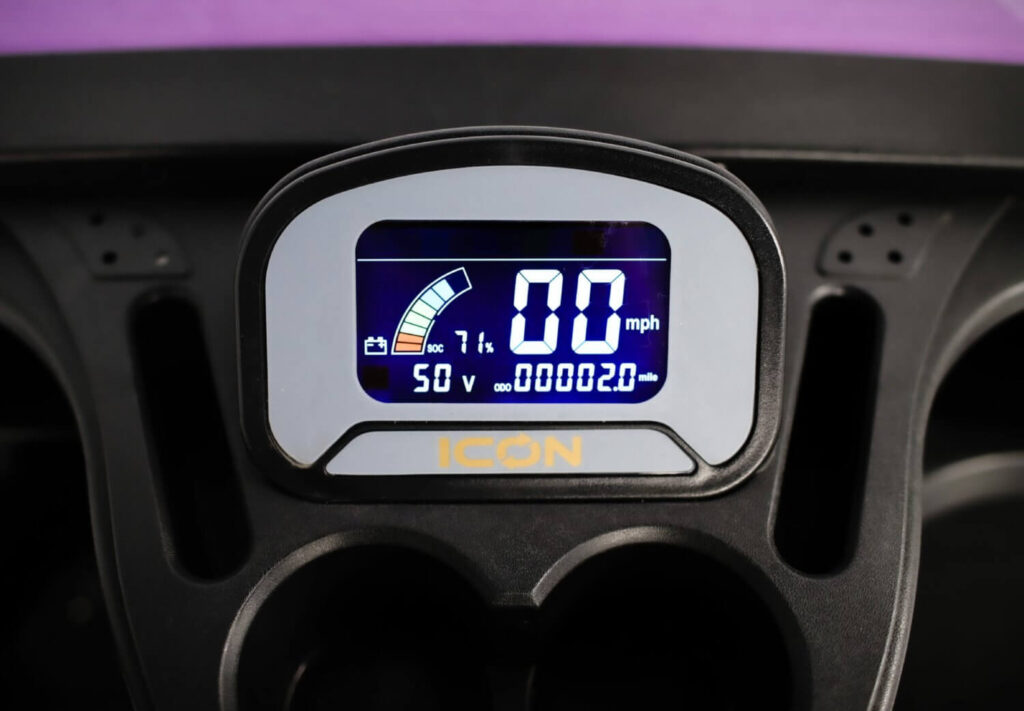 Smoother Ride, Outstanding Amenities
The Icon i20 Golf Cart is packed with amenities designed to make your golfing experience as comfortable and enjoyable as possible. It features a weather-resistant canopy to protect you from sun and rain, a beverage cooler to keep your drinks cold, and a convenient glove compartment for storing personal items. The golf cart also has a sound system with Bluetooth connectivity, allowing you to listen to your favorite tunes while you play. The comfortable seats are designed with premium upholstery and adjustable armrests for maximum comfort during long rounds. The Icon i20 Golf Cart also features an easy-to-use digital dash display, allowing you to keep track of speed, battery life, and other important information. All in all, the Icon i20 Golf Cart is an excellent choice for golfers who want a stylish and comfortable ride on the course.
Fantastic and Comfortable Design
The Icon i20 Golf Cart offers both comfort and style. Its spacious interior area and comfortable seats provide a relaxing ride throughout the course, while the advanced suspension system ensures a smooth and stable ride. The spacious cargo area helps keep all your golfing essentials secure and within easy reach. This golf cart has an incredible design that screams sophistication with its sleek lines and elegant details. You'll certainly turn heads as you cruise down the links. The Icon i20 Golf Cart is guaranteed to give you a comfortable ride and make a fashion statement on the course.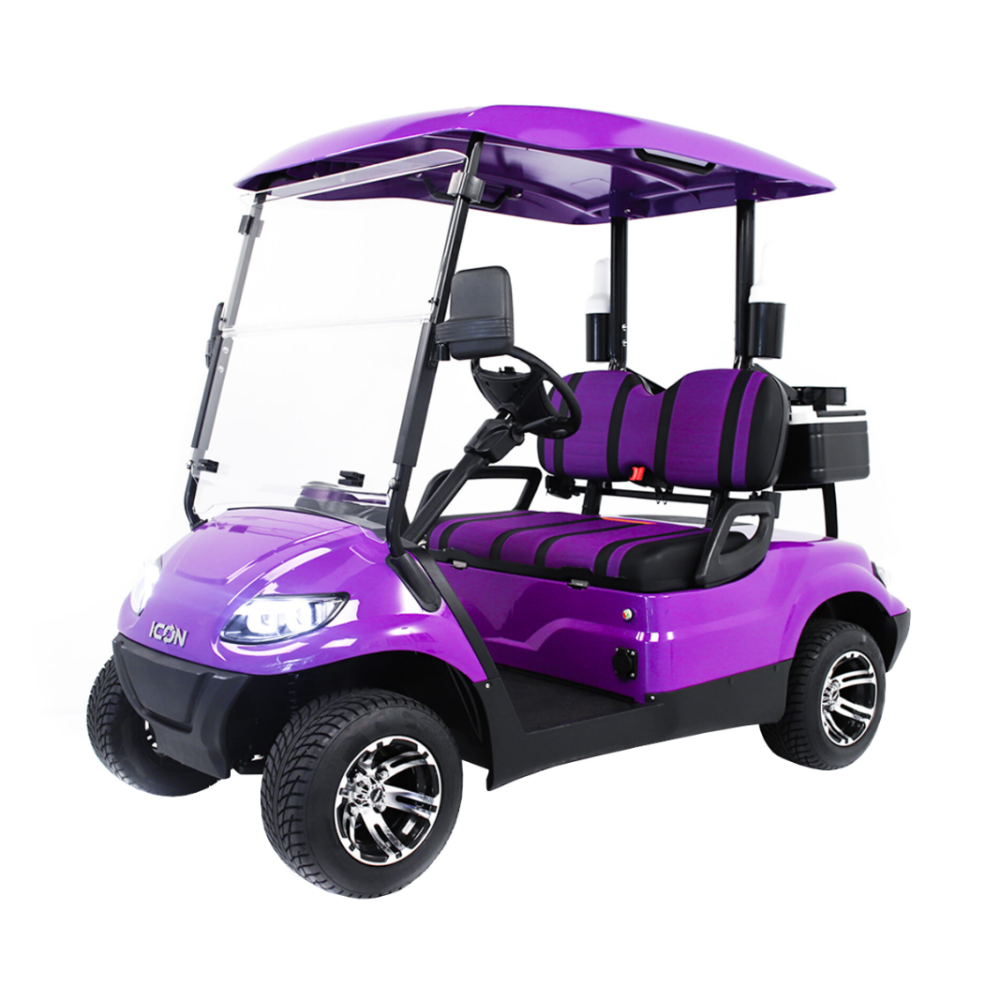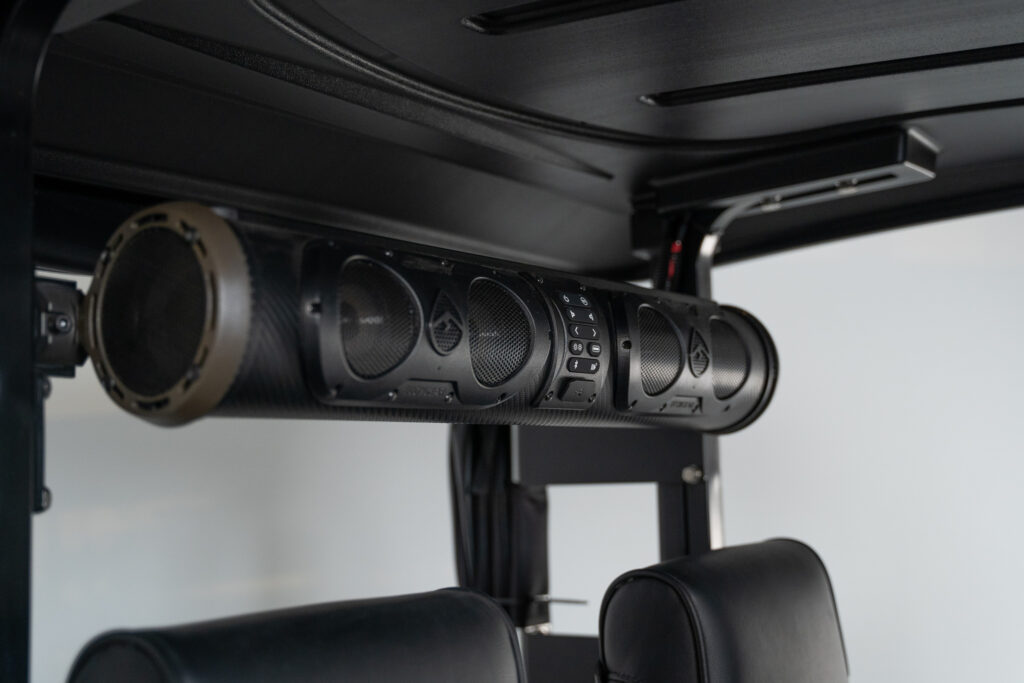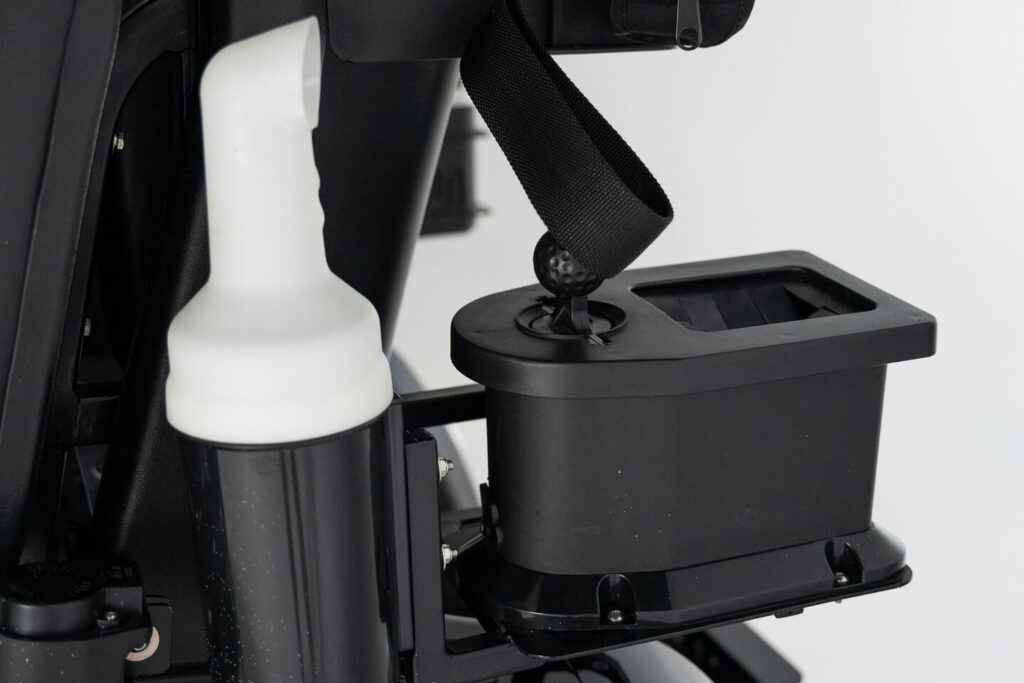 Convenience No Matter Where You're Seated
Foldable Acrylic/Optional DOT Acrylic
Innovative air deflecting design with full high-strength aluminum frame
Injection Molded Thermoplastic that is both stylish and resilient to outside damage
Fully Adjustable and Foldable
High-Density Polyethylene molded for extra strength and toughness with Rubber Floor Mat
12 Inch Machined Face Aluminum with Powder Coated Accents
23×10.5R12 4 Ply Nylon Cord
Macpherson Style Fully Independent Coil Over Shock
Solid Axle Coil Over Shock and Stabilizing Bar
Four Wheel Disc Brakes and Electromagnetic Parking Brake System
Single Combination Switch for LED Projector Hi & Lo Beam Headlights, LED Signal Lights, Taillights, and Horn
14:1 High Speed Rear Axle
Tubular Powder Coated Steel Frame
Fully Integrated Digital Instrument Cluster
Side Hip Restraint & Retractable Seat Belts
Self-Adjusting Double-Ended Rack and Pinion
Forward/Neutral/Reverse Switch, USB and 12V Plugs, Cubby Storage, Multiple Cup Holders, Key Switch, Instrumentation Cluster
Marine Grade Vinyl, Custom Stitched Panel, Single Color, Color Matched with White or Black Accents
Sand/Seed Bottles, Ball/Club Washer, Cooler, Sweater Basket all included
48V ICON 5KW 3 Phase High Torque Motor
ICON 48V On-Board Charging System with Body Mounted Charge Indicator
(6) 8 Volt Sealed Maintenance-Free AGM Batteries, or an optional upgrade to 51V 105AH Eco Lithium Battery now available!
More i20 Golf Carts Are On The Way
Secure Your Icon i20 Golf Cart
The Icon i20 golf cart is the ultimate ride for avid golfers looking for style and convenience on the course. Built with a rust-free aluminum frame, this cart can withstand even the toughest of terrains and weather conditions. Its efficient lithium-ion battery ensures a long-lasting, smooth ride for up to 50 miles on a single charge. The i20's stunning design features LED headlights, taillights, and turn signals, adding a touch of elegance to your game. Additionally, its user-friendly controls, ample storage space, and comfortable seating make it an ideal choice for golfers of all ages and levels. Experience the epitome of golf cart excellence with the Icon i20, available at Hartville Golf Carts.
Interested In Our Selection?